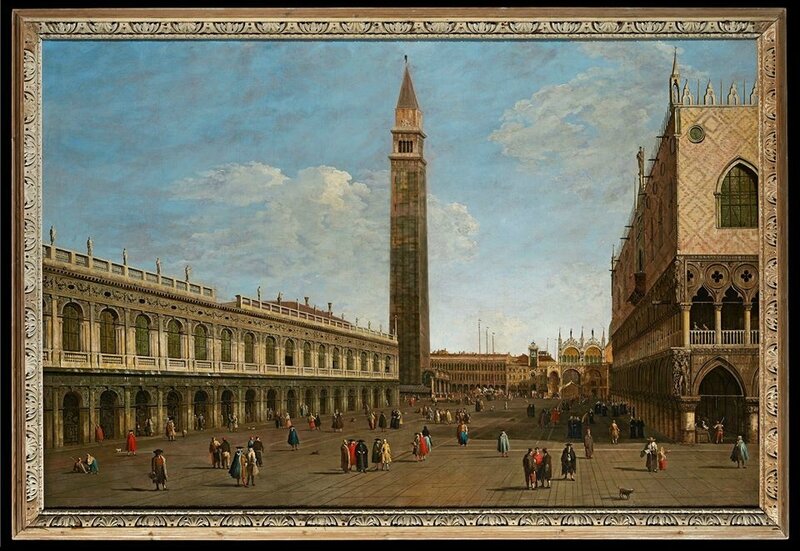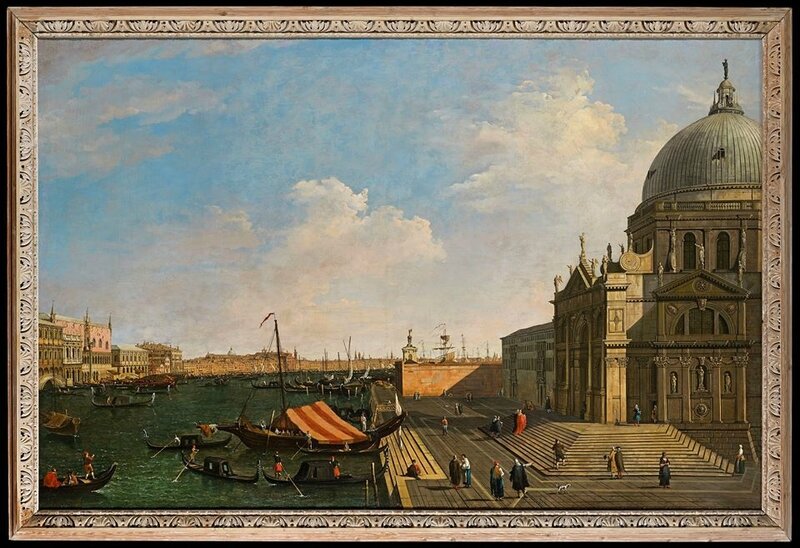 The Bateman Master, Venice: The Piazzetta, looking North; and The entrance to the Grand Canal, looking East, with the Church of Santa Maria Della Salute, Venice, circa 1739. Oil on canvas, 148.5 x 225 cm (58.5 x 88.6 in.). Charles Beddington Ltd (Stand 373) © TEFAF 2018.
This unusually large pair of Venetian views is the work of a talented and distinctive imitator of Canaletto active in the late 1730s. If he did not work in Canaletto's studio, he must have been employed by Canaletto's agent Joseph Smith to help satisfy the demand for Venetian views at this busiest moment in Canaletto's career. These paintings were executed for the 1st Viscount Bateman and no doubt commissioned through Smith; they have passed by inheritance from Bateman to the present owners. While most of the painter's identified works are large, these are much the largest, and along with the fact that Viscount Bateman also owned a third work by the same hand (see below), it has seemed appropriate to call him 'The Bateman Master' at least until further evidence of his identity may come to light.
The son of a wealthy Lord Mayor of London, William Bateman (circa 1695-1744) visited Venice for the Carnival in January 1718 on his Grand Tour (see
J. Ingamells, A Dictionary of British and Irish Travellers in Italy 1701-1800 compiled from the Brinsley Ford Archive, New Haven and London, 1997, p. 59). Evidently at this time he commissioned three major Venetian views from Luca Carlevarijs. A view of The Molo, looking West, sold at Christie's, New York, 26 January 2011, lot 43, and now in an English private collection, is, like these paintings, of considerable size.
Bateman also acquired a pair of capricci by Giovanni Paolo Panini showing Hermes appearing to Calypso and Hermes appearing to Circe now in the John and Mable Ringling Museum of Art, Sarasota, Florida.
Lord Bateman married Anne, daughter of Charles Spencer, 3rd Earl of Sunderland, whose youngest daughter Diana was married between 1731 and her death in 1735 to John, 4th Duke of Bedford. It was probably on account of this connection that Bateman acquired high quality studio replicas of four of Canaletto's large series of Venetian views commissioned by the duke and now at Woburn Abbey. Bateman must have ordered them before the prototypes were shipped, his commissioning of them at the same time being probably confirmed, if it is necessary, by the brief period of the marriage.
William, 2nd Baron Bateman sold Kelmarsh Hall in 1896 and its contents were dispersed in a series of sales at Christie's; the picture collection was sold on 11 April 1896. It included the large Carlevarijs (lot 53) and six pictures attributed to Canaletto. Two of the Canaletto studio replicas of Woburn paintings (sold as lot 35) were, like the large Carlevarijs, bought back by a family member and reappeared at Christie's, London, on 24 May 1991, lots 71-2; they have since been on the market as by Canaletto. A third, showing The Piazza San Marco, looking West, from another pair sold as lot 37, is now in a private collection.
In the same private collection is an oval view of The Entrance to the Grand Canal, looking West (lot 34 in the 1896 sale) by the Bateman Master. That is a copy of a painting in the Museum of Fine Arts, Houston, which was delivered by Joseph Smith to its first owner, Hugh Howard, by 22 August 1730
(W.G. Constable, Canaletto: Giovanni Antonio Canal 1697-1768, Oxford, 1962, I, pl. 37; II, no. 166). Uniquely in the known œuvre of the Bateman Master his version is on the same, fairly small, scale as the prototype rather than much larger. The colours match the prototype, and two other versions by the Bateman Master are known, which would suggest that they were executed in
c. 1730; however no other works by the painter are datable outside the late 1730s and it may be presumed that this is a unique instance of Smith retaining a copy of Canaletto's prototype for use in the production of later copies.
Both our paintings are based on Canaletto views of the late 1730s, with which they correspond in details of colour, so they must have been painted in the presence of the prototypes.
The Piazzetta, looking North follows closely a painting first recorded in the collection of a French architect who died in 1824 and last sold at Sotheby's, London, 8 December 2010, lot 39 ( ibid., no. 65). The present painting shows a group of figures beyond the Levantine merchant in the centre which were present on the prototype until it was damaged during the Second World War. The prototype is large but not nearly as large as this.
The Entrance to the Grand Canal, looking East is based on a painting said to have been executed for Henry Grey, 1st Duke of Kent and 2nd Baron Lucas (1671-1740). Once part of a set of four, that is now in the Terruzzi Collection. Here, uniquely in his known œuvre, the Bateman Master has introduced extensive variations in the figures and boats. His additions include the two men, one pointing, seen from behind in the immediate foreground to the right, the dog near them, the woman who is the penultimate figure to the right, and a pair of figures in the middle of the paved area beyond the steps. The large boat with the striped awning is also of his invention, as is the gondola under its prow. The sandalo in front of it has been moved to the right against the steps to make way. The boats at lower left differ entirely from the prototype.
Given Lord Bateman's interest in having studio replicas of four of his brother-in-law's series of Canaletto Venetian views, it may be noted that a small variant of The Piazzetta, looking North also forms part of the Woburn set. It seems highly probable that all Bateman's purchases of Venetian views in the 1730s were made through Joseph Smith, who certainly provided the paintings by Canaletto acquired by the 4th Duke of Bedford.
Fourteen works by the Bateman Master have so far been identified. While the present view of the Piazzetta is unique in his œuvre, three smaller variants of The Entrance to the Grand Canal, looking East, are known. Two are in a nearly square format which is a characteristic of the painter's style. Both seem to have been acquired by Canaletto patrons. One is in the Neave Collection, which formerly included an important group of eleven paintings by Canaletto. The other was formerly in the collection of the 2nd Viscount Camrose at Hackwood Park, and was probably acquired for the house by Charles Paulet (or Powlett), 3rd Duke of Bolton (1685-1754), who owned a set of four Venetian views by Canaletto of c. 1738. A third version is at Audley End, to which it came with an important early painting by Bernardo Bellotto of The Molo on Ascension Day of c. 1738, a copy of the Canaletto painting at Holkham Hall. There are also no fewer than five different versions of The Molo, looking West, based on the corresponding painting from Canaletto's Duke of Kent set (one also in the Neave Collection, one also at Audley End).
Three different versions are known of The Entrance to the Grand Canal, looking West, after Canaletto's painting at Houston. All follow Canaletto's prototypes in colour, indicating that they were painted in front of them, and are characterised by the painter's distinctive style, with much use of black outlining and pasty clouds. While Canaletto showed a lifelong aversion to repeating compositions, the Bateman Master was clearly happy to do so repeatedly.
These paintings will be published by Charles Beddington in an article on the Bateman Master currently in preparation.
Provenance: William Bateman (circa 1695-1744), M.P. for Leominster 1721-2 and 1727-34, created Viscount Bateman and Baron Culmore in 1725; His son John, 2nd Viscount Bateman and Baron Culmore (1721-1802), M.P. for Orford 1746-7, Lord Lieutenant of Herefordshire 1747-1802, a Lord of the Admiralty 1755-6 and Treasurer of the Household 1756-7; Bequeathed with Shobdon Court (with a life interest to his widow, who also died in 1802); His first cousin once removed, William Hanbury (1780-1845); His son William Bateman-Hanbury, 2nd Baron Bateman (1826-1901), Lord Lieutenant of Herefordshire 1852-1901 and a Lord in Waiting 1858-9, Shobdon Court; His daughter Margaret; Subsequently at 47 Montagu Square, London, from which removed for sale at Sotheby's, London, 29 April 1937, lots 32-3, as Canaletto; Purchased at the sale by her son Edward Mark Hovell (1906-1958); His aunt's husband Sir Samuel Hill-Wood (1872-1949); His son Sir Wilfred Hill-Wood (1901-1980), stepfather of the present owner.
Exhibited: London, Royal Academy of Arts, 'Works by the Old Masters and by Deceased Masters of the British School', 1881, nos. 86 and 92