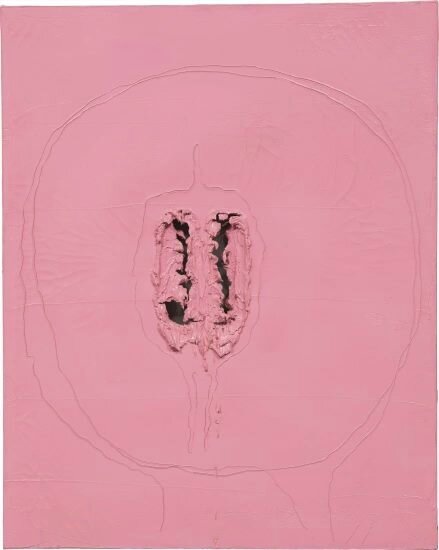 Lot 45. Lucio Fontana, Concetto spaziale, signed 'l. Fontana' lower right, oil on canvas, 81 x 65 cm (31 7/8 x 25 5/8 in.). Painted in 1968. Estimate £500,000 - 700,000. Image courtesy of Phillips.
Provenance: eresita Rasini Fontana, Milan
Alberto Dall'Ora, Milan
Private Collection, Milan (acquired from the above in the early 1990s)
Sotheby's, London, 15 October 2015, lot 26
Acquired at the above sale by the present owner
Exhibited: Turin, Galleria Civica d'Arte Moderna, Lucio Fontana, 5 February - 28 March 1970, no. 236, fig. 247 (illustrated)
Turin, Galleria Notizie, Balla, Picasso, Fontana, Brauner, 1970, no. 246
Fundacion Museo de Arte Contemporáneo de Caracas, Lucio Fontana, November 1974 - January 1975, no. 15, p. 15 (illustrated)
Florence, Palazzo Pitti, Fontana, 19 April - June 1980, no. 56 (illustrated, cover)
Cologne, Dia Art Foundation, Lucio Fontana 1926-1968, 13 March - 31 May 1981, no. 44
Madrid, Palacio de Velázquez, Lucio Fontana. El espacio como exploración, 27 April - 13 June 1982, no. 76, p. 95 (illustrated)
Munich, Bayerische Staatsgemäldesammlung / Staatsgalerie Moderner Kunst; Darmstadt, Mathildenhöhe; Bielefeld, Kunsthalle, Lucio Fontana, 16 December 1983 - 23 September 1984, no. 89, p. 107 (illustrated)
Frankfurt am Main, Schirn Kunsthalle; Vienna, Museum Moderner Kunst Stiftung Ludwig, Lucio Fontana. Retrospektive, 6 June 1996 - 5 January 1997, no. 103, p. 145 (illustrated, p. 221)
London, Hayward Gallery, Lucio Fontana, 14 October 1999 - 9 January 2000, no. 84, p. 143 (illustrated)
Literature: Enrico Crispolti, Omaggio a Fontana, Rome, 1971, no. 244, p. 211 (illustrated)
Enrico Crispolti, Lucio Fontana: Catalogue raisonné des peintures et environnements spatiaux, vol. I, Brussels, 1974, no. 68 O 10, p. 82 (illustrated)
Enrico Crispolti, Lucio Fontana: Catalogue raisonné des peintures, sculptures et environnements spatiaux, vol. II, Brussels, 1974, no. 68 O 10, p. 144 (illustrated, p. 145)
C A Kwast, et al., Een inleiding in de filosofie, Blok 3, Heerlen, 1985 (illustrated, cover)
Enrico Crispolti, Fontana: Catalogo generale, vol. II, Milan, 1986, no. 68 O 10, pp. 497-498 (illustrated)
Enrico Crispolti, ed., Centenario di Lucio Fontana, exh. cat., Milan, 1999, no. 262, p. 293 (illustrated, p. 40)
Enrico Crispolti, Lucio Fontana: Catalogo ragionato di sculture, dipinti, ambientazioni, vol. II, Milan, 2006, no. 68 0 10, p. 687 (illustrated)
Enrico Crispolti, Lucio Fontana, Catalogo ragionato di sculture, dipinti, ambientazioni, vol. II, Milan, 2015, no. 68 0 10, p. 687 (illustrated)
Note: In Concetto spaziale, a textural and vibrant canvas from Lucio Fontana's olii series, first owned by Teresita, the artist's wife, Fontana re-evaluates traditional means of painting. Representative of his quest for the third dimension, the present work characterises the evolution of Fontana's dedication to the exploration of outer space. A remarkably textural opus from the apex of Fontana's oeuvre, the olii series demarcates the introduction of oil into his oeuvre. From the second phase of his olii paintings, Concetto spaziale is one of twelve olii works created in 1968, and is one of only seven executed in an intense shade of pink.

Regarding a painting as an object as opposed to a surface is pivotal to Fontana's artistic output. The artist's olii works, which he commenced in 1957, can be considered an expansion of the informal nature of his earlier buchi and tagli works. As a sculptor, the series allowed him to further engage with the plastic nature of oil painting. After applying a thick layer of oil paint onto the canvas, Fontana would begin to trace fine lines into the wet surface of the monochrome canvas. In the artist's mind these contours represented the itinerary of man in space. Subsequently he would follow these subtle gestures with active intervention with the canvas plane. Fontana would puncture the canvas, here revealing two corpulent wounds. The manifestation of these perforations was vital to Fontana, who sought to express a subconscious sense of anguish. The artist felt that the use of vivid colours together with the performative gashes of the olii series symbolised 'the unsettled nature of the modern man' (Lucio Fontana, in conversation with Grazia Livi, 'Incontro con Lucio Fontana', Vanita, vol. VI, No. 13, Autumn 1962, p. 53). Set within the context of the new space age, the artist's experimentations with space flourished following Yuri Gagarin's quest into outer space on 12 April 1961. Fontana's fascination with the cosmos and the new scientific discoveries is further explored in the present work. Puncturing the plane, the artist adds depth to the composition whilst creating an impenetrable vortex, invoking the inescapable question of Black Holes and the origins of the universe. Continuously challenging the bounds of light and space, the artist used his diverse practice to reconsider traditional modes of creation and the dimensionality of art. Experimenting with the effects of luminosity and shadow when manipulated within space, the artist installed neon sculptures, ambienti – atmosphere's, in the late 1940s to expand and articulate his experimentations within space.

Fontana considered his choice of colour an important device to further break with the materiality of the artwork. Aiming to reach beyond the canvas itself, the impact of vivid colours is employed by the artist to convey the paintings true tangibility and reduce its materialistic importance. Since the early 1960s Fontana had embraced the use of monochrome canvases, presenting the purity of his works. The chosen tone, a variation on shocking pink, a colour appropriated by Elsa Schiaparelli in 1937, was one of Fontana's preferred tones, particularly during the final five years of his artistic production. The artist described the hue as reminiscent of 'the pink of ladies' underpants' (Lucio Fontana, quoted in Pia Gottschaller, Lucio Fontana: The Artist's Materials, Los Angeles, 2012, p. 94), emphasising the sensual impact of this suggestive shade. Representative of the contemporary Zeitgeist, shocking pink unveiled the materiality of the canvas and had the ability to engross the viewer.

Following Fontana's return to Milan in 1947, he regularly titled his paintings Concetto spaziale - Spatial Concept. In his experimentations, the artist sought to engage new technologies to add dimension to his paintings. Employing revolutionary materials, he combined his knowledge of architecture, sculpture and painting to shape a new realm of artistic expression. Engaging with Spatialist research, Fontana physically altered his canvases by adding slashes and punching the canvas, exploring the infinite potential and quintessence of space. In the olii series, he shaped these investigations to include the use of oil impasto, applying an excessive amount of oil paint to the canvas that, even upon drying, maintained a buttery consistency. The impastoed oil facilitates Fontana's gestural strokes and interventions to the surface of the canvas. The artist's irreversible actions expose new and unknown physical dimensions, neither an act of destruction nor a reduction of its physicality.

Fontana considered 'Matter, colour, and sound in motion…the phenomena whose simultaneous development makes up the new art' (Lucio Fontana, Manifesto Bianco, Buenos Aires, 1946). However, his olii series went beyond these singularities. The oliirepresent a conceptual development of his earlier buchi and tagli works in terms of matter. Whereas in these previous series the applied clean cuts symbolically liberated the canvas, the gashes within his olii series can be considered a sign of anguish. In addition to this, the introduction of a new medium, with the overflowing use of wet oil paint amassing at the side of the gestural incisions, the artist further develops his earlier experimentations. Most prominently, Fontana's olii works present the onlooker with striking and jarring hues, with the application of shocking pink as well as acid green oil paints. His Concetto spaziale represent new dimensionality, and interrogate the nature of perception. The present work, a pivotal and ground-breaking composition from the master of Spatialism, seeks to interrogate what lies beyond the work of art.
Phillips. 20th Century & Contemporary Art Evening Sale, London Auction, 8 March 2018