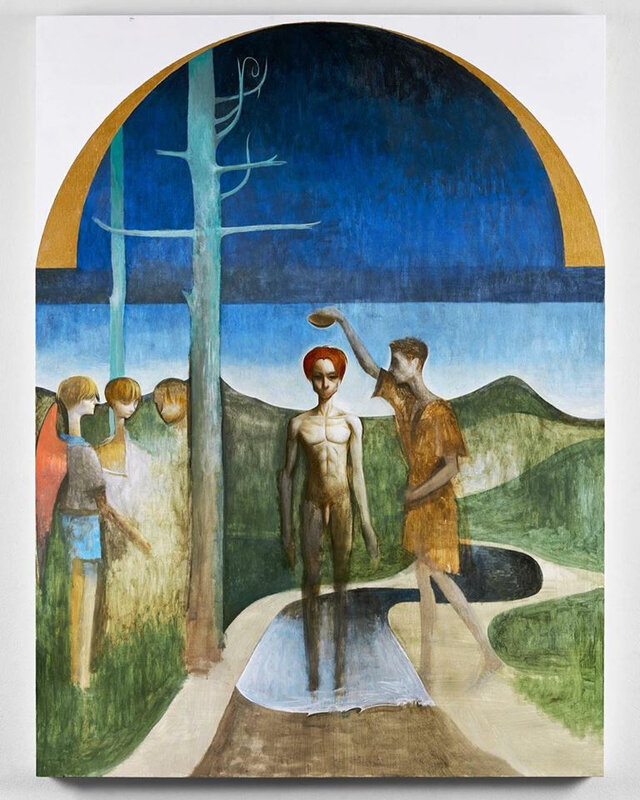 Julien Nguyen, The Baptism, 2018, 101.6 x 76.2 cm (40 x 30 ins.) © Julien Nguyen. Courtesy Stuart Shave/Modern Art, London.
LONDON - Modern Art announce a solo exhibition of new paintings by Julien Nguyen. This is the artist's first solo exhibition with Modern Art.
The setting for Julien Nguyen's new body of work is Biblical; each painting is composed through readymade scenes in which archetypal characters pose in some of the most archetypical scriptural tableaux. Mary's annunciation, or the flagellation, baptism, and resurrection of Christ; these are some of the narrated events that seamlessly merge with an art-historical framework of 15th century painting's perspectival studies of figures in space. But despite the fact that scenes of Nguyen's paintings are often traceable to these canonical references, his subjects themselves are distinctively of their own time. The relationship between these images and their objects is one of incarnation over iconography. Their spectators attentive, rather than absorbed. Perhaps most distinctively, included in his subjects, are the faces of the artist's own passions—social inhabitants in a contemporary Los Angeles and loved ones playing God.
Julien Nguyen was born in 1990 in Washington DC, and he lives and works in Los Angeles. He completed his undergraduate degree at Rhode Island School of Design, Providence, (2012), and subsequently received his Meisterschulle from Staatliche Hochschule für Bildende Künste, Städelschule, Frankfurt (2015). His work has been the subject of solo exhibitions at Freedman Fitzpatrick, Los Angeles, CA, USA (2016); Neue Alte Bruecke, Frankfurt, Germany (2015); Svetlana, New York, NY, USA (2015); and Kunstverein Munich, Munich, Germany (2014). His work has been included in group exhibitions such as the 2017 Whitney Biennial, Whitney Museum of American Art, New York, NY, USA (2017); Parked like serious oysters, MMK, Frankfurt, Germany (2015); and Lost Boys, Glucksman Gallery, Cork, Ireland (2013).
NDB: I am very proud cause Julien is my little cousin! :)
Julien Nguyen, Kye, Semper Solus, 2017, oil and tempera on wood panel, 91.4 x 55.8 cm, 36 x 22 ins. © Julien Nguyen, courtesy Stuart Shave/Modern Art, London.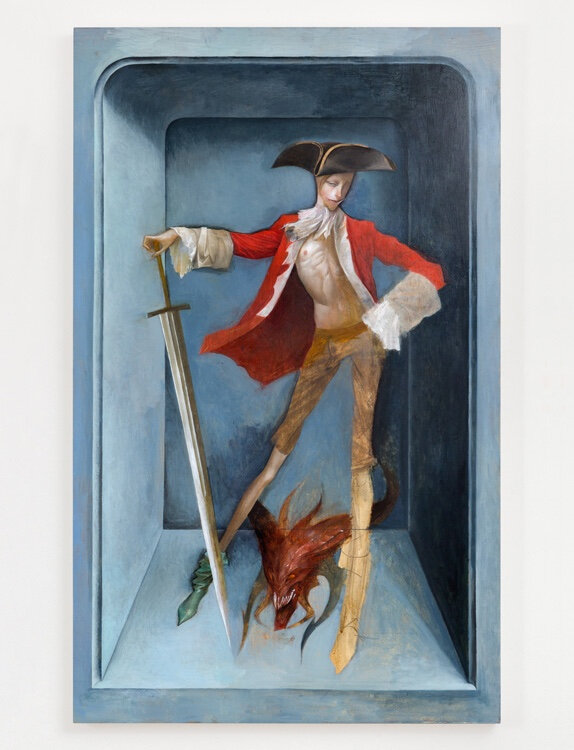 Julien Nguyen, St George & The Dragon, 2017, oil and tempera on wood panel, 91.44 x 55.88 cm, 36 x 22 ins. © Julien Nguyen, courtesy Stuart Shave/Modern Art, London