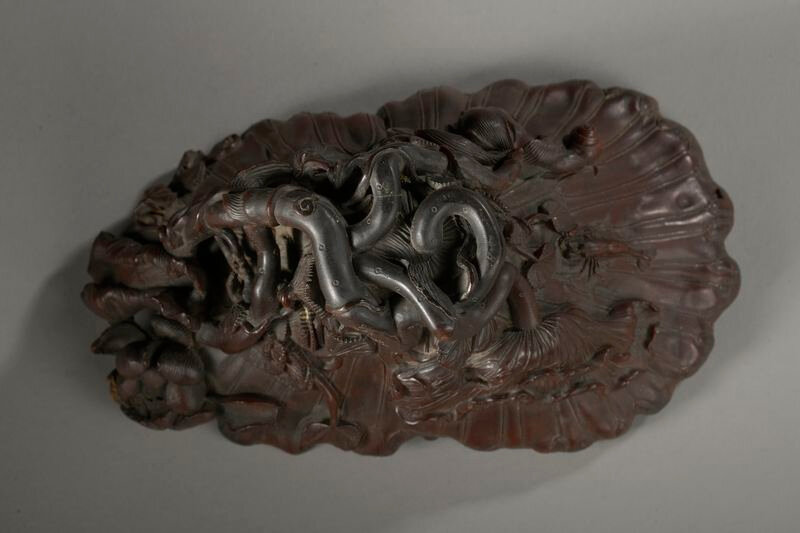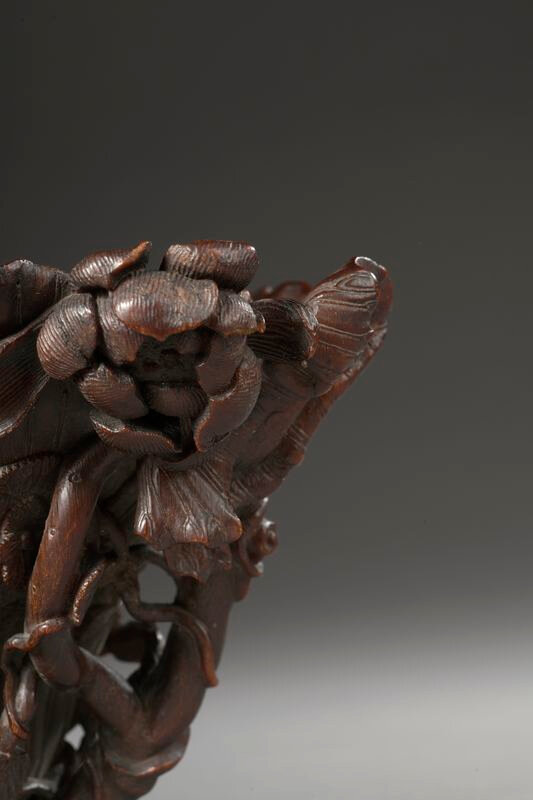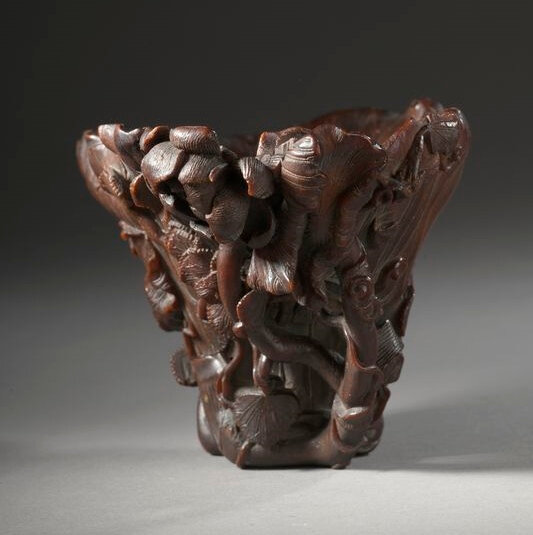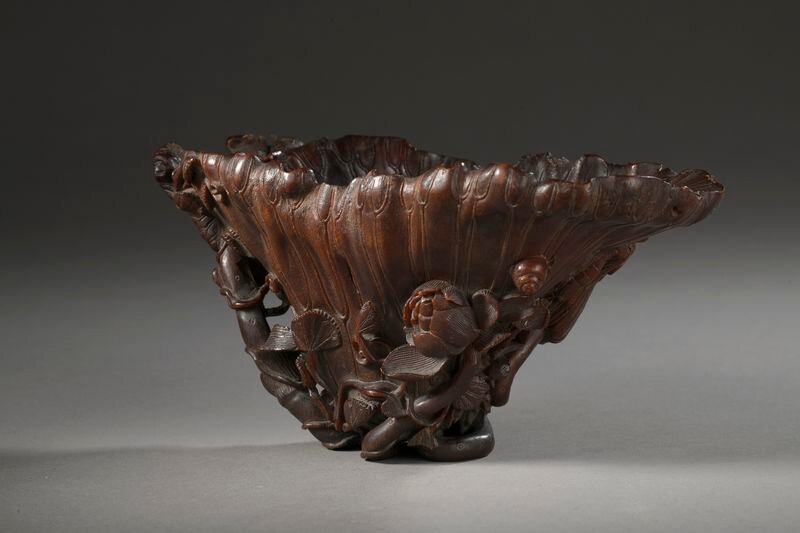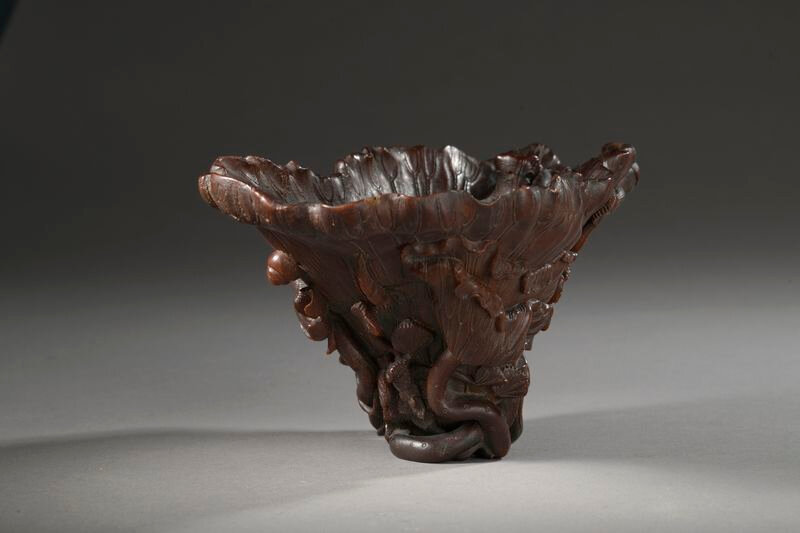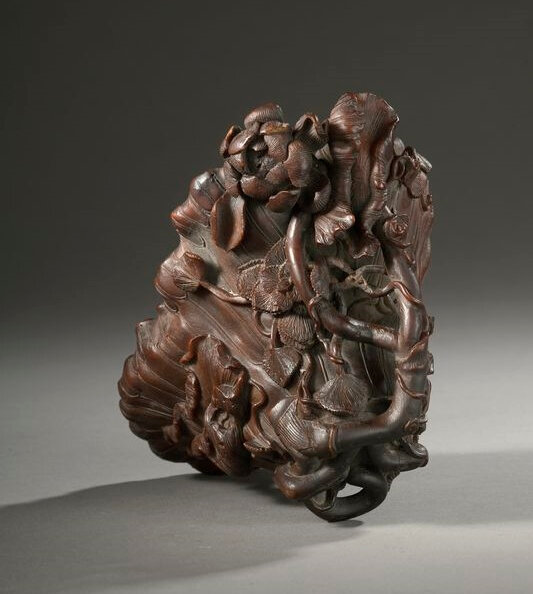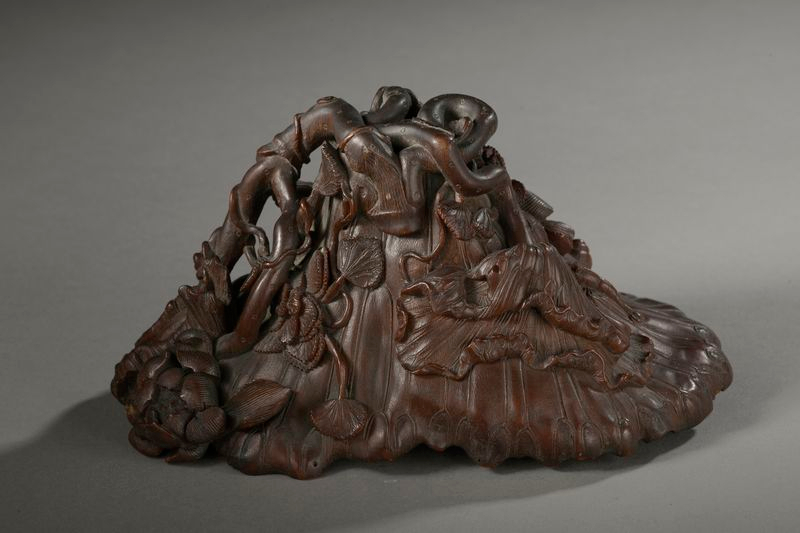 Lot 278. Coupe libatoire en corne de rhinocéros, Chine, dynastie Qing, XVIIIe siècle. Hauteur 10 cm, longueur 19,5 cm ; largeur 11,3 cm. Poids 365,67 grammes. Estimation : 40 000 € / 60 000 €. Courtesy Crait + Muller..
Coupe libatoire en corne de rhinocéros de couleur caramel sombre, en forme de feuille de lotus épanouie, l'extérieur sculpté d'un riche décor de tiges de lotus enchevêtrées terminées par des boutons ou des feuilles, dans lesquels évoluent en relief et en détaché des crustacés et des gallinacés, certaines des tiges de lotus formant le pied ajouré, une tige de lotus sculptée en détaché formant l'anse. Petits manques.
Provenance : collection particulière française.
A rhinoceros horn libation cup in the shape of a lotus leaf, the body sculpted with shrimps, snails and lotus branches. China, Qing dynasty, 18th C.
The rhino horn is considered as one of the ''Eight Precious'' symbols. It was known to the Chinese for its power to detect poison, which resulted in the creation of these specific food and drink vessels.
Specimen en corne de rhinocéros (Rhinocerotidae sp.) pré-Convention, specimen antérieur au 1er juillet 1947 et de ce fait conforme au Régle CE 338/97 du 09/12/1996 en son article art 2-Wmc et antérieur au 1er juillet 1975 et de ce fait conformé aux arrêtés français du 16 août 2016 et du 4 mai 2017. Le certificat d'exportation sera à la charge de l'acquéreur. According to legislation in force, export document or CITES certificate will be the responsability of the buyer.
Arts d'Asie, Tableaux, Mobilier & Objets d'Art chez Crait + Muller, 75009 Paris, le 15 Juin 2018 à 13h30