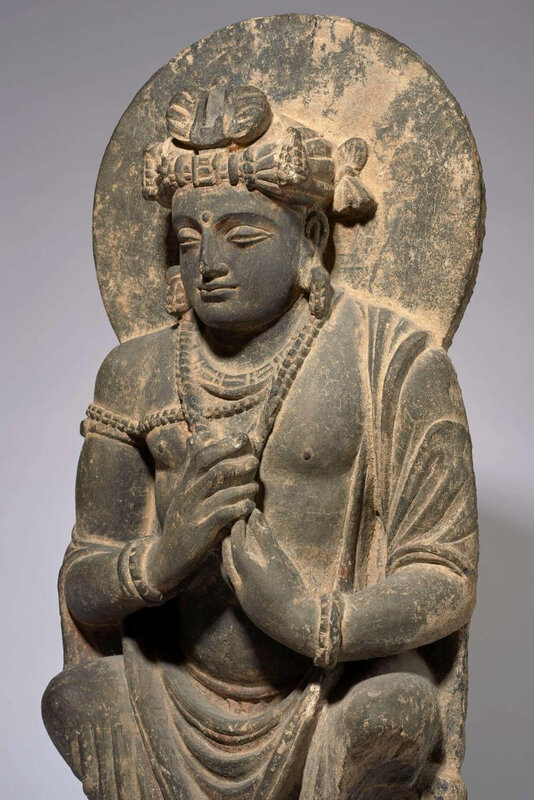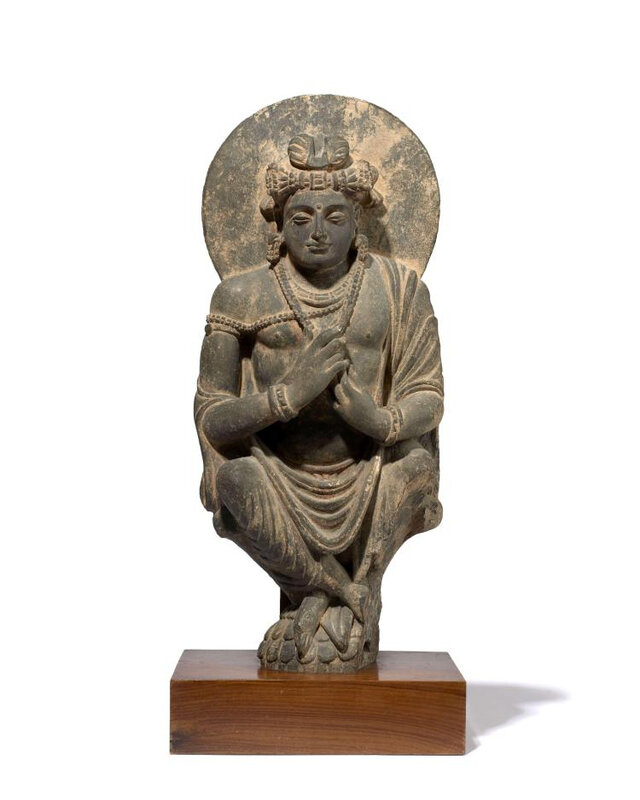 Lot 160. Sculpture de Boddhisatva en schiste gris, Art Gréco-bouddhique du Gandhara, IIe-IIIe siècle. H. : 62 cm. Estimation 15 000 - 20 000 € . Résultat: 20,800 EUR. Courtesy Artcurial
Assis sur un trône dans une attitude frontale, la tête auréolée d'un nimbe, chevilles croisées, les mains relevées en dharmachakramudra, vêtu d'un sanghati recouvrant l'épaule gauche et d'un paridhana attaché par une ceinture et retombant en d'élégants plis sur les jambes, paré de nombreux colliers, le visage serein, la chevelure ornée d'un diadème et d'une cocarde.
Gray schist figure of a Bodhisattva Seated in 'Royal Ease', Gandhara, 2nd-3rd century
Provenance : Collection privée parisienne constituée dans les années 60 par les parents de l'actuelle propriétaire.
Note: Une sculpture similaire de Bodhisattva assis dans la même position et paré de bijoux et coiffures très proches fait partie des collections du Musée de Tokyo et est illustrée dans Isao Kurita, Gandharan Art II, p.57, ill. 141.
A similar figure of Bodhisattva, seated also in 'royal ease', wearing the same jewels and having the same hair ornaments is in the collection of the Tokyo Museum and illustrated in Isao Kurita, Gandharan Art II, p.57, ill. 141.