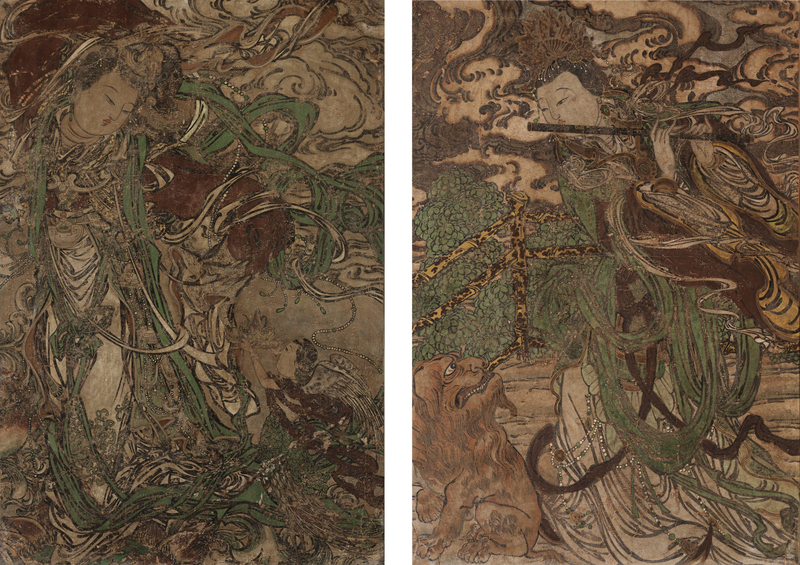 Lot 200. A pair of polychrome stucco fresco fragments, Yuan-Ming dynasty (1279-1644). Height 60 1/2 in., 154 cm; Width 41 in., 104 cm. Estimate: 40,000 — 60,000 USD. Lot sold 237,500 USD. © Sotheby's.
each depicting a celestial deity attired in flowing robes, sashes, and ornaments, the saintly round faces painted with delicate features crowned by elaborate phoenix headdresses, with textural details picked out in gesso relief, the first, painted dancing with one arm gracefully arced above the head, attended by a small kalavinka presenting a tray of 'Buddha's hand' citrons, the other, charming a lion with dizi song beside a spotted bamboo balustrade, each composition set against a heavenly sky of billowing clouds, framed (2)
Note: The present frescoes are inspired by earlier depictions of Buddhist deities, like the ones seen in the Mogao grottoes at Dunhuang. Compare the sculpture and murals in Cave 57, illustrated in Roderick Whitfield et. al., Cave Temples of Mogao. Art and History on the Silk Road, Los Angeles, 2000, p. 37, as well as the murals of bodhisattva in caves 172 and 199, illustrated in Chang Shuhong, The Art Treasures of Dunhuang, Hong Kong and New York, 1981, paying close attention to the garments and ornamentation of the figures. Compare as well a pair of frescoes sold at Sotheby Parke-Bernet, 18th-19th October 1945, lot 437; sold again in these rooms, 22nd March 2001, lots 19 and 21; and one of the pair sold a third time in these rooms 15th September 2010, lot 293.
Ming and Qing painters of Buddhist subjects sought to mimic the style of the Tang dynasty artist Wu Daozi, considered a master of Buddhist mural paintings. Examples of Ming paintings executed in the tradition of Wu are discussed in Latter Days of the Law: Images of Chinese Buddhism 850-1850, Helen Foresman Spencer Museum of Art, Kansas, 1995, pp. 55, 446. Followers also studied and adhered to Wu's Eight Classes of Supernatural Beings (Tian Long Ba Bu Zhen Ji), whose classification included 'celestial beings, musical demigods, and mythical bird-gods,' ibid., p. 445.
Sotheby's. Important Chinese Art, New York, 12 sept. 2018, 10:30 AM