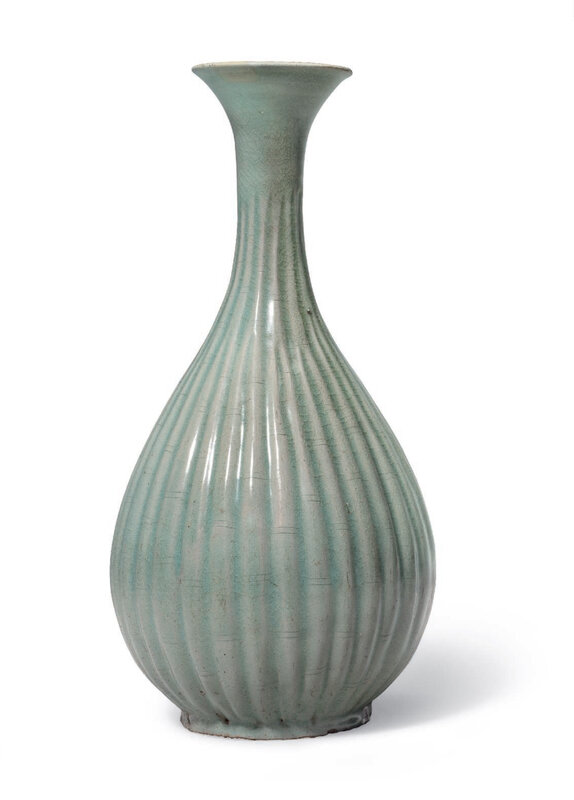 Lot 1321. A Korean celadon fluted vase, Goryeo dynasty, 12th century; 14 ½ in. (36.8 cm.) high. Estimate USD 25,000 - USD 30,000. Price realised USD 68,750. © Christie's Images Ltd 2018.
Of yuhuchunping-form, the vase is molded with multiple vertical ribs which are marked at intervals with pairs of horizontal incisions in imitation of bamboo. The exterior is covered with a crackled, pale greyish-green glaze that pools to a bluish tone in the recesses, and the unglazed base is burnt to a brownish-orange color.
Note: Perhaps used as a flower vase, this sophisticated vessel more likely served as a bottle for dispensing wine at an elegant gathering during Korea's Goryeo dynasty (AD 918–1392), an era of supreme artistic refinement. With its decoration suggesting a cluster of bamboo stalks, it perfectly demonstrates the transformation of a Chinese vessel type to meet Korean aesthetic preferences.

The celadon wares, Korea's best-known ceramics, exemplify the refined sensibilities of Goryeo culture. Though numerous kilns produced celadon wares, the very best pieces—which were used by the royal court, the aristocracy, and wealthy Buddhist temples—came from kilns in Gangjin (in South Jeolla province) and in Bu'an (in North Jeolla province), areas in the southwestern part of the peninsula that are rich in fine stoneware clays. Vessels with molded, incised, or carved decoration, such as this exquisite bottle, typify twelfth-century wares, while ones with designs inlaid in black and white slips epitomize those of the thirteenth and fourteen centuries (the inlay technique known in Korean as sanggam gisul). As evinced by this elegant bottle, Goryeo-period clients favored vessels in sculptural form, the forms characteristically suggesting bamboo shoots or clusters, lotus blossoms, ripe melons, calabash gourds, and open blossoms, among others. Korean celadon glazes tend to be more transparent and also more bluish green than those of contemporaneous Chinese celadons. The finest Korean celadons rival their Chinese counterparts in terms of both artistic sophistication and technical achievement. In fact, a thirteenth-century Chinese connoisseur, one Taiping Laoren, ranked Korean celadons "first under heaven", including them on a list with such other "firsts" as the wines of the palace, the inkstones of Duanxi, the peonies of Luoyang, and the tea of Fujian.

Though often compared to Longquan celadon wares, vessels of this type were made in the twelfth century and thus are earlier than the visually similar Longquan bottles, which typically date to the thirteenth century. In fact, such Korean bottles likely were inspired by Chinese imperial Ru ware, like the rare bottle in the British Museum (1978,0522.1; see: Jessica Rawson, The British Museum Book of Chinese Art, London: British Museum Publications, 1992, fig. 166). Lacking decoration, the earliest such Korean celadon bottles—the one in the Henderson Collection in the Harvard Art Museums (1991.542), for example, or that in the Gompertz Collection in the Fitzwilliam Museum at Cambridge University (C.419-1984)—are very much in the Chinese mode; with their taste for sculptural forms, however, Korean potters soon transformed such bottles by embellishing their surfaces with wide, vertical ribs which they finished to resemble stalks of bamboo, imparting a uniquely Korean interpretation. In addition to long-necked bottles, ewers also occasionally were decorated in similar manner; see, for example, the ewer in New York's Metropolitan Museum of Art (1996.471), the ewer-and-basin set in the National Museum of Korea, Seoul (Deoksu-378), and the calabash-shaped ewer in the Asian Art Museum, San Francisco (B64P58).
Several museum collections include bottles of similar size, shape, style, and appearance. The very best such bottles, however, are those in the Lee'um Samsung Museum, Seoul, and the Museum of Fine Arts, Boston (11.1819; see: Jane Portal, Arts of Korea, Boston: Museum of Fine Arts Publications, 2012). In addition, Godfrey Gompertz illustrated a closely related example in his classic Korean Celadon, the first scholarly book on the subject in English, the bottle at that time in the collection of Hyong-min Kim (see: Godfrey St. G. M. Gompertz, Korean Celadon, and Other Wares of the Koryo Period, London: Faber and Faber, 1963, pl. 27).
Robert D. Mowry
Alan J. Dworsky Curator of Chinese Art Emeritus,
Harvard Art Museums, and Senior Consultant, Christie's
Christie's. Fine Chinese Ceramics and Works of Art, New York, 13 - 14 September 2018