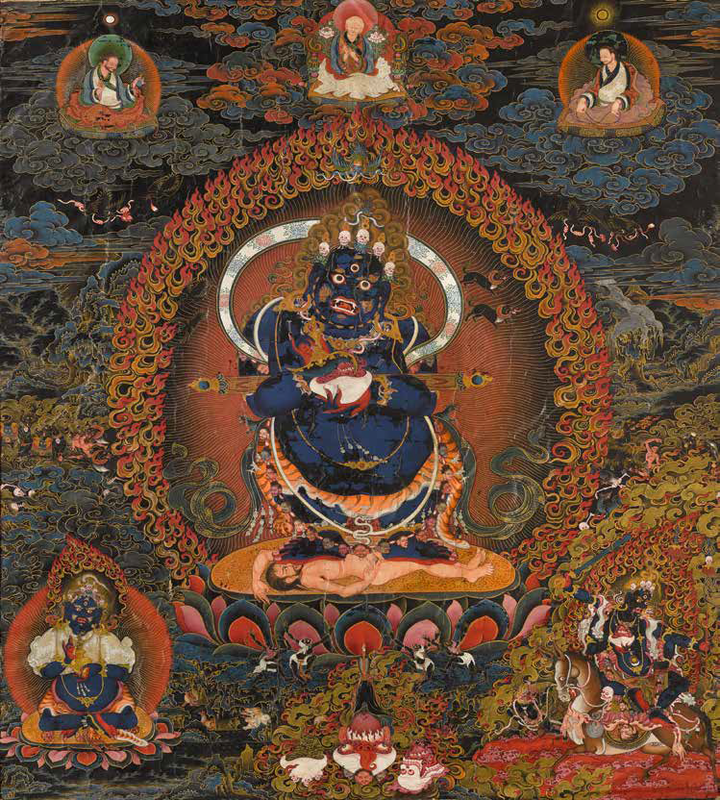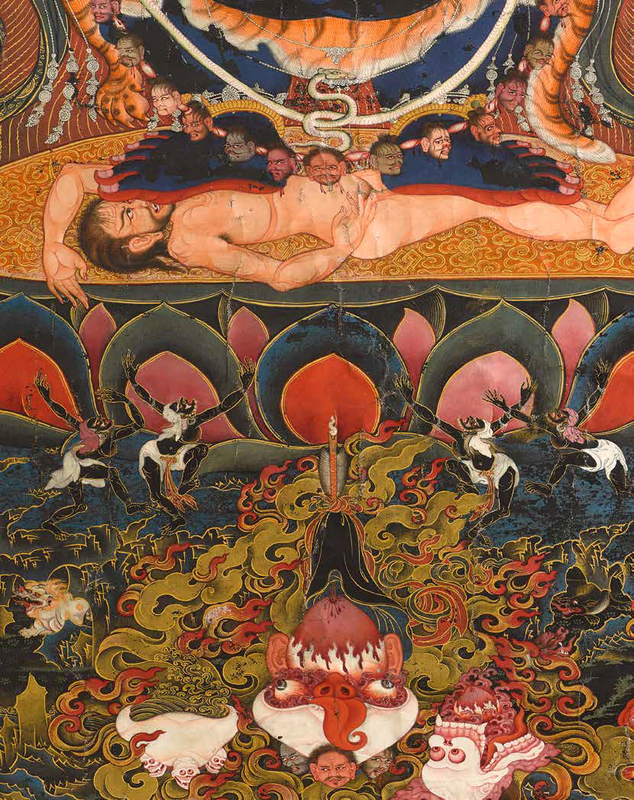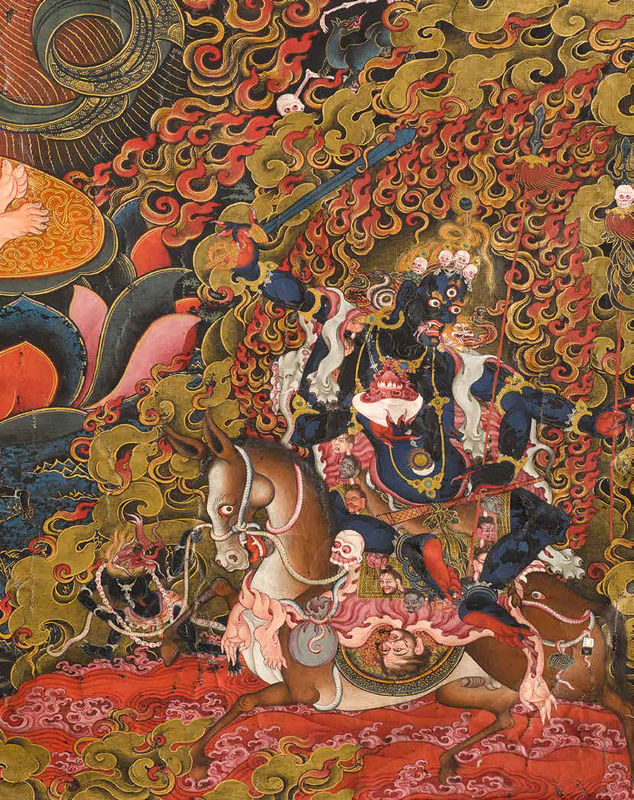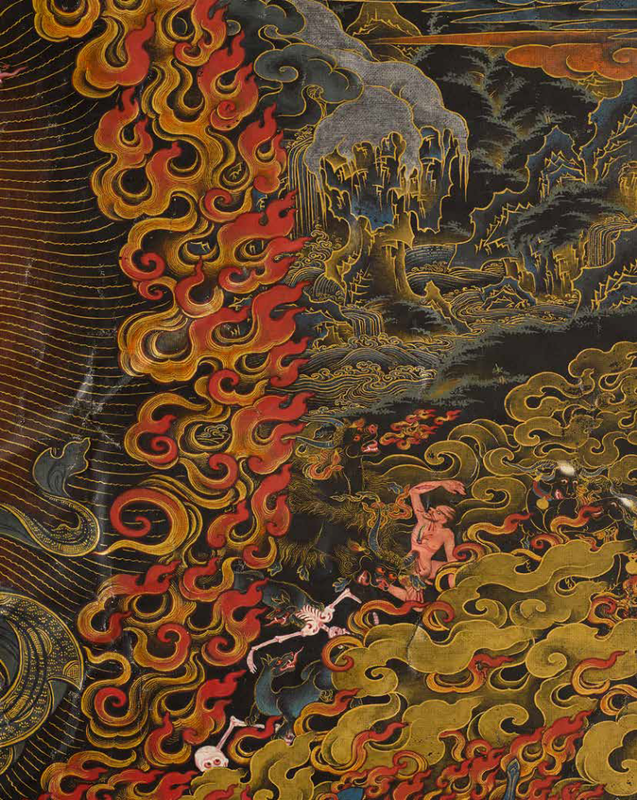 72. A blackground thangka of Panjarnata Mahakala, Central Tibet, 18th century. Distemper on cloth with gold;verso with an "om ah hum" invocation in red Tibetan script. Himalayan Art Resources item no.61759. Image: 71 x 65 cm (28 x 25 5/8 in.); With silks: 116 x 82 cm (45 3/4 x 32 1/4 in.). Estimate HK$ 3,200,000 - 4,800,000 (€ 350,000 - 520,000). Unsold. © Bonhams 2001-2018
Provenance: Belgian ambassador to China, early 20th century
Henri Kamer, New York, circa 1970s
Private New England Collection.
Published : Ann W. Norton, Gods, Saints and Demons: Hindu and Tibetan Art, Storrs, CT, 1989, p.18, no.65.

Exhibited: Gods, Saints and Demons: Hindu and Tibetan Art, The Benton Museum at University of Connecticut, Storrs, CT, 23 January - 12 March, 1989.
Note: In the 18th century, blackground thangkas used for wrathful deities reached the height of their popularity and quality. Among them, this breathtaking example of Panjarnata Mahakala is of unsurpassed quality. Comprised of flawless details, exquisite lines, and brilliant colors, this thankga is a masterpiece of the blackground genre.

At the center of its composition, a powerful figure of Panjarnata Mahakala stands over a prone man before an aureole of coiling flames with bright red and golden hues. Panjarnata Mahakala, "Lord of the Pavilion", protects the tantric practice of Hevajra, a potent means through which an initiate can acquire Buddha-consciousness. The artist has depicted the protector's intimidating size and iconography with luxuriant detail among the tiny snakes, sumptuous jewelry, and hyper-realistic severed heads.

Floating on colorful clouds at the top are the first three founding patriarchs of the Sakya Order of Tibetan Buddhism. The first, Sachen Kunga Nyingpo (1092–1158), is at the center. The second, Sonnam Tsemo (1142-1182), is on the right. And the third, Dragpa Gyaltsen (1147-1216) is on the left. Panjarnata Mahakala is particularly revered by the Sakya, with Sachen Kunga Nyingpo considered one of the masters of the Panjarnata Mahakala teachings. Although diminutive to allow more space for Panjarnata Mahakala to dominate the composition, the three teachers are treated with painstaking attention. From the densely patterned textiles to the malas on their wrists, and from the knuckles on their fingers to each hair and wrinkle, the level of precision and realism remains constant.
 
Below the teachers, an array of rocky cliffs leads the eye through terrifying scenes from the cremation grounds. A jackal eats a man alive. A bull pierces a man's chest. A snow lion attacks growling tigers. And human flesh and skeletons litter the ground. Still the high level of painted detail resounds. The fierce imagery is furthered at the bottom, where Panjarnata Mahakala's two attendants, two-armed Ekajati and four-armed Shri Devi, guard the bloody offering of the five sense organs.

The painting might have been produced at Gongkar Chode near Lhasa, or an equivalent important Sakya monastery in Central Tibet; its painter demonstrates a mastery of multiple painting traditions, but the Khenri style predominates. Gongkar monastery is the main site for the surviving body of work by Khyentse Chenmo (fl.1450-90), the Khenri tradition's founder. Khenri stylistic features linking the wrathful deities depicted in Gongkar mural's to the present masterpiece include the manner of depicting Panjarnata's hair in spiralling buns and the rendering of the flaming mandorlas (cf.Jackson, A Revolutionary Artist of Tibet, New York, 2016, pp.65&96-7, figs.2.22&4.22-4). Also, the ravens carrying off human organs in this painting's top register may be directly inspired by Gongkar's Upper Protector's Chapel (ibid., p.70, fig.3.5).

However, emphatic of the syncretism of painting traditions that really blossoms in the 18th century, the painter also shows a mastery of the New Menri tradition in his brilliant rendering of the golden, jagged landscape. In fact, his treatment is significantly more sophisticated than a blackground thangka of Panjarnata Mahakala predominately in the New Menri style, held in the Rubin Museum of Art (HAR no.65004; Linrothe & Watt, Demonic Divine , New York, 2004, p.81, fig.2.28). Central Tibet in the 18th century witnessed tremendous prosperity and artistic patronage under solidified Gelug rule. This followed a turbulent 17th century in which the Fifth Dalai Lama Ngawang Lozang Gyatso (1617-1682) unified Tibet. His unifying strategies included an attempt to homogenize Tibetan visual culture. From a muddier amalgamation of painting traditions in the 17th century comes a resplendent crystallization in the 18th century, represented in this masterpiece's clean, sophisticated, flawless design and rendering.

Details such as Panjarnata Mahakala's charismatic skull crown with pendant festoons are shared by a painting of Shri Devi exhibited in Beijing in 2001 (see Jin We Bao Zang: Xizang Li Shi Wen Wu Xuan Cui, Beijing, 2001, p.106). The treatment of the flayed human skin hanging from Shri Devi's mule in the present painting's bottom right corner also compares closely with those on the Simhavaktra and Hayagriva illustrations of the Kangxi Kangyur in the National Palace Museum, Taiwan, dated to 1669 (see Sung (ed.), Om-mani-padme-hum: Tibetan Buddhist Art in the National Palace Museum, Taipei, 2015, pp.130-1). Another related painting of Panjarnata Mahakala, with similarly patterned scarf and ghandi stick, is held in the Victoria and Albert Museum (acc.no.IM.31-1937).

Compare this painting's magnificent quality with two other blackground thangkas representing the pinnacle of the genre. One is published in Rochell & Rossi, Masterpieces of Himalayan Art, New York, 2009, no.23. The other sold at Sotheby's, New York, 20 & 21 September, 1985, lot 158 and is now in the Museum der Kulturen, Basel (Essen and Tingo, Die Gotter des Hialayan, Munich, 1989, p.225, pl.138).