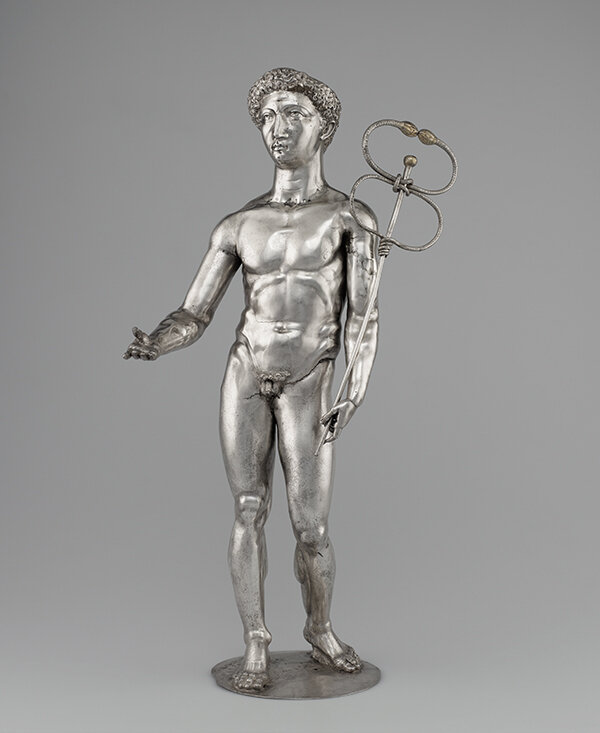 Statuette of Mercury, Roman, 175–225 CE, Berthouville, France, Silver and gold, Bibliothèque nationale de France, Paris: Inv. 56.1. Photo: Tahnee Cracchiola © Getty-BnF
NEW YORK, NY.- The Institute for the Study of the Ancient World presents Devotion and Decadence: The Berthouville Treasure and Roman Luxury, bringing a spectacular cache of ancient silver, discovered in 1830 in northern France, together with a rich selection of additional Roman luxury objects, all drawn from the unparalleled collections of the Cabinet des Médailles (now the Department of Coins, Medals, and Antiques), of the Bibliothèque nationale de France. With approximately 160 works, the exhibition offers insight into the rich cross-cultural exchange that characterized the Roman province of Gaul, as well as the cultural significance of Roman luxury arts. Highlights include two important silver statuettes of the Roman god Mercury; superbly worked Late Antique missoria (silver platters); drinking cups, offering bowls, and other vessels; cameos; intaglios; jewelry; figurines; and a fragment of a mosaic from Hadrian's villa in Tivoli. Together these and other objects represent some of the greatest surviving achievements of the artisans of the Roman Empire.

Devotion and Decadence opened to the public on October 17, 2018, and remains on view through January 6, 2019.
Clare Fitzgerald, ISAW's associate director for exhibitions and gallery curator, notes, "Ancient Rome is justly celebrated for major feats of engineering, such as aqueducts, monumental constructions like the Colosseum, and the network of roads that facilitated exchange throughout the Empire. Yet, as Devotion and Decadence reveals, Romans were also capable of truly virtuoso work on a far smaller scale. ISAW is delighted to bring these masterful works of Roman artistry to New York. In keeping with our mission of studying the cultural connections between diverse ancient civilizations, they are presented as eloquent exemplars of the rich interplay between Gallic and Roman cultures, as well as for their exquisite beauty and the insight they provide into the role of Roman luxury arts in devotional and cultural settings. We are especially grateful to the Bibliothèque nationale de France for lending these objects, and to Getty Museum's Conservation Center, whose brilliant work on the Berthouville Treasure has revealed long-obscured aspects of these objects, and opened up exciting new avenues of study."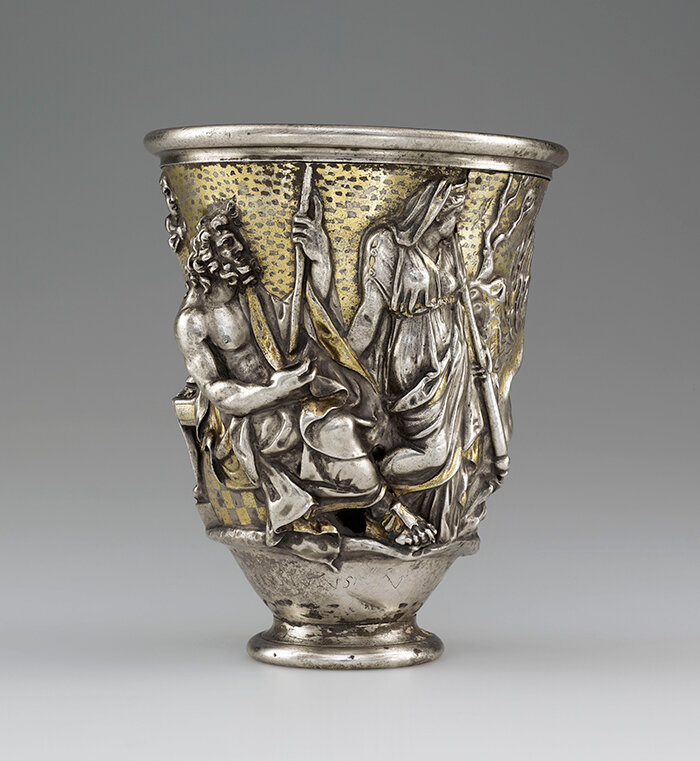 Beaker Commemorating the Isthmian Games,Roman, 1–100 CE, Berthouville, France, Silver and gold, Bibliothèque nationale de France, Paris: Inv. 56.10. Image: Tahnee Cracchiola © Getty-BnF
Berthouville Treasure Recognized today as one of the finest surviving hoards of ancient Roman silver, the Berthouville Treasure was discovered by a French farmer while plowing his field near the village of Berthouville, in Normandy. The cache—comprising approximately ninety silver and gilt-silver objects dating from the first to third centuries CE—had been buried in a brick-lined pit in antiquity. The farmer had originally planned to sell the treasure for the value of its weight in silver, but before he did so, he showed it to a local expert who identified its potential importance and communicated news of the find to Paris, where it was acquired by the Bibliothèque national de France in a bidding war with the Louvre Museum. Subsequent excavations at the site of its discovery, in 1861 and 1896, revealed the foundations of a Gallo-Roman temple dedicated to Mercury Canetonensis.
In 2011, the Getty Conservation Center began what would be a multi-year project to conserve the entire Berthouville Treasure. Individual pieces underwent in-depth study using new imaging and research technologies. These revealed valuable new evidence of ancient production techniques, as well as previously unknown details, while also informing the subsequent restoration and treatment of the objects.

Exhibition Devotion and Decadence: The Berthouville Treasure and Roman Luxury is organized in two sections. The first gallery presents the opulent cache from Berthouville in its entirety, offering new insights into Gallo-Roman cultural interaction, as well as art, technology, and religion in the ancient world; the second gallery contains precious gems, jewelry, and other Roman luxury objects from the Cabinet's collections, opening a window onto the role of such objects in both daily life and religion.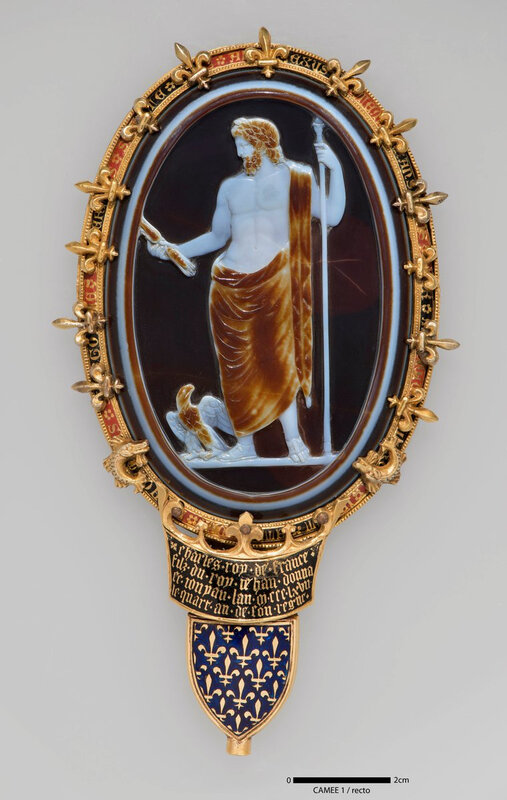 Cameo of Jupiter (The Cameo of Chartres) Set in Fourteenth-Century Mount, Roman, ca. 50 CE,Rome, mounted in Paris, Sardonyx; gold and enamel mount, Bibliothèque nationale de France, Paris: Camée.1. Photo © Bnf
In the first gallery, a Roman statuette of Mercury introduces the importance of the god in Gaul. Dating from 175–225 BCE, this is one of the largest statuettes in precious metal to survive from antiquity. The artist has portrayed Mercury as a beardless young man whose pose and muscular physique, derived from classical Greek statues of the fifth century BC, were popular throughout the Roman period.
The messenger of the gods, as well as the patron deity of travelers, shepherds, commerce, and the arts, Mercury was much venerated in Gaul. As Julius Caesar stated in his chronicle of the Gallic War: "Among the gods, they most worship Mercury. … they deem him to have the greatest influence for all money-making and traffic." Indeed, Berthouville's location at the intersection of ancient roads and on the frontier between the Seine and the commercial route leading to the British Isles positioned it as a center of pilgrimage and exchange—and as a particularly appropriate site for a sanctuary in this god's honor.
The role of the temple of Mercury Canetonensis as a place where Roman and Gallic cultures interacted is testified to by the presence of objects such as a superb offering bowl that shows Mercury together with either his mother, Maia, or the Gallo-Roman fertility goddess Rosmerta, demonstrating the ways in which their depiction had come to fuse both Gallic and Roman features. Donor inscriptions on silver objects also indicate that the temple was a place where both Roman citizens and Gauls worshipped. For example, a ladle and pitcher are each inscribed with the Gallic names of their donors—Combaromarus and Camulognata respectively—while other artifacts are inscribed with Roman names. Inscriptions additionally reveal that artifacts were dedicated by both men and women, and by ex-slaves and the freeborn.

Several of the most lavish votive objects found at the temple to Mercury were offered by a Roman citizen named Quintus Domitius Tutus. These include cups, pitchers, a ladle, and an offering bowl, all with elaborate ornamentation and gilding that place them among the finest examples of ancient Roman silver that has come down to us through the ages. Most of these feature superbly depicted scenes and iconography related to Bacchus, a god associated with wine and revelry, as seen on a pair of drinking cups known as skyphoi. Other examples of elite tableware include a large plate the center of which is occupied by an image of the figure of Omphale, the mythological queen of the kingdom of Lydia, curled up after overindulging. These objects provide vivid examples of the multiple uses and roles of luxury items, which, as seen here, could be transformed from tableware intended for banqueting and revelry into objects offered in gratitude or devotion.

Another group of works in this gallery offers insights into the conservation work undertaken at the Getty Center. A second, smaller Mercury statuette, for example, was originally found in fragments and restored shortly after the Treasure's discovery. The conservator at that time built a beeswax and metal armature to support the fragments, and today the darkening wax enables us to clearly see this early approach to restoration. Employing newer technologies, Getty conservators were able to better understand the extent of older restorations and to make new discoveries about the composition and manufacture of such artifacts that guided them in their work.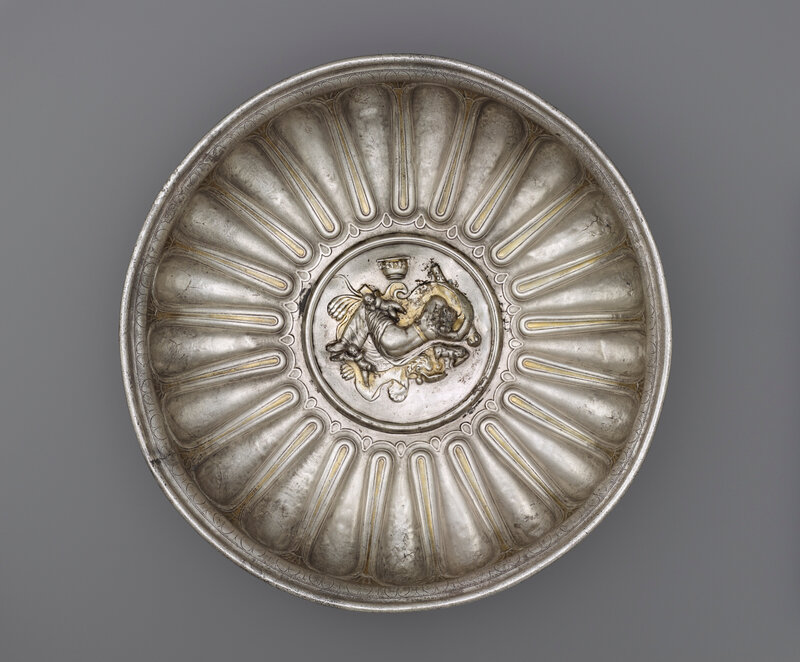 Bowl with a Medallion Depicting Omphale, Roman, 1–100 CE, Berthouville, France, Silver and gold, H. 8.2 cm Diam. 28.9 cm, Bibliothèque nationale de France, Paris: inv. 56.11. Inscription: MERCVRIO AVGVSTO Q DOMITIVS TVTVS EX VOTO ((To Augustan Mercury, Quintus Domitius Tutus in fulfillment of a vow). Image: Tahnee Cracchiola © Getty-BnF
The second gallery of Devotion and Decadence explores the significance of Roman luxury items in their broader setting. For the elite, hosting and sharing meals was often a way to cultivate desirable social, political, or economic relationships. Tableware such as the large platters known as missoria, for example, may occasionally have been used to serve food, but were primarily a means of displaying one's wealth, status, and even erudition. One example on view here, decorated with an image of Hercules slaying the Nemean Lion, signals the owner's knowledge of Greek literature and art, while on another, an image of a lion standing above the leg of his quarry alludes to the aristocratic pastime of hunting.

A particularly spectacular gilt-silver plate, measuring over two feet in diameter, contains two beautifully incised episodes from the life of Achilles, intentionally conflated in order to provoke puzzlement and conversation—a kind of social game of wit and erudition. In 1656 the plate was fished out of the Rhône and in 1694 it was acquired by Louis XIV of France. Two coats of arms incised on the back of the platter were scratched out a century later in the wake of the French Revolution, providing a vivid slice of a moment in French history.

This gallery also includes objects made of a variety of materials, including carved stone vessels; jewelry; coins; ingots, and striking intaglios and cameos. One highlight is the Treasure of Rennes, one of the few extant examples of Roman gold tableware. Dated to around 210 CE, this 18thcentury find includes jewelry, coins, and an astonishing libation bowl featuring an elegant frieze surrounding a detailed medallion representing the triumph of Bacchus over Hercules. Another masterpiece, the Cameo of Jupiter (The Cameo of Chartres), is notable for both the quality of the sardonyx stone and the stunning detail of its carving. Originally carved around 50 CE, it depicts Jupiter with his scepter and thunderbolt, symbols of his power. It is preserved in a fourteenth-century mount, illustrating how masterpieces of carving were valued and preserved throughout antiquity and the Byzantine period before entering into the imperial treasury.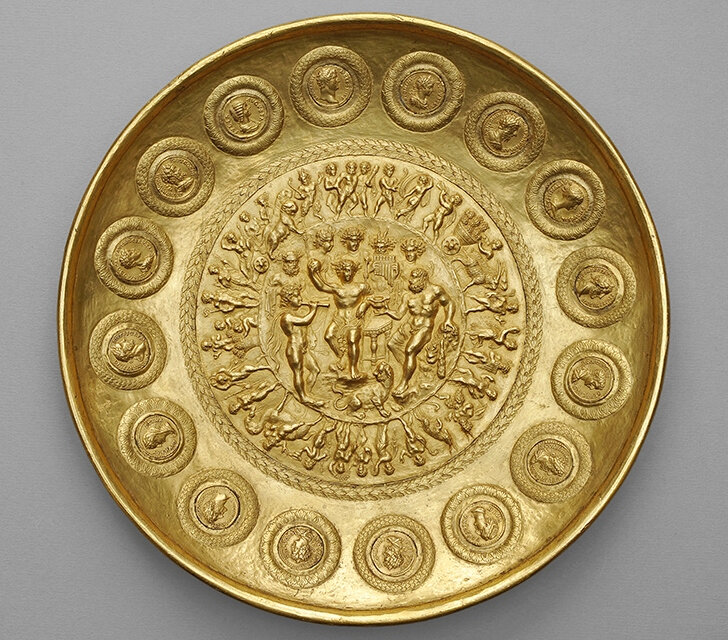 Offering Bowl with Bacchus, Hercules, and Coins. Roman, ca. 210 CE, Rennes-le-Château, France. Gold. H. 4 cm; Diam. 25 cm. Bibliothèque nationale de France, Paris: Inv. 56.94. Photo: © Bnf.