PARIS.- The Asian Art sale totaled €7,175,000 selling 87% by value, a result far above the presale estimate.

The top lot of the sale was an important Thangka representing the Mandala of Vajravarahi which sold for €607,500 against a presale estimate of €400,000-600,000. This piece was part of the exceptional collection of Lionel and Danielle Fournier which 74 lots realised a great total of €3,588,750.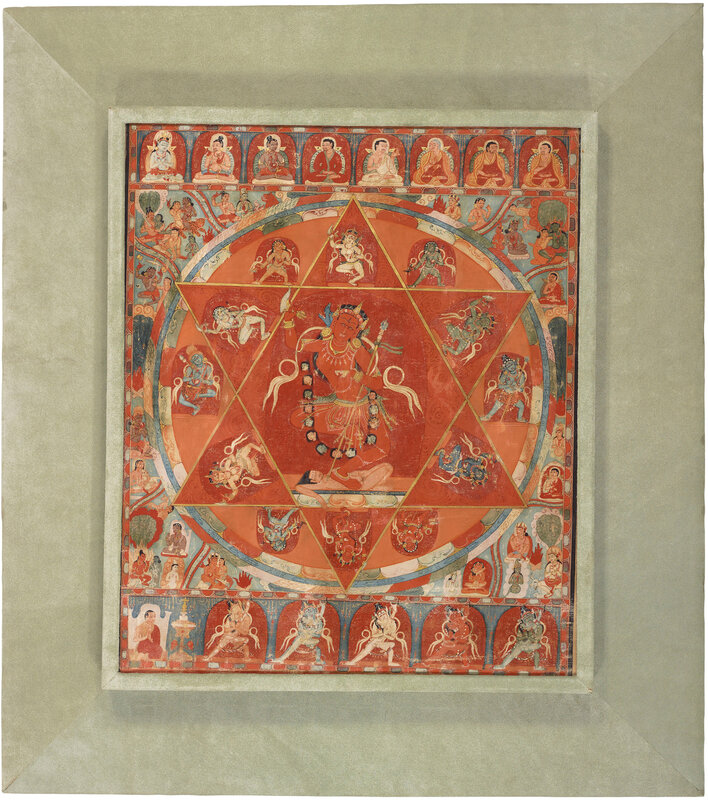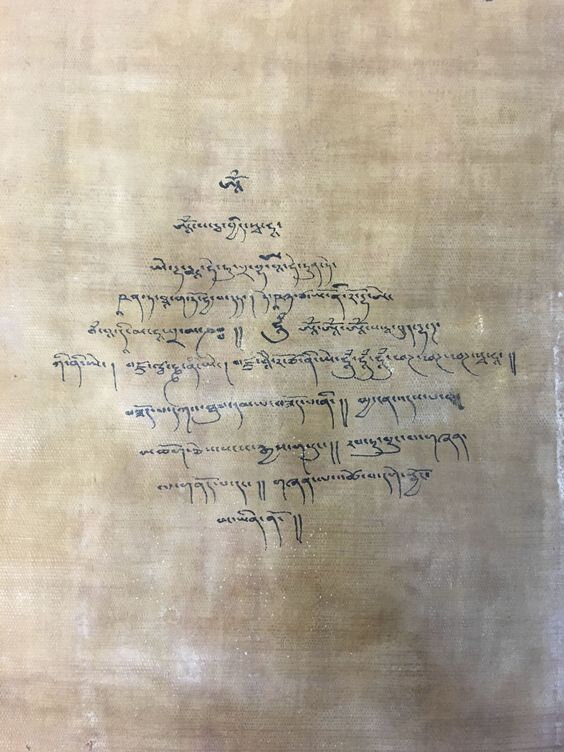 Lot 13. An important framed thangka depicting the mandala of Vajravarahi, Tibet, 13th century. Dimensions: 42,5 x 35,5 cm. (16 ¾ x 14 in.), encadré. Estimate EUR 400,000 - EUR 600,000. Price realised EUR 607,500. © Christie's Images Limited 2018.
Elle est représentée au centre piétinant un corps humain. Sa main droite tient lekarttrika, sa main gauche le kapala, le bâton reposant contre son épaule. Elle porte une jupe de perles autour de la taille. Elle est parée d'un mala de têtes coupées et de colliers divers. L'expression de son visage est sévère, une tête de sanglier à droite de sa tête. Elle est entourée par des assistantes. Le registre supérieur est à décor de lamas,mahasiddhas et Vajradhara, la section inférieure rehaussée de cinq divinités et un donateur. Le dos porte une inscription.
Provenance: The Private Collection of Lionel and Danielle Fournier of Himalayan Art, collected in Europe during 1970s-1980s.
Literature: G. Béguin, Art ésotérique de l'Himâlaya : La donation Lionel Fournier, Réunion des musées nationaux, Paris 1990, p. 173.
Exhibited: Musée national des arts asiatiques - Guimet, 13 October 1990 - 28 January 1991.
Note: This important early painting portrays Vajravarahi or the 'Diamond Sow' in a striking double triangle situated within a band of lotus petals and flames, forming the outer border of her mandala. Her blue painted sow-head that emerges from the right side of her head is associated with overcoming ignorance. This is accentuated by her dancing posture where she tramples on a figure which represents again her triumph over ignorance. With her right hand she brandishes the ritual chopper while her left holds the skull cup. A ceremonial staff is placed against her shoulder. Surrounding her, both within and outside the six-pointed star, are her assistants. The four corners see the cremation grounds separated by eight rivers. Interestingly, the official eight grounds are here not executed according to prescribed iconographic texts but show a free interpretation as just four of them are represented.
The lower register depicts five deities with their consorts in sexual union. According to Gilles Béguin they most likely present Samvara and his consort Vajravarahi. The author discusses this painting in length in his publication on page 172. A seated monk in front of an offering-set occupies its lower right corner. The upper register depicts various historical figures linked to bKa brgyud pa order, headed by the blue Adi Buddha Vajradhara. These are from left to right Tilopa (ca. 988 - ca. 1069), Naropa (ca. 956 - ca. 1040), Marpa (1012 - 1096), Milarepa (1040 - 1123), sGam po pa (1079 - 1153), Phag mo gru pa (1110 - 1170) and most likely Thang pa Chen po (1142 - 1210), who founded the Taklung monastery in 1180.
The afternoon session offered a beautiful group of 25 jades coming from a French collection. The combined total for these jades reached almost €1M. The top lot from this section is an impressive white jade "bridge" Brush rest and its spinach green jade "water" stand from the Qing dynasty which sold for €487,500 against a presale estimate of €80,000-120,000. Other Chinese highlights realised strong prices such as a massive imperial cloisonné enamel "Taotie" vase and cover, Lei from the Qianlong period (1736-1795) which sold for €343,500 and a rare Qingbai figure of a Bodhisattva from the Yuan dynasty (1279-1368) which realised €343,500 against a presale estimate of €80,000-120,000.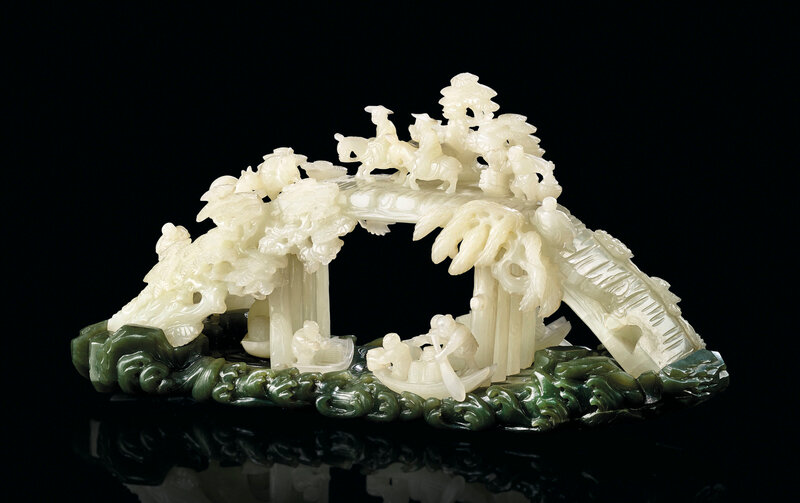 Lot 117. A rare and important white jade 'bridge' brush rest and its spinach green jade 'water' stand, China, Qing dynasty, 18th-19th century. Longueur du pont: 20 cm. (7 7/8 in.) Longueur du socle: 21,5 cm. (8 ½ in.). Estimate EUR 80,000 - EUR 120,000. Price realised EUR 487,500. © Christie's Images Limited 2018.
Le pont délicatement sculpté est peuplé de paysans sur des ânes, il enjambe une rivière où se tient un marché flottant rassemblant plusieurs embarcations légères, le socle en jade vert épinard sculpté d'eaux ondoyantes.
Provenance: French private collection, acquired by the grand-father of the present owner in France in the 1920s.
Note: This exquisite white jade brush rest depicting a vivid scene figuring farmers and horses crossing a arched bridge overlooking four boats of a floating market is one of the finest examples which fully embodies the delicacy and creativity of craftsmanship under the Empereur Qianlong's reign. This rare white jade 'bridge' brush rest seems to be the only exemple with its original spinach green jade base decorated with rocks and waves.
Carved jades such as this present piece represent miniature idealised landscapes upon which the scholar-collector could contemplate and escape. As R. Kleiner mentions in Chinese Jades from the Collection of Alan and Simone Hartman, Hong Kong, 1996, p. 160, "they complement the miniature gardens and trees cultivated by most scholars.".
Compare with a extremely similar white jade brush rest nevertheless without its original base in the collection of the Palace Museum, Beijing, illustrated in The Complete Collection of Treasures of the Palace Museum: Jadeware (III), Hong Kong, 1995, p. 195, no. 159.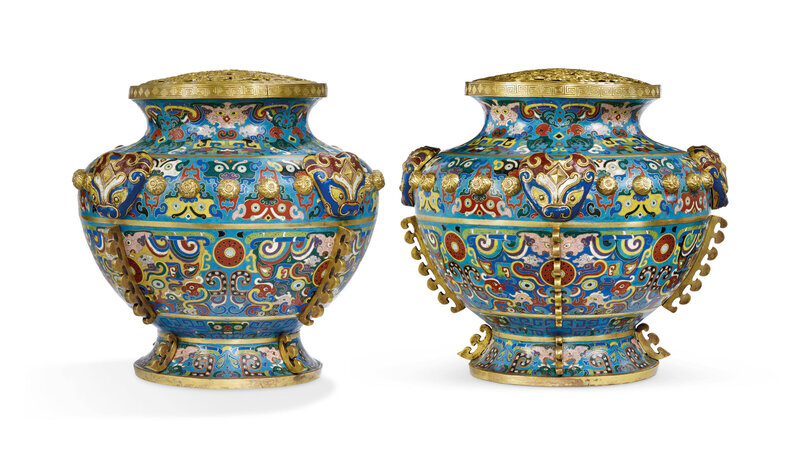 Lot 108. A rare and important massive imperial cloisonne enamel 'taotie' vase and cover, lei, china, Qing dynasty, Qianlong-Jiaqing period (1736-1820). Hauteur: 45 cm. (17 ¾ in.). Estimate EUR 150,000 - EUR 200,000. Price realised EUR 343,500. © Christie's Images Limited 2018.
De forme balustre, la panse et le pied sont rehaussés d'arêtes crénelées en bronze doré. La partie centrale est ornée d'un large registre à décor de masques de taotie, dragonskui, disques bi, animaux fabuleux stylisés et volutes. L'épaulement est rehaussé de quatre masques de chimères en relief, alternant avec des clous dorés et ciselés également en relief et disposés entre deux frises de taotie. La bordure du col est à décor de grecques incisées. Le couvercle ajouré est composé d'un enchevêtrement élaboré de volutes en cuivre doré, repoussé et ciselé ; petites restaurations.
Provenance: Previously in a Belgian and then in a French private collection.
Note: The Qing dynasty emperors shared a fervent passion for ancient bronzes and for ordering contemporary vessels made in similar style. The Kangxi (1662-1722), Yongzheng (1723-35) and Qianlong (1736-95) emperors in particular were important collectors of antiques and great patrons of the arts. The Qianlong emperor, like his predecessor Song Huizong, commissioned numerous catalogues illustrating pieces of his collection, including the Xi Qing gu jian (Mirror of Antiquities [prepared in] the Xi Qing [hall], which was compiled in 1749 and recorded ancient bronzes of the Imperial collection.

A cloisonné Lei vessel of the same size and almost the same design to the current example is in the collection of the musée des Arts décoratifs, Paris (fig.1), illustrated by Beatrice Quette (ed.) in Cloisonné: Chinese Enamels from the Yuan, Ming and Qing Dynasties, Bard Graduate Center, New York, 2011, p. 99, fig. 5.31. The close similarities of the design and the colour scheme could suggest that they were made to be matched as a pair during the Qianlong emperor's reign.
In the 1860s, Chinese art pieces were very popular in Europe. The cloisonne enamel vessels in particular were a great source of inspiration to the European deocrative arts. The lei of the musée des Arts décoratifs was donated by Mrs Alexandrine Louise Grandjean in 1923 along with a large number of pieces after she deceased in 1911. Her whole collection was essentially formed in the late 19th century. Like Mrs Grandjean's vase, our present lei vase was probably brought to Europe by the beginning of the 20th century. See another imperial lei of the same size but with a slightly different colour scheme, from the collection of Juan Jose Amezaga, sold in Christie's Paris, 13 June 2007, lot 25.
Lot 155. A rare and important Qingbai figure of a Bodhisattva, China, Yuan dynasty (1279-1368). Hauteur: 42 cm. (16 1/8 in. Estimate EUR 80,000 - EUR 120,000. Price realised EUR 343,500. © Christie's Images Limited 2018.
Il est représenté assis, le genoux droit plié. Vêtu d'une longue tunique souple, son torse nu et sa jupe sont parés de bijoux élaborés. Les yeux mi-clos, son visage est emprunt d'une expression méditative. Ses cheveux sont coiffés en chignon, certaines mèches retombant sur ses épaules, mêlées à d'élégants rubans ; accidents et quelques restaurations.
Provenance: European private collection, acquired in the 1960s-1970s in the French art market by repute.
Serene Compassion – A Large and Rare Yuan Dynasty Qingbai Guanyin
Rosemary Scott, Senior International Academic Consultant, Asian Art
This graceful bodhisattva combines inherent serenity with an expression of infinite compassion. The figure sits in the relaxed attitude of 'royal ease'rajalilasana, with the left arm straight at the side of the figure and the hand resting lightly on the floor, while the right arm rests casually on the figure's raised right knee with the hand hanging loosely from a flexed wrist. The face has a gentle expression, with the eyes downcast and the mouth forming a tender smile.

The body of this figure is androgynous and the face has a gentle softness. It is almost certainly a representation of Guanyin, who is often depicted in rajalilasana. The name Guanyin literally means 'she who listens to the sound' and is one of the most popular Buddhist deities in China. Although this bodhisattva originated in India as Avalokitesvara in male form, in China over time the figure was transformed into female form and was especially associated with compassion. One of the identifying features of figures of Guanyin is the small figure of Amitabha which usually appears at the front of the diadem worn by bodhisattva. The ornate part of the headdress of the current figure, which would have held the figure of Amitabha, appears to be missing, and may originally have been made of fragile pierced porcelain, lacquer or precious metal. This view is reinforced by a figure in the Metropolitan Museum, New York, dated to the mid-late- 13th century, which has the same front portion of the headdress as the current figure, but still has in place the pierced porcelain extensions (see D. Leidy, 'Qingbai Buddhist Sculpture', Transactions of the Oriental Ceramic Society, vol. 81, 2016-17, p. 113, fig. 4).

Buddhist figures of the Yuan dynasty, made in porcelain and covered with a qingbai glaze, developed from the tradition of finely-modelled religious figures made at the Jingdezhen kilns during the Southern Song period (1127-1279). There is a very small extant group of these Song figures in international collections. Inscriptions and the date of tombs in which these figures have been found suggest that they were made in the second and third quarters of the 13th century - just prior to the Mongol conquest.
While the majority of the Southern Song figures are all only partly glazed, this is not usually the case in the Yuan dynasty, when the figures are generally fully glazed. However, in a small number of instances, such as the current figure, areas of the figure would be left unglazed. This was to allow the area to be lacquered, or in very rare cases cold-painted, although generally, lacquer replaced cold-painting on partially-glazed Yuan qingbaiBuddhist figures. Lacquer can be seen on a seated, qingbai glazed, figure of the Buddha Amitabha is in the collection of the Beijing Art Museum (illustrated in Treasures from Ancient Beijing, New York, 2000, p. 16, no. 7, and cover). This figure, dated to the Yuan dynasty, has robes, which are partially lacquered, apparently over areas of the porcelain left free of glaze.

The number of the Yuan dynasty figures, including the current figure, are notably larger than the Southern Song figures. The famous qingbai glazed Yuan dynasty bodhisattva seated in maharajalilasana, which was excavated in 1955 from Dingfu Street in the western suburbs of Beijing, is 67 cm. tall. This figure is now in the Capital Museum, Beijing (illustrated in Zhongguo wenwu jinghua quanji – taoci juan, op. cit., p. 353, no. 618). Other large Yuan dynasty figures include the qingbai glazed seated bodhisattva in the collection of the Rietberg Museum, Zurich (Illustrated ibid. 25) and the qingbai glazed seated bodhisattva in the Metropolitan Museum, New York (illustrated by S. G. Valenstein in A Handbook of Chinese Ceramics, New York, 1975, p. 127, no. 120). The appearance of larger figures in the Yuan dynasty towards the end of the 13th century can be explained not only by changing tastes, but also by changes in technology, specifically to the porcelain body material used at Jingdezhen. The new body material contained more kaolin and thus more alumina, which facilitated the production of larger figures, and indeed vessels. However, a number of extant Yuan dynasty figures are only slightly larger than their Southern Song counterparts, and a particularly graceful Yuan dynasty Guanyin in the collection of C.P. Lin (illustrated by Rosemary Scott in Elegant Form and Harmonious Decoration - Four Dynasties of Jingdezhen Porcelain,London, 1992, p. 20, no. 4) is a case in point, as is a Yuan Guanyin in the collection of the Victoria and Albert Museum (illustrated by Stacey Pierson (ed.) in Qingbai Ware: Chinese Porcelain of the Song and Yuan Dynasties, London, 2002, pp. 216-7, no. 121).

The current figure, like that in the Capital Museum, Beijing, the Metropolitan Museum, New York, and the collection of C.P. Lin, has complex jewellery, scarves and long hair separately moulded and applied to the figure after the main body was complete. The delicate net-like beaded apron or over-skirt that hangs from just below the waist of the current figure is shared by the Victoria and Albert Museum figure of Guanyin, as well as the C.P. Lin Guanyin, and the Guanyin from the collection of the Metropolitan Museum, and the excavated Guanyin in the Capital Museum. The necklace which adorns the current figure's chest is of unusually elegant form and shares the incorporation of elements in the form of flower heads with the Victoria and Albert Museum figure, the Metropolitan Museum Figure, and the C.P. Lin bodhisattva.

The current bodhisattva is a particularly beautiful figure which seems to embody both serenity and compassion.
The porcelain works of art from different periods attracted many bidders from all around the globe, such as a large Famille verte dish from the Kangxi period which sold for €211,500. Finally, a handscroll for the sleeve composed of 12 erotic sheets and executed by Torii Kiyonaga (1752-1815) circa 1785 sold for €125,000.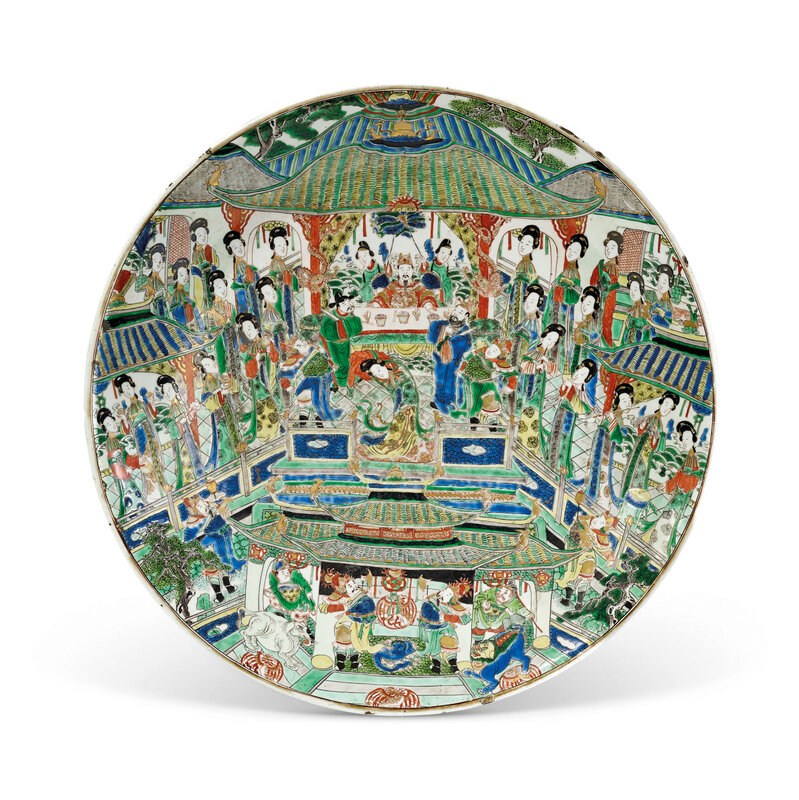 Lot 162. A large Famille verte dish, Qing dynasty, Kangxi period (1662-1722). Diamètre: 52 cm. (20 ½ in.). Estimate EUR 60,000 - EUR 80,000. Price realised EUR 211,500. © Christie's Images Limited 2018.
De forme circulaire, l'intérieur est orné d'une scène de banquet représentant un personnage important, sans doute l'empereur assis à une table et flanqué de ses concubines et de dignitaires regardant tous une danseuse entourée de ses musiciennes. La scène prend place à l'intérieur d'un palais dont l'entrée est gardée par des soldats accompagnés d'un éléphant et d'un lion. Le revers est orné de quatre paires de grues volant au-dessus de flots tumultueux et rochers, la base portant une marque zhi dans un double cercle.
Provenance: Property from a French private collection.
Note: Few dishes of this massive size finely painted in Famille Verte colours with variations of banquet scenes are known. Compare two dishes of the same size and quality, sold at Sotheby's London, 19th June 2002, lots 127 and 128, the latter formerly in the Ionides Collection, London. Another dish belonging to this group was sold at Christie's London, 13th November 2001, lot 224.
Compare the famille verte dish of very similar size, enamelled with a less elaborate 'performance' scene, which was in the Collection of Dr. C. M. Franzero and exhibited by Messrs. Bluett & Sons Ltd., London, November 1974, catalogue no.37; interestingly the Franzero dish has ponies leaping over waves on the reverse.

The underglaze blue mark (zhi) within a double square on this dish is rare; see Gerald Davison, The Handbook of Marks on Chinese Ceramics, 1994, no.1650, p.149 and p.193, where the author suggests this is an Imperial mark. There are several variations of the mark. For examples see "
The Complete Collection of Treasures in the Palace Museum, Miscellaneous Enamelled Porcelains and Plain Tricoloured Porcelains", Shanghai, 2009, cat. nos. 219, 220 and 223.







Lot 85. Torii Kiyonaga (1752-1815), Handscroll for the Sleeve (Sode no maki), circa 1785. Dimensions du hashira-e, chaque feuille: 12,8 x 67,5 cm. (5 x 26 5/8 in.). Dimensions du rouleau: 12,8 x 892 cm. (5 x 351.2/8 in.). Estimate EUR 120,000 - EUR 150,000. Price realised EUR 125,000. © Christie's Images Limited 2018.
Lot complet de douze estampes érotiques et une préface imprimée, montées en rouleau.
Note: Handscroll for the Sleeve (Sode no maki) is an undisputed masterpiece within the shunga tradition. Eleven couples are depicted in various positions and stages of lovemaking, and on the twelfth sheet are three circular windows containing male and female genitalia. Extraordinary in the use of space allowed by the strikingly long and narrow sheets of paper - each pair of lovers is beautifully portrayed using rhythmic lines and ingenious cropping, imparting each scene with a story of its own. Scenes include an encounter between two lovers shown passionately kissing with their eyes closed, a young woman who is covering her mouth coyly, indicating possibly this being her first sexual encounter and a scene derived from history showing the one-night encounter between the famous young Ushiwaka-maru and Princess Joruri.

Literally meaning "Handscroll for the sleeve", the title Sode no maki suggests that it can be carried around slipped inside the sleeve of a kimono. This example is especially notable for the wonderful preservation of colours, which in many other examples are much less vibrant. To compare with examples in museum collections:
Attributed to Torii Kiyonaga (Japanese, 1752–1815), Scroll for the Sleeve (Sode no maki), Edo period, about 1785 (Tenmei 5).Woodblock print (nishiki-e); ink and color on paper. Horizontal hashira-e; each sheet: 12.6 x 67.8 cm (4 15/16 x 26 11/16 in.); complete scroll: 12.6 x 902.3 cm (4 15/16 x 355 1/4 in.), Museum of Fine Arts, Boston, (accession number RES.09.319). © 2018 Museum of Fine Arts, Boston


Torii Kiyonaga, Sode no maki (Handscroll for the Sleeve), Tenmei era, circa 1785. Woodblock print, shunga. Three close-up views of sexual techniques. Height: 12.7 cm. Length: 70.1 cm. The British Museum, (accession number OA+,0.135.1-13). © 2017 Trustees of the British Museum
For further reading see Tim Clark et. al., Shunga: Sex and Pleasure in Japanese Art, (British Museum, London, 2013), p. 182-189.
Tiphaine Nicoul, Head of Asian art at Christie's France and Camille de Foresta, Auctioneer of the sale, commented: "We are pleased to have achieved these strong results, demonstrating that international collectors have a continuous interest in rarity, freshness to the market and private provenances such as the Lionel and Danielle Fournier collection which performed so well and the French group of jades which almost reached one million euros. We are particularly honoured to have been entrusted with the Lionel Fournier collection which history is so remarkable. Mr. Fournier brought a lot to the Asian Art world and we were pleased to see that collectors paid a last tribute to a great visionary".