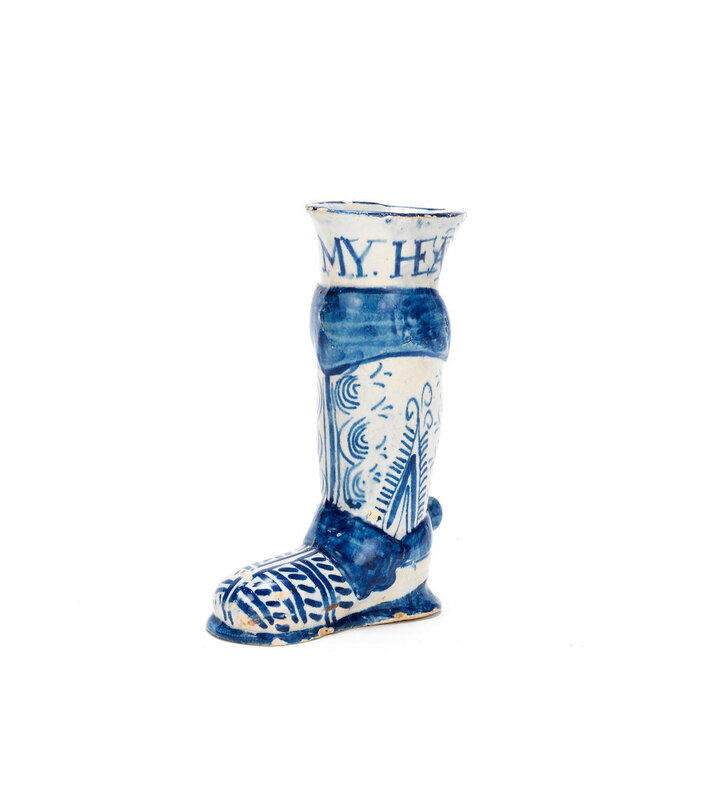 Lot 80. An exceptional early London delftware drinking cup in the shape of a boot, circa 1650; 17.5cm high. Estimate £ 16,000 - 25,000 (€ 18,000 - 28,000). © Bonhams.
The free-standing vessel in the shape of a gentleman's riding boot compete with a spur at the back of the heel, the decorative sock around the boot painted in blue with ornamental patterns, inscribed at the rim 'OH. MY. HEAD'.
Provenance: Jonathan Horne, A Collection of English Pottery, Part XII(1992), no.322.
Syd Levethan, Longridge Collection, Christie's sale 10 June 2010, lot 1044.
Literature: Illustrated by Leslie B. Grigsby, the Longridge Collection of English Slipware and Delftware (2000), fig.D358.
Note: Although models of shoes were popular in delftware, this is the only surviving example of a full length boot so far recorded. Fragments of a different model of boot were excavated at Rotherhithe. Michael Archer has suggested that the potter has attempted to depict a postilion's jackboot, a reinforced, heavy leather boot worn by the drivers of coaches or carriages. The inscription is presumed to refer to the effect of drinking too much liquor from this novelty vessel, or more particularly to the effect felt by the drinker the 'morning after'. The early date for this vessel is suggested by the patterns painted on the embroidered 'sock' around the boot, as related motifs are noted on a mug and a cup dated 1647 and 1650 respectively.
Bonhams London. The Olive Collection, 31 Jan 2019