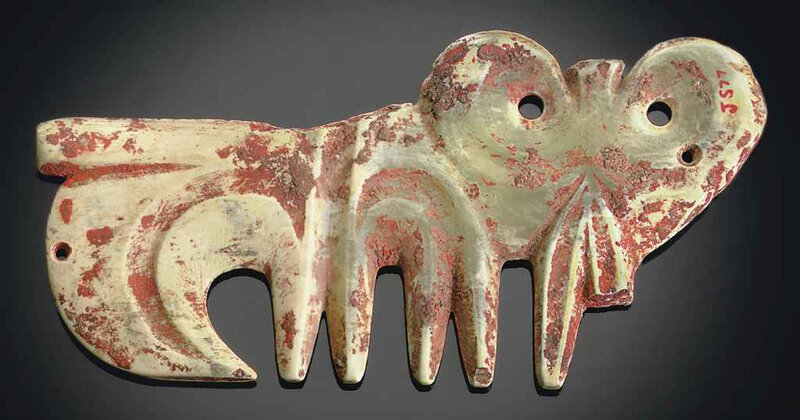 Lot 1210. A rare greyish-green and opaque buff jade 'toothed' pendant fragment, Neolithic period, Hongshan culture, circa 3500-3000 BC; 3½ in. (8.9 cm.) long. Estimate $15,000 - USD 18,000. Price Realised $43,750. © Christie's Images Ltd 2011
The thin plaque well carved on both sides with a series of curvilinear grooves and corresponding ridges swooping down to form a lower row of tapering, ridged 'teeth' or 'tusks' and a wide, incurved cusp at one end, two of the grooves curving tightly upward to surround two eye holes in a simplified mask positioned above two 'teeth', with two small biconical holes, the stone with soft lustrous polish, and now almost completely altered to an opaque buff color, with traces of cinnabar and some earth encrustation.
Provenance: In the United States prior to 1977.
Note: This very rare pendant is a fragment of a larger pendant that would have been very similar to one (11.4 cm. long), also of Hongshan culture date, found in a much later, Spring and Autumn period (770-476 BC) tomb at Shangguodiancun, Fengxiang, Shaanxi province, illustrated by Gu Fang, The Complete Collection of Unearthed Jades in China, vol. 14, Beijing, 2005, p. 26. The Hongshan culture (c. 4000-2500) flourished in the region of southeastern Inner Mongolia and western Liaoning province. The inclusion of a Hongshan culture jade in a Spring and Autumn tomb in Shaanxi province attests to the status and value placed upon jades in the early Chinese dynasties, and how they might have traveled from one region to another over time. Another similar, complete, pendant of this rare type, is illustrated by J. So, "A Hongshan Jade Pendant in the Freer Gallery of Art", Orientations, May 1993, pp. 87-92, figs. 1a and b. Also illustrated is a fragment in the Tianjin Art Museum, fig. 4.
Christie's. Property from the Arthur M. Sackler Collections, 24 March 2011, New York, Rockefeller Plaza