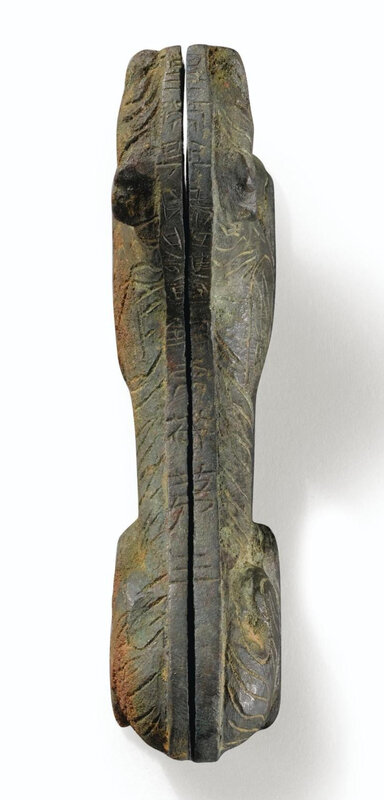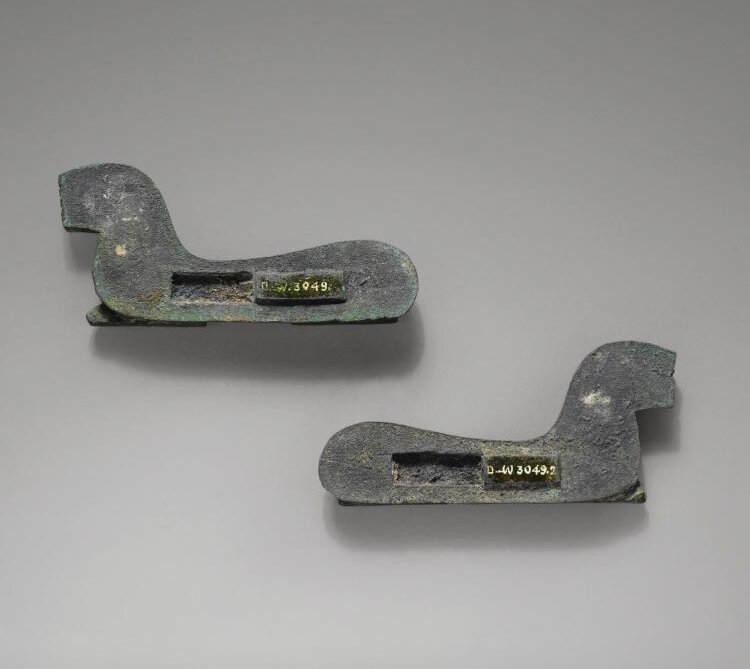 Lot 51. Tigre en bronze en deux parties, hufu, Dynastie des Han; 9,4 cm; 3 3/4 in. Estimation: 4,000 — 6,000 €. Lot vendu 363,000 €. Courtesy Sotheby's 2015.
les deux formant un tally, deux boucles au revers pour les attacher l'un à l'autre, le corps démesurément allongé, la tête en avant, le pelage figuré par de fines rainures, caractères gravés sur le poitrail, sous le corps et sur le dos, patine sombre, D.W 3049.1 et D.W 3049.2 (2)
Inscriptions:
Sur le poitrail: Yangxi hujun
Sous le corps: tong hufu zuo / tong hufu you
Sur le dos : Huangdi zi yangxi hujun tong hufu di san
Note: Tiger tallies were common in the late Warring States and Han periods. Their origins, uses and functions are discussed by Lothar von Falkenhausen,'The E Jun Qi Metal Tallies', in Martin Kern (ed.), Text and Ritual in Ancient China, Washington D.C., 2006, pp. 82-91. The 1929 Berlin Exhibition of Chinese Art included a bronze fitting of a crouching tiger similar if not identical in size and design to the present two pieces, see Otto Kuemmel, Ausstellung Chinesischer Kunst, Berlin, 1929, cat. no. 237.