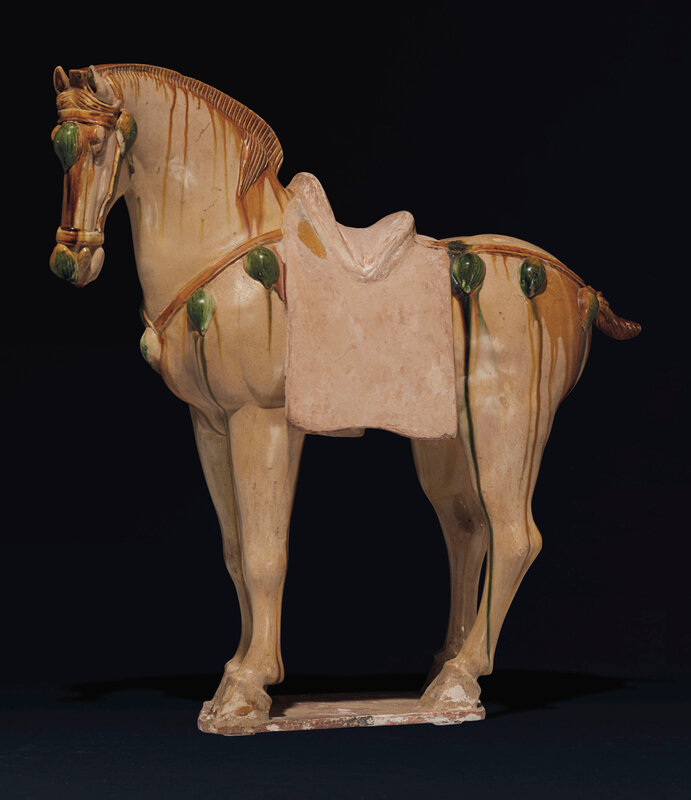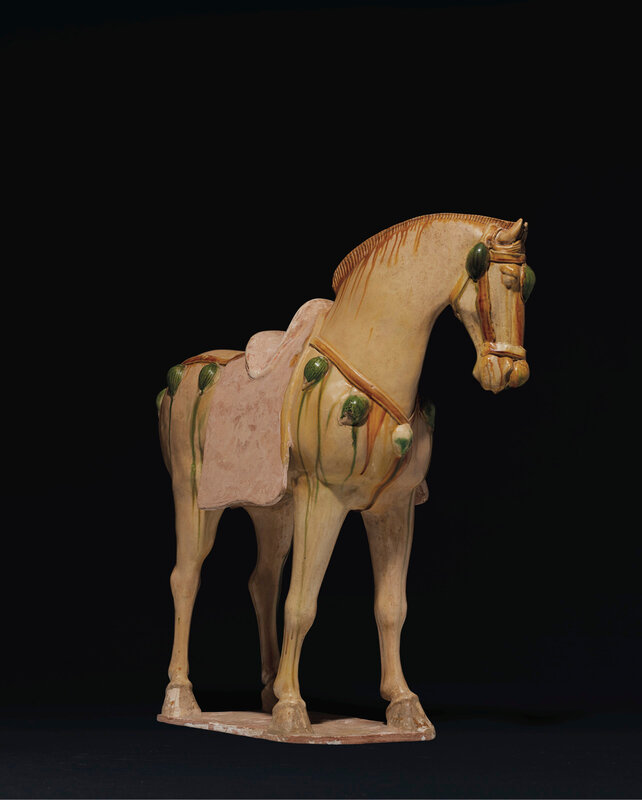 Lot 1614. A large sancai-glazed pottery figure of a horse, Tang dynasty (AD 618-907); 22 in. (55.9 cm.) high. Estimate USD 40,000 - USD 60,000. © Christie's Images Ltd 2019
The horse is shown standing on a slab base with ears pricked and head turned slightly to the left, and is covered with a pale cream glaze, the mane and tail with amber glaze. The harness is hung with green-glazed tassels, and the saddle cloth is washed with vermilion pigment.
Provenance: Parke Bernet Galleries, New York, 8 April 1948, lot 293.
Note: The ceramic horses of the Tang dynasty were either decorated with sancai (three-color) glazes, like the current example, or were unglazed and cold-painted. Both techniques were extremely successful. The sancai glazes produced brilliant, lasting colors, emphasizing the horses' powerful bodies and elaborate sprig-molded trappings. The current figure is a superb example of its type, and is unusual in being shown striding, rather than standing rigidly foursquare as most glazed horses are shown.

The horse depicted here is the revered 'blood-sweating' horse, which was introduced into China from the west during the Han dynasty. These Ferghana horses were known for their speed, power and stamina, qualities which are brought out by the masterful hand of the artist. They were thought to have descended from celestial horses, and were symbols of great status for those who owned them.

Compare the similarly glazed figure of a horse, with cream-glazed body, green-glazed tassels, amber-glazed mane and unglazed saddle and saddle cloth, but shown standing foursquare, sold at Christie's New York, 17 September 2008, lot 412.

The result of Oxford Authentication Ltd. thermoluminescence test no. 166m40 is consistent with the dating of this lot.
Christie's. Fine Chinese Ceramics & Works of Art, New York, 22 March 2019