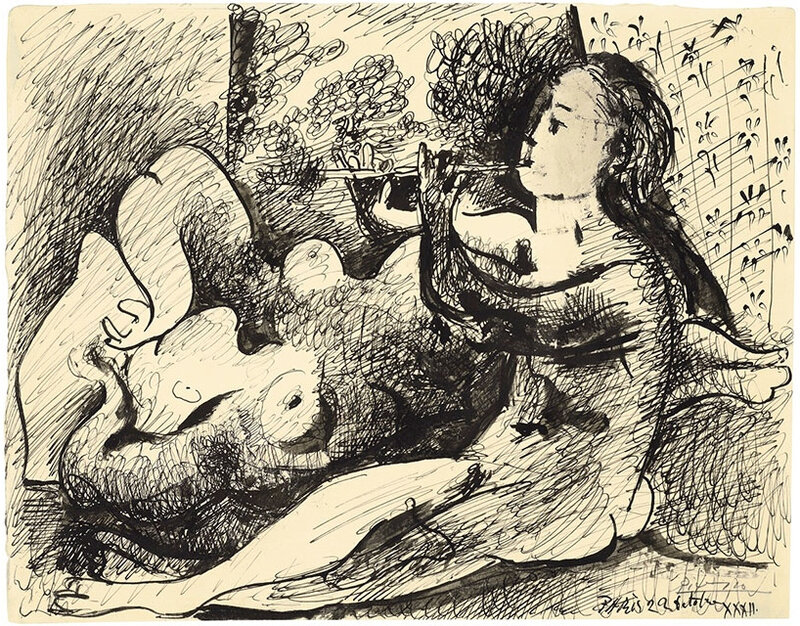 Pablo Picasso, Joueuse de lyre et nu couché. Estimate: €250,000-350,000. © Christie's Images Ltd 2019
PARIS.- On March 28, Christie's France will have the privilege to present a rare pen and India ink drawing on paper by Pablo Picasso, entrusted by the MoMA, New York which will be sold to benefit their acquisition funds. Dating from October 1932, a particularly prolific year in the private and artistic life of Picasso, this work is part of the important but little-known series of India ink on paper addressing the theme of Joueurs de flûte et nus couchés. A revealing series of the artist's devouring passion for his new idyll, Christian Zervos wrote: "To those who have not yet grasped the impact of Picasso's private life on his work, these drawings will no doubt suffice to persuade them" (C. Zervos, Picasso, Paris, 1957, P. IX.).

Antoine Lebouteiller, Director of the Impressionist and Modern Art department: "Christie's Paris is honoured to present this rare drawing by Pablo Picasso amongst the highlights of its Works on Paper sale to be held on March 28th, during the Salon du Dessin. The high quality of this fresh to the market work of art combined with its prestigious provenance will certainly attract many international collectors present in Paris for the fair".

This never seen on the market pen and ink drawing executed in 1932 comes from the prestigious collection of MoMA and represents one of Picasso's muses, Marie-Thérèse Walter. The relationship between Picasso and the young Marie-Thérèse is thought to have begun as far back as 1927. Many years later, she would tell Life Magazine, "When I met Picasso I was 17. I was an innocent young gamine. I knew nothing – life, Picasso, nothing. I had gone shopping at the Galeries Lafayette [department store in Paris], and Picasso saw me coming out of the metro. He simply grabbed me by the arm and said: 'I'm Picasso! You and I are going to do great things together'" (in P. Daix, Picasso: Life and Art, New York, 1987, p. 202).

This remarkable unseen drawing was gifted by the artist to his dealer Daniel-Henri Kahnweiler, before being donated to MoMA by American painter Eve Clendenin in 1961. The drawing underscores the amorous excitement Picasso felt in that pivotal year, as illustrated in the exhibition Picasso 1932 – Année érotique held at the Musée Picasso in Paris and at the Tate London in 2017-2018.

As Robert Rosenblum has written on Picasso's 1932 artistic production: "In surveying the emotional and pictorial graph of Marie-Thérèse's covert and overt presence in Picasso's life and art, there is no doubt that 1932 marks the peak of fever-pitch intensity and achievement, a year of rapturous masterpieces that reach a new and unfamiliar summit in both his painting and sculpture" (in Picasso and Portraiture, exh. cat., New York, 1996, p. 361).