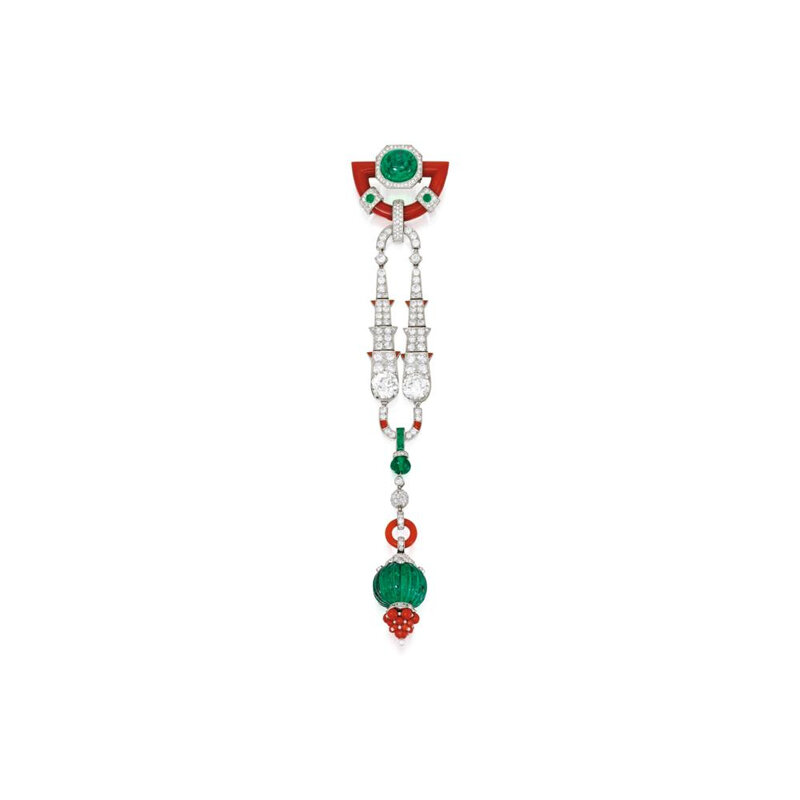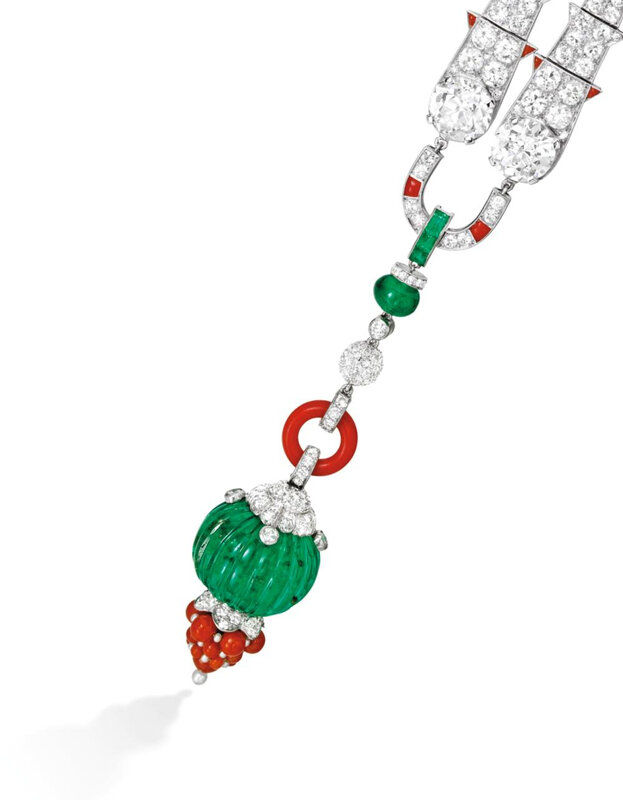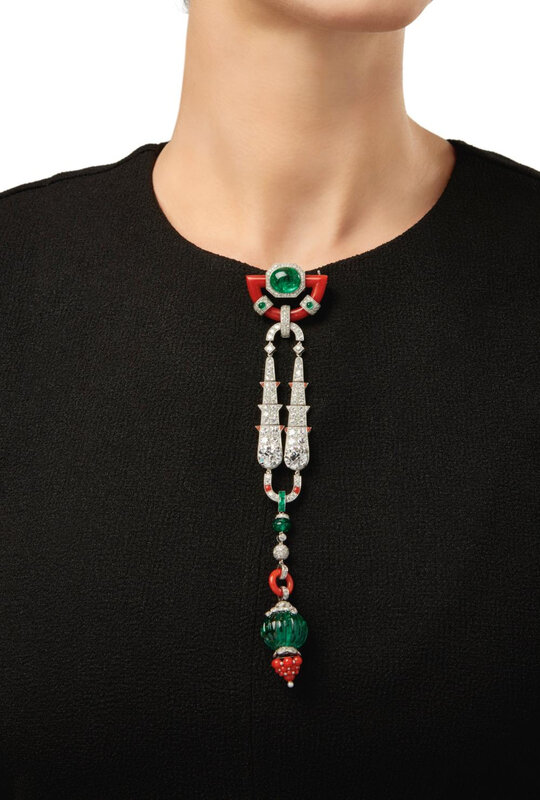 Lot 140. A rare and important diamond, coral, emerald and seed pearl brooch, Cartier, circa 1925. Estimate $250,000 - $350,000. Sold for $824,000. Courtesy Sotheby's.
Of pendeloque design, set with numerous old European and single-cut diamonds, the top composed of carved coral, accented by cabochon emeralds, further set with two old European-cut diamonds weighing 3.81 and 3.51 carats, suspending a carved emerald bead surmounted by a diamond-set cap, further highlighted by coral segments, calibré-cut emeralds and seed pearls, signed Cartier; circa 1925.
Note: No. 6187896078 dated December 4, 2017 stating that the diamond weighing 3.81 carats is E color, VVS2 clarity.
No. 2183901037 dated November 29, 2017 stating that the diamond weighing 3.51 carats is F color, VS2 clarity.
Potential bidders who intend to export this lot are advised that certain permits are required for export. If you are interested in this lot, please contact the Jewelry Department before bidding.
Of all the works produced by Cartier since its founding in 1847, it is their dazzling creations from the Art Deco period that epitomize the firm's unparalleled innovation, style, and craftsmanship. Instantly recognizable and timeless in design, Cartier's Art Deco jewels represent one of the great highpoints in the history of jewelry.
Cartier's emergence into Art Deco's bold, new aesthetic may be attributed in large part to the artistic vision of Charles Jacqueau (1885-1968), a pioneering designer who revitalized the staid, Victorian themes of the previous century with vivid colors and stylized foliate motifs drawn from Indo-Persian art and architecture. Throughout the 1920s and 30s, his Eastern-inspired jewels were all the rage in Paris, London, and New York. Cartier's renowned tutti frutti design from this period is the crowning example of synthesizing Mughal aesthetics and Western workmanship: cuff bracelets and collar necklaces were set with Indian-style carved rubies, sapphires, and emeralds to create a brilliantly colored carpet of fantastic gems.
This pendeloque is another illustration of the firm's marriage of Eastern and Western influences. A rare discovery, the piece is a notable contribution to the published canon of Cartier jewels. Its lithe, columnar form—originally intended to drape off the shoulder—was inspired by the Indian sarpech, a jeweled turban pin that dangled like a tassel over the eyebrow. According to historian Hans Nadelhoffer, Cartier discovered the sarpech form indirectly through the fanciful orientalist costumes of the Ballets Russes, transforming theatrical fantasy into some of the most popular decorative motifs of the period. In a nod to contemporary fashion, this piece's attenuated silhouette and highly articulated diamond-set panels echo the increased mobility of drop-waist flapper dresses designed to swing along to the exuberant tones of the Charleston. Further, the graphic geometry of the piece as a whole is strongly architectural: the triangular coral and diamond projections are evocative of the winged roofs of far Eastern pagodas, simultaneously prefiguring New York's iconic Chrysler Building. Returning consistently to its Indian inspiration, the large and beautifully carved emerald bead at the bottom recalls the onion-domed finials of the Taj Mahal.
As much as the piece emphasizes dynamic construction, it draws balance from allusions to the natural world. While Art Deco designs frequently matched sapphires and emeralds, imitating the "peacock" color pairing of Indian jewelry, this pendeloque uses vibrant coral and verdant emeralds to create a warm color palette suggesting the exotic flora and fauna of far-flung locales. The piece terminates in a delicate cluster of pearl and coral beads, pointing to the "cluster of grapes" motif used to represent pleasure in Persian and Mughal miniature paintings. Thus, this jewel derives its sense of sumptuous luxury from the perfect harmony between composition and color, construction and organicism.
What distinguishes the piece as quintessentially Cartier is its exceptional fabrication. Hardly any of the incredibly supple platinum skeleton is visible to the viewer, and wherever possible the structure itself is rendered decorative, as is demonstrated by the coral stirrup and loop at either end of the piece. Even the tiniest details are of the highest quality, such as the pair of dainty emeralds framing the large, vibrantly colored central cabochon. The old European-cut diamonds, each exceeding three carats, are exceptionally limpid and clean, presenting an excellently matched pair. From the details to the raw materials, this pendeloque is a striking and rare example of Cartier's highly coveted Art Deco creations
Sotheby's. Magnificent Jewels, April 17, 2019, 10:00 AM EST, New York, NY, US