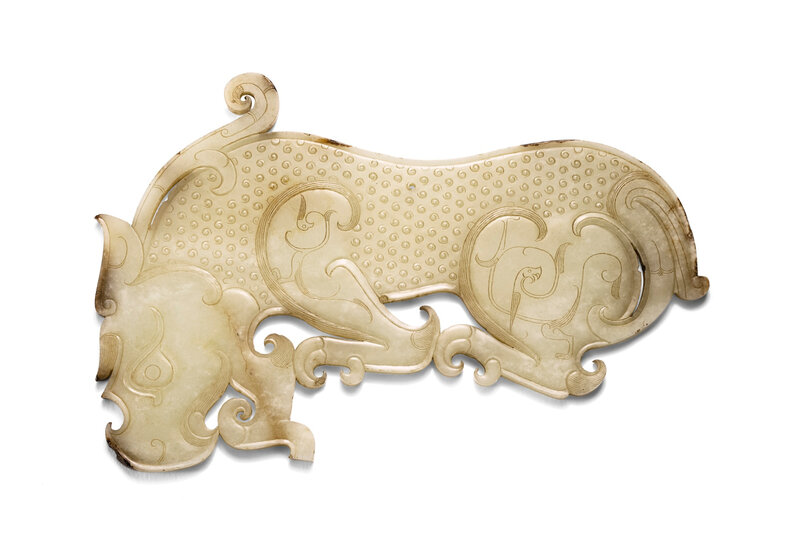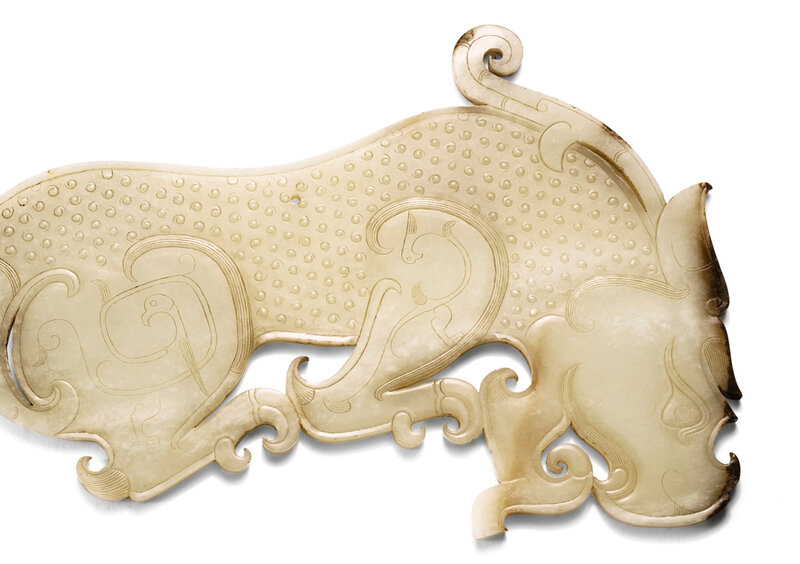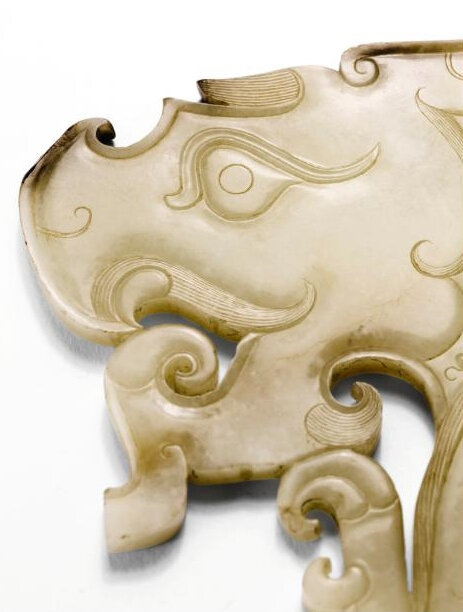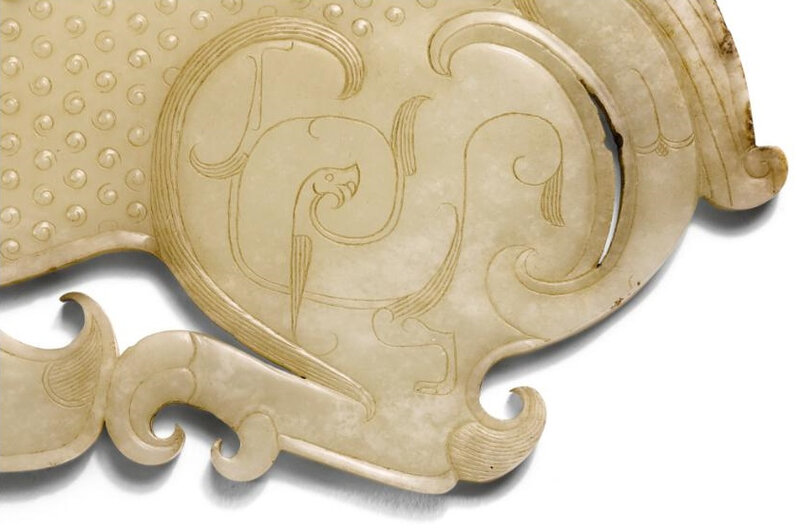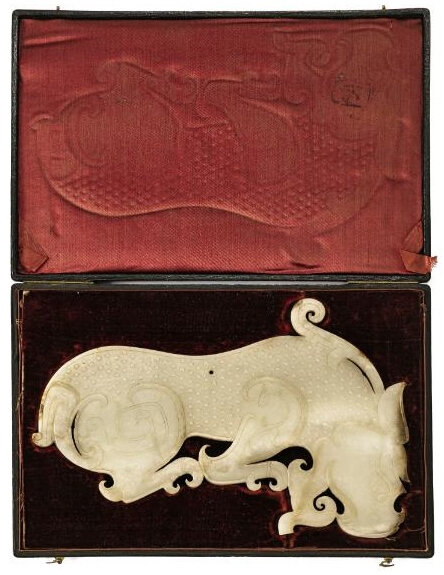 Lot 3620. An Exceptional and Large Yellow Jade Animal-shaped Plague, Eastern Zhou dynasty (770-256 BC); 22 cm, 8 5/8 in. Estimate: 25,000,000 - 30,000,000 HKD. Lot sold 26,575,000 HKD (3,423,126 USD). Courtesy Sotheby's.
exceptionally and powerfully worked in the form of a beast with an undulating silhouette defined with crisp edges, the head of the beast depicted with a long horn issuing along the contours and ending in an upcurled tip, the head portrayed diving far down, as if peering over an edge, further rendered with a prominent and broad snout ending in an arc-shaped tip, the muscular body terminating in a bifurcated tail and decorated with subtle relief on each side with raised bosses, the bent limbs further exquisitely adorned with zoomorphic outlines, incised with two undeciphered characters, the lustrous stone of a yellowish colour accentuated with brown markings around the edges.
Property from the Sam and Myrna Myers Collection
Provenance: Collection of Charles Vignier (1863-1934), Paris.
Exhibited: Possibly: Exposition Vignier, Galeries Levesque & Co., 109 Faubourg Saint-Honoré, Paris, 1913, cat. no. 209.
Radiant Stones. Archaic Chinese Jades/Pierres radieuses. Jades archaïques chinois, Paris, 2000, New York, 2001, cat. no. 108 and illustrated on the catalogue cover.
Two Americans in Paris: A Quest for Asian Art, Montreal, 2016, cat. no. 15.
From the Land of Asia: The Sam and Myrna Myers Collection, Montreal, 2016, Kimbell Art Museum, Forth Worth, Texas, 2018.
Two Americans in Paris: Sam and Myrna Myers*
Sam and Myrna Myers are two Americans who fell in love with Paris in the mid-60s and decided to move there. Over five decades they amassed more than 5000 works of art, offering a very personal vision of the world of Asian art, coherent and well documented. While Paris was their centre, the initial spark for their collecting was the small town of Ascona on Lago Maggiore where the couple arrived on vacation quite by chance. Over the next ten years, Sam and Myrna vacationed in Ascona. It was in 1966 during their first visit that they discovered Casa Serodine, an antique gallery where they met Dr Rosenbaum (1894-1984), an erudite antique dealer who became their mentor and helped them realise that, despite limited means, it was possible to acquire authentic antiquities. Accepting that challenge opened a path which they followed thereafter.
On their first trip, they acquired four small Tanagra heads, but the following year they were enchanted by an Egyptian stone head, which represented a serious investment for the young couple, marking their determination to enter the world of collectors. These initial purchases were followed by other works from the Middle East, Greece and Rome.
Once the thrill of discovery and collecting took hold in Ascona, their passionate search continued without interruption. Wherever they went, they visited the antique dealers, the museums and the fairs. There was no predetermined plan; they gathered beautiful and surprising objects, often unrelated, creating a sort of cabinet of curiosities in which Asian elements acquired a dominant role. Certain pieces revealed their unusual intuition. Without advisers, based on their own taste and sense of beauty, they uncovered works of great quality. Each 'find' was an occasion to learn, to deepen their knowledge and to move forward in new fields.
Paris offered an inexhaustible supply of resources – museums, exhibitions, galleries, salesrooms. Myrna and Sam would visit all of these, discuss the pieces, research the material and train their eyes. Myrna soon understood that it was necessary to deepen her knowledge, especially as they turned more and more to Asian art, and decided to enroll in the Ecole du Louvre, completing the full three-year course, in order to acquire the indispensable tools. With the benefit of solid experience supported by a thirst to study, enriched by visits to the great museum collections in Europe and the United States, their collecting took on its own identity which resulted from the temperaments, affinities and tastes of these two enthusiastic protagonists.
* Excerpt from the introduction to Two Americans in Paris: A Quest for Asian Art, Montreal, 2016.
The Vignier Jade Pendant
A 'Tiger Plaque' with Rhinoceros Features
Regina Krahl
This large, masterfully designed, dazzlingly cut and superbly polished jade carving belongs to an extremely small, fascinating group of animal plaques of the Warring States period (475-221 BC). The imaginatively rendered beast impresses at first glance through the powerful, yet elegant rhythm of its undulating silhouette, and at closer inspection through the exquisite ornamentation and subtle relief on both its sides. It is a prime example of the peak period of Chinese jade carving in the late Eastern Zhou (770-256 BC), when jade craftsmen were unsurpassed at making optimal use of the stone at their disposal, had developed a complex and distinctive style of their own, and finished their works to perfection.
The present pendant has three pairs of companions, all of which stand out from among the myriads of animal plaques carved in this period: One pair, in the Fogg Art Museum, Cambridge, MA, is illustrated in Max Loehr, Ancient Chinese Jades from the Grenville L. Winthrop Collection in the Fogg Art Museum, Harvard University, Cambridge, Mass., 1975, pl. 438 (fig. 1; 19.1 cm); this pair, slightly smaller, has the haunches covered with a pattern of interlocking T-hooks.
Pair of jade 'tiger plaques', Warring States – Western Han period, 19.1 cm, 7 1/2 in. © Harvard Art Museums/Arthur M. Sackler Museum, Bequest of Grenville L. Winthrop
A pair in the Cleveland Museum of Art, perhaps the latest of the three pairs, illustrated in colour in an advertisement by J.J. Lally in Chinese Jade. Selected Articles from Orientations 1983-2003, Hong Kong, 2005, p. 197, is discussed in J. Keith Wilson, 'A Pair of Chinese Jade Plaques', The Bulletin of the Cleveland Museum of Art, vol. 80, no. 4 (April 1993), pp. 127-30, and illustrated on the cover and in fig. 1 (fig. 2; w. 8.9 and 8.7 cm); here, the animals' haunches are covered with dragon motifs dissolved into highly abstract, angular scrollwork.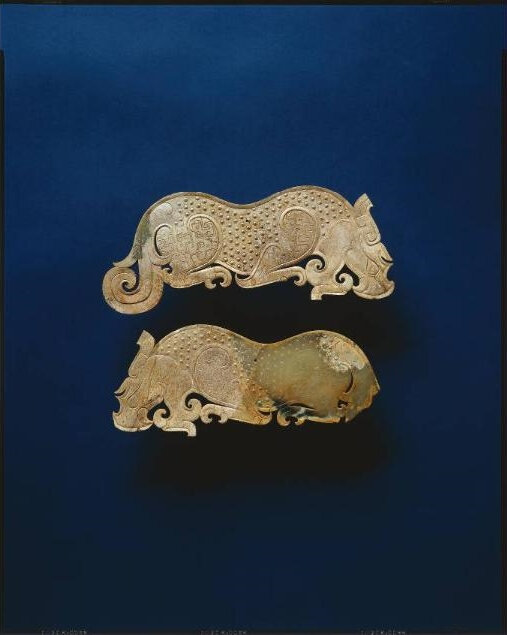 Pair of jade 'tiger plaques', Eastern Zhou dynasty, Warring States period. Purchase from the J.H. Wade Fund and the John L. Severance Fund, h. 8.9 and 8.7 cm, 3 1/2 and 3 3/8 in. Courtesy of Cleveland Museum of Art, Cleveland
And a pair in the Freer Gallery of Art, Washington, DC, recorded to have come from Jincun near Luoyang in Henan province, and considered to be slightly later in date than the Fogg pair, was included in the exhibition Chinese Art of the Warring States Period. Change and Continuity, 480-222 B.C., Freer Gallery of Art, Washington, DC, 1982, cat. no. 96 (fig. 3; 14.7 and 15.1 cm); this pair has the rear haunches covered with C-scrolls, the front haunches with linear engraving, one including a figure of a bird similar in style to the imagery on the present plaque.
Pair of jade 'tiger plaques', Eastern Zhou dynasty, 14.7 and 15.1 cm, 5 3/4 and 5 7/8 in. © Freer Gallery of Art, Washington, DC
While all these pendants are very similar, the present plaque is unique for its representational carvings of birds and a dragon on its haunches, which evoke the wispy, curling patterns of the period, which often include rudimentary bird and animal features. These distinctive designs are extremely sophisticated, executed in a clearly recognizable style, but never predictable or simply repetitive. The swift movement they convey would seem to originate with painted motifs, probably on lacquer, but pervades also other media, particularly embroidered textiles; see, for example, painted bird figures in the centre of a Warring States lacquer dish, illustrated in Zhongguo qiqi quanji [Complete series on Chinese lacquer], Fuzhou, 1993-8, vol. 2, pl. 9 and p. 9, and on the sides of a bianhu, pl. 24; or embroidered bird and animal motifs on the famous silk garments discovered at Mashan, Jiangling in Hubei province, published in Zhongguo meishu quanji: Gongyi meishu bian[Complete series on Chinese art: Arts and crafts section], 6: Yin ran zhi xiu [Printed, dyed, woven and embroidered textiles], vol. 1, Beijing, 1985, pls 4-9 and 20-28.
The present plaque is the only one of the group depicting the head of the animal diving far down, as if peering over an edge – a stylistic feature that could, however, have been dictated by the shape and markings of the original jade pebble rather than by artistic intent. The brown markings around the edge of the plaque suggest a very astute utilisation of the raw material. The edge of the plaque bears a two-character inscription engraved in rudimentary strokes, which so far remains undeciphered.
The companion plaques are generally referred to as 'tiger plaques'. Jade hu (tigers) are frequently mentioned in classical texts such as the Zhou li [The rites of Zhou], and the tiger seems indeed one of the most commonly depicted animals. Tiger pendants are known at least since the Shang period (16th century – 1045 BC) and are very common in the Eastern Zhou. The term 'tiger' appears, however, to have been retained for these animal pendants, even when the tiger form was replaced by sinuous dragons, as is suggested by the appearance of the character hu ('tiger') inscribed on dragon-shaped pendants (Jessica Rawson, Chinese Jade: From the Neolithic to the Qing, London, 1995, p. 261). A 'tiger pendant' could therefore apparently have various shapes.
While the animal of the present plaque may be described in the words of Wilson (op.cit., p. 127) as "at once tiger-like, rhino-like, and dragon-like", it certainly differs markedly from the usual depictions of tigers and dragons. The most obvious feature is of course the clearly rendered horn on the forehead. The snout differs as well, being much more prominent and broader than usual and ending in a blunt, arc-shaped tip, quite unlike the curled-up or pointed snouts seen both on tiger and dragon plaques. Further, the silhouette of these plaques, with a bulging neck and shoulder section is very characteristic of the rhinoceros and graphically captures the physical power of this massive animal, quite unlike the feline silhouette of the tiger or the slender, sinuous body of the dragon. All these attributes would seem to suggest that the carvers did not have a tiger or dragon in mind, when fashioning these pendants, even though they may have been referred to as 'tiger pendants'.
A similar but much smaller carving was excavated from a tomb believed to belong to Zhao Mo, who ruled from 137-122 BC, during the Western Han dynasty (206 BC – AD 9), as King of Nanyue in the far south and was buried at Xianggang, Guangzhou, Guangdong province; see Zhongguo chutu yuqi quanji/The Complete Collection of Jades Unearthed in China, Beijing, 2005, vol. 11, pls 81 and 123, and Nanyue wang mu yuqi/Jades from the Tomb of the King of Nanyue, Guangzhou, 1991, pls 52, 54 and 55 (fig. 4; 8.5 cm). This pendant, which formed part of the King's elaborate jade pectoral, shows a very similar silhouette and has been identified as a rhinoceros-shaped huang in Peter Y.K. Lam, 'Selected Jades from an Imperial Nanyue Tomb', Chinese Jade, op.cit., p. 121, huang being the general term for an arched jade pendant. One other related carving, but with almost plain surface and probably also slightly later than the present plaque, is illustrated in Rawson, op.cit., no. 17:13, from the collection of Sir Joseph Hotung.
Jade arched pendant in the shape of a rhinoceros, Western Han dynasty. Excavated from the tomb of the King of Nanyue, Guangzhou, 8.5 cm, 3 1/4 in. © Museum of the Western Han Tomb of the Nanyue King, Guangzhou.
Depictions of rhinoceros are otherwise rare in this period, but do exist. Since the Shang dynasty, bronze vessels naturalistically modelled in the shape of a rhinoceros were created and very realistic examples are known from the late Eastern Zhou or early Western Han period (e.g. Peng Qingyun, ed., Zhongguo wenwu jinghua da cidian. Qingtong juan[Encyclopaedia of masterpieces of Chinese cultural relics. Bronze volume], Shanghai, 1995, pl. 855). Images of the animal can also be seen among other beasts in hunting scenes inlaid in late Zhou bronzes; see Charles D. Weber, Chinese Pictorial Bronze Vessels of the Late Chou Period, fig. 66f top right, fig 67h top right, and fig. 79l. At the time, the rhinoceros was still considered a dangerous wild animal to be subdued, in the same way as tigers, although Qin Shihuang, the first Emperor of the Qin (r. 221-210 BC), is already reported to have sent out expeditions to obtain elephant ivory and rhinoceros horn (Jan Chapman, The Art of Rhinoceros Horn Carving in China, London, 1999, p. 26).
Thomas Lawton (Chinese Art of the Warring States Period, op.cit., p. 149) judged that the "perforations probably were used to secure the plaques to another surface, since the pieces are too large to be suspended or included as part of a larger assemblage", and the Nanyue plaque, which formed part of a pectoral, indeed has only a fracture of the size of the present plaque and its counterparts. Wilson, however, considers (op.cit. p. 129) "While substantially smaller and less elaborate, this object [the Nanyue plaque] suggests that our jades may also have been part of a sumptuous necklace worn by a nobleman in life as well as death. … Jades of this size, complexity, and quality were certainly made for only the grandest aristocrats of the time."
Although buried together with the deceased, such valuable pectorals are considered to represent personal belongings, which the deceased would have worn in his lifetime, rather than tomb goods. In fact, as Rawson mentions (op.cit., p. 259), the tinkling sound of the jade pendants of a ruler and other persons of high rank, when walking – jade being reserved for the highest echelons of society – is often remarked upon in classical texts.
This plaque masterfully conveys the power, strength and energy of the animal it depicts and at the same time is so subtly embellished that it is simply a work of beauty. In the words Wilson chooses (op.cit., p.128) to characterise the Cleveland plaques, "there are few Warring States jades, that approach the drama and quality" of these pieces, a quality that can be appreciated by the amateur art lover as much as the specialised jade collector.
Charles Vignier (1863-1934) was a Swiss-born poet and writer living and working in France, acquaintance of famous painters such as Matisse and Derain, and an important collector of Oriental art, who eventually himself became a specialist on the subject. He was instrumental in making East Asian as well as African art more widely known in France, where he also worked for auctions held at Hôtel Drouot, Paris. An extensive part of his collection, comprising nearly 500 items, was exhibited at Galeries Levesque & Co in Paris in 1913. It ranged from Chinese paintings, over Buddhist stone and gilt-bronze sculptures, early ceramics and small bronze items to Korean, Japanese, Persian, Syrian and African works. Among the six Chinese jades listed in the catalogue are two items attributed to the Zhou period, a cup and an "amoulette en forme de dragon enroulé", which may refer to the present plaque.