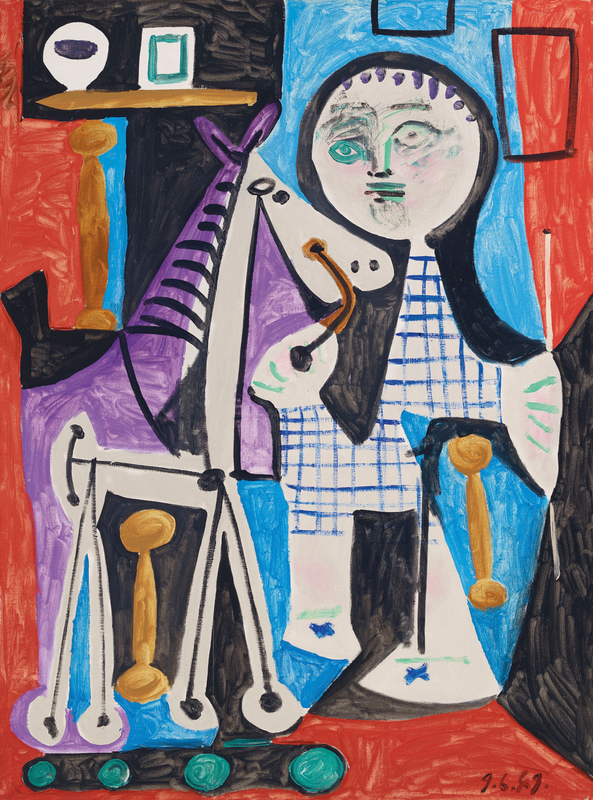 Lot 20 A. Pablo Picasso (1881-1973), Claude à deux ans, dated '9.6.49.' (lower right); dated again and numbered '9.6.49. II' (on the reverse), oil on canvas, 51 1/8 x 38 in. (129.7 x 96.5 cm.) Painted on 9 June 1949. Estimate USD 12,000,000 - USD 18,000,000. © Christie's Image Ltd 2019.
Provenance: Estate of the artist.
Marina Picasso, Paris (by descent from the above).
Galerie Jan Krugier, Geneva (acquired from the above).
The Bellagio Gallery of Fine Art, Las Vegas (by 1999).
Gagosian Gallery, New York (acquired from the above).
Acquired from the above by the present owner, 2000.
Literature: C. Zervos, Pablo Picasso, Paris, 1965, vol. 15, no. 145 (illustrated, pl. 87).
N. Cox and D. Povey, A Picasso Bestiary, New York, 1995, p. 53 (illustrated in color, p. 52; titled Boy with a Horse on Wheels).
S.A. Wynn, The Bellagio Gallery of Fine Art: European and American Masters, Las Vegas, 1999, pp. 153-155 (illustrated in color, p. 152; titled Child with Horse on Wheels).
Exhibited: Munich, Haus der Kunst; Cologne, Josef-Haubrich-Kunsthalle; Frankfurt, Galerie im Städelschen Kunstinstitut and Kunsthaus Zürich, Pablo Picasso: Werke aus der Sammlung Marina Picasso, Eine Ausstellung zum hundertsten Geburtstag, February 1981-March 1982, p. 384, no. 242 (illustrated; titled Der zweijährige Claude und sein Holzpferd).
Venice, Centro di Cultura di Palazzo Grassi, Picasso: Opere dal 1895-1971 dalla Collecione Marina Picasso, May-July 1981, p. 275, no. 291 (illustrated; titled Enfant avec cheval à roulettes).
Melbourne, National Gallery of Victoria and Sydney, Art Gallery of New South Wales, Picasso: Works from the Marina Picasso Collection, July-December 1984, no. 150 (illustrated in color; titled Enfant avec cheval à roulette).
Düsseldorf, Kunstsammlung Nordrhein-Westfalen and Staatsgalerie Stuttgart, Picasso's World of Children September 1995-March 1996, p. 254, no. 128 (illustrated in color; titled Child with Wooden Horse).
New York, Gagosian Gallery, Picasso and Françoise Gilot: Paris-Vallauris, 1943-1953, May-June 2012, pp. 122 and 360 (illustrated in color, p. 123; illustrated again in color, p. 360; titled Claude à deux ans avec son cheval à roulettes).
Note: "The baby—a boy—was born without difficulty on May 15, 1947," Françoise Gilot, Picasso's post-war lover and muse recalled of the birth of her first child. "Pablo wanted him to be named Pablo but since his first son had been named Paul—the French equivalent—I thought we should try something different. I remembered that Watteau's teacher had been called Claude Gillot, and that he had done many paintings of harlequins, just as Pablo himself had, even before the Blue Period and long after, so we named the baby Claude" (Life with Picasso, New York, 1964, p. 160). Painted on 9 June 1949, Claude à deux ans is an exuberant, color-filled and tender portrait of Picasso's second son, Claude that dates from a rare moment of contented familial bliss in the life of the artist. Living with Gilot in Vallauris in the south of France and enjoying a period of renewed artistic creativity, the pair had just welcomed their second child, Paloma, in April of this year. Over the next few years, Picasso's two young children would come to dominate every aspect of his art, unleashing a new youthful exuberance as the artist observed, with often wondrous fascination and adoration, the everyday lives of his young family. Frequently pictured with a variety of toys and often in the same blue and white checked shirt, Claude is here portrayed with a toy horse on wheels that appears almost as tall as him. One of two paintings of this subject that Picasso painted the same day,Claude à deux ans is defined by its facets of vibrant, imagined color, evoking the fantastical world of play in which Claude inhabited. Picasso kept this work in his collection for the rest of his life, a reflection of the importance it clearly held for the artist.
The planes of vibrant color that characterize this large canvas serve as a reflection of the deep sense of contentment the artist was enjoying at this time. Picasso had met Gilot, the beautiful, classically-featured young artist in 1943, during the long, dark years of the Occupation of Paris. Immediately beguiled by her independence, fresh vitality and beauty, Picasso pursued her and the pair's relationship began a year later, in 1944. She moved in with the artist in 1946; her image and presence revivifying and rejuvenating Picasso's work after the somber years of war. Living in La Galloise, their home in Vallauris in the south of France, the couple were soon happily ensconced in a peaceful domestic idyll, set under the sun of the Mediterranean.
In Claude à deux ans, Picasso places the viewer directly within his young son's world. We regard Claude from a low viewpoint, as if sitting on the ground, seeing the world through his own eyes. "[Picasso] entered into their play," Roland Penrose recalled of the artist's life with his children, "and made them happy with dolls fashioned from scrap pieces of wood decorated with a few lines in colored chalk; or taking pieces of cardboard he tore out shapes of men and animals and colored them, giving them such droll expressions that they became fairy-tale characters not only for Claude and Paloma but for adults as well" (R. Penrose, Picasso: His Life & Work, London, 1958, p. 330). Unlike the paintings and drawings that Picasso had made of his first son, Paulo, in which the child is pictured in stiff costumes, or as a miniature adult, somber, posed and serious, his depictions of Claude and Paloma show the artist completely immersed in the magic of their world. Kirk Varnedoe has written, "Whether in recognition of a new age of permissive thinking about early childhood or out of a greater concern to absorb for himself some of the budding vitality of their youth, Picasso in the early 1950s doted on the childishness of Paloma and Claude; rather than imposing premature adulthood on them in his work, he often let their games, their toys, their own creations—as well as the mercurial intensity of their emotional life—inform his art" (K. Varnedoe, "Picasso's Self-Portraits" in W. Rubin, ed., Picasso and Portraiture: Representation and Transformation, exh. cat., New York, 1996-1997, p. 160).
Picasso was particularly drawn to the toys that Claude and Picasso played with, capturing in his art a sense of the amazement that a child could find in the simplest things. The hobbyhorse had long featured in Picasso's depictions of his children. Years prior to the present painting, Picasso had depicted his first son, Paulo both clutching a toy horse as well as riding one, and a few years later, Maya, his daughter with Marie-Thérèse Walter, is pictured in a sailor's costume, clutching a doll in one hand and a figurine of a horse in the other. In the present work, Claude is accompanied by a hobby horse; indeed there are photographs of Claude with the rest of his family and a toy horse that date from a few years after the present work was painted. With its upturned mouth the horse—rendered in the same simplified, "Picassian" language that the artist used to portray his son—is transformed from an inanimate toy into a real animal, with Claude seemingly feeding his companion, happily immersed in a world of imagination and play.
The toys and youthful ephemera which surrounded the artist and Gilot while their young children were growing up were not solely descriptive motifs that Picasso included in his portraits, but were for the artist, symbolic objects that embodied a youthfulness that he wished to harness for himself. "Even now, when Claude and Paloma have gone to spend their holidays with their father," Gilot wrote in her biography of her time with Picasso, "Pablo has never let Claude return without taking at least one, sometimes more than one, article of clothing from his luggage. The first thing his father took was a new Tyrolean hat. After that there was a whole series of other hats… Another time it was a light-blue poplin raincoat… I finally became convinced that Pablo hoped by this method that some of Claude's youth would enter into his own body. It was a metaphorical way of appropriating someone else's substance, and in that way, I believe, he hoped to prolong his own life" (Gilot, op. cit., p. 232). Forever trying to defy the inexorable march of time, Picasso's paintings of his children allowed him to inhabit a world of complete freedom and inhibition, something he wished to embody for himself and channel into the way he made his art. "When I was a child I could draw like Raphael," he famously stated, "but it took me a lifetime to draw like a child" (quoted in H. Read in The Times, 26 October 1956).
Christie's. Impressionist and Modern Art Evening Sale, New York, 13 May 2019