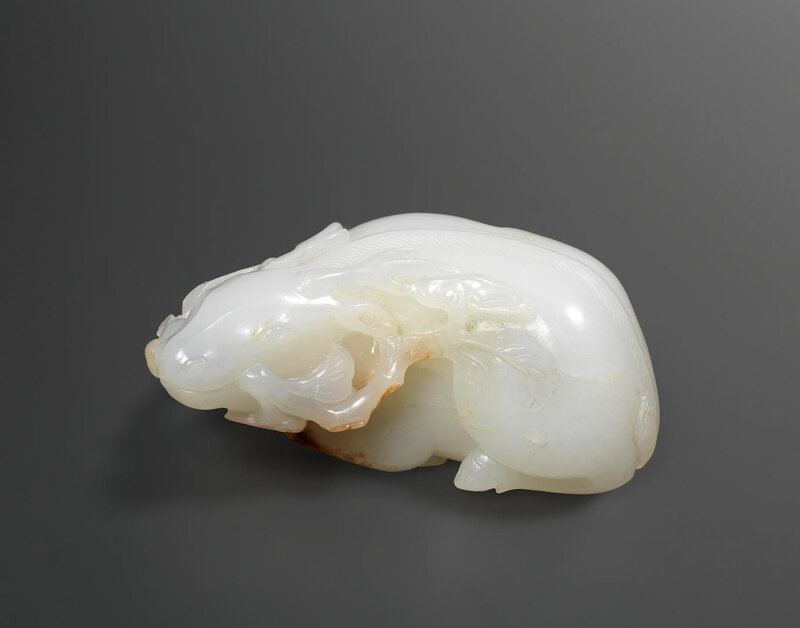 Lot 128. A rare white and russet jade carving of a deer, 18th century 8cm (3 1/8in) long. Estimate £8,000 - 12,000. Sold for £ 77,562 (€ 88,546). © Bonhams 2001-2019
The recumbent stag superbly carved with slightly-raised head and long prominent antlers reaching the elegantly curved back incised with fine hairs, a spray of lingzhi fungus in its mouth, its legs neatly folded and tucked underneath, the stone of pale white tone with russet-brown inclusions, wood stand.
Provenance: Lowenthal Collection, no.60.
Note: The lingzhi fungus is symbolic of long life as is the deer, which is associated with Shoulao, the God of Longevity. Compare with a related jade carving of a recumbent stag, 17th/18th century, illustrated in Chinese Jades from the Collection of the Seattle Art Museum, Seattle, 1989, p.81, no.56. Compare also with a related pale green jade deer, in the Tuyet Nguyet collection, illustrated by H.K.Hui and T.Y.Pang, Virtuous Treasures: Chinese Jades for the Scholar's Table, Hong Kong, 2007, pl.101.

See a related very pale green jade carving of a deer, 17th/18th century, which was sold at Bonhams London, 12 May 2016, lot 156.
THE LOWENTHAL COLLECTION OF JADES
Hans 'Jack' Lowenthal was born in Frankfurt, Germany but at the age of five was brought to Britain with the rest of his family by his father in 1933. Although he briefly returned to Germany in 1934-1937 he thereafter permanently settled London. His father Julius Lowenthal founded the Smokers' and other accessories' business in Germany in 1921 but when he invented the most original semi-automatic lighter in 1928 he named it Colibri. Colibri gift lighters, pens, watches wallets became internationally well-known under the Colibri brand. In 1953, Hans Lowenthal joined Colibri and was the Managing Director for over 25 years. Lowenthal enjoyed designing and creating new products and he holds several important patents. Among the most important of his inventions was incorporating the Piezo-electric concept into a lighter, thereby creating a lighter that never needed a flint or battery, as the ignition spark was created manually. In 1967, he named the Colibri version 'Molectric' (molecular electricity). He also supervised Colibri when commisioned to design and manufacture the 'Golden Gun' and various Colibri products for the James Bond film The Man with the Golden Gun.

Julius Lowenthal began collecting jades in the 1950s, and one of his first items included a jade axe (Lot 127). Jack inherited his father's interest in jade and stone carvings and continued to collect and regularly attended auctions. In the late 1960s and 1970s, Jack purchased jade carvings from several well-known dealers including Louis Joseph, Hugh Moss, Roger Keverne, Michael Gillingham, and Marchants. Jack was a particularly passionate collector of tactile jade carvings of animals.
Bonhams. Fine Chinese Art, London, 16 May 2019