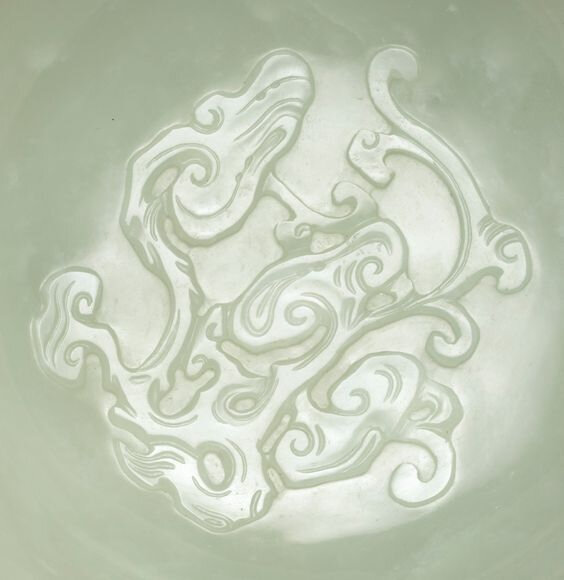 Lot 3635. An exceptional and finely carved white jade 'Bajixiang' and 'Three rams' bowl and cover, Qing dynasty, Qianlong period (1736-1795); 18.4 cm., 7 1/4 in. Estimate 3,000,000 — 4,000,000 HKD. Lot sold 3,680,000 HKD (474,720 USD). © Sotheby's
the bowl supported on three reclining horned rams and rising to a sharply cut mouth ring, the rams depicted with their hooves tucked under their bodies, the exterior finely carved in relief with butterflies, their wings outstretched and alternating with four of the bajixiang emblems, the base with leafy scrolls radiating from a central flower, the interior centred with low-relief gnarled lingzhi stems, the domed cover similarly decorated with four emblems completing the bajixiang, flanked by four loop handles modelled as bats, each suspending a loose ring, the stone of a translucent pale greenish-white colour, wood stand.
Provenance: Sotheby's Hong Kong, 1st November 1999, lot 558.
De An Tang collection, Hong Kong.
Sotheby's Hong Kong, 10th April 2006, lot 1505.
Exhibited: Yongshougong, Palace Museum, Beijing, 2004.
Yang Boda, A Romance with Jade, From the De An Tang Collection, Hong Kong, 2004, cat. no. 104: Yang Boda, A Romance with Jade, From the De An Tang Collection, Hong Kong, 2004, cat. no. 104.
Note: This piece embodies the brilliant creativity of the Qing craftsmen, who reinterpreted archaic motifs and combined them with innovative forms and contemporary designs. While the scroll under the base echoes the floral style of Mughal jade carving, the ram-shaped feet were inspired by animal supports cast on archaic bronze vessels from as early as the Eastern Zhou dynasty (770-221 BC). A cylindrical bronze vessel attributed to the 4th century BC, supported on three standing bovines, is illustrated in Jenny F. So, Eastern Zhou Ritual Bronzes from the Arthur M. Sackler Collections, New York, 1995, fig. 120.
Bowls of this form and with three rams carved in the round are unusual and no other closely related example appears to have been published. A bowl and cover similarly fashioned with an everted rim and carved on the sides with bajixiang, was sold in our New York rooms in 1987, and twice at Christie's New York, in 1993, and more recently, 20th September 2002, lot 204. Compare also an incense burner, the cover carved with three reclining rams, sold in these rooms, 8th October 2010, lot 2609.
The ram as one of the twelve animals of the Chinese zodiac is the cyclical animal of the current year. Depictions of three rams (san yang) became very popular during the Qing dynasty, as they form the rebus san yang qi tai ('Spring comes in its full form'), which grants the wish for an auspicious new year. This phrase refers to the tai hexagram in the Book of Changes (Yijing), which stand for good fortune and prosperity. Furthermore, the word for ram (yang) is homophonous with the character for the positive force of nature (yang).
Sotheby's. Important Chinese Works of Art, Hong Kong, 07 april. 2015