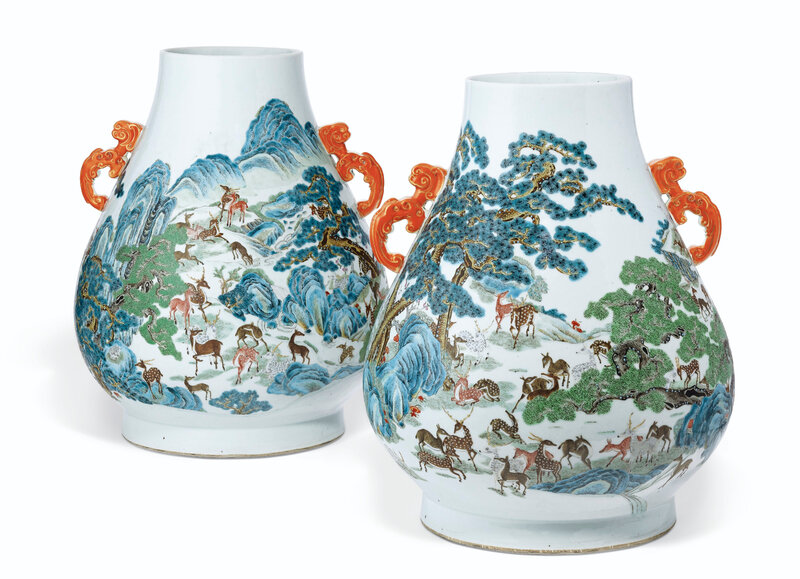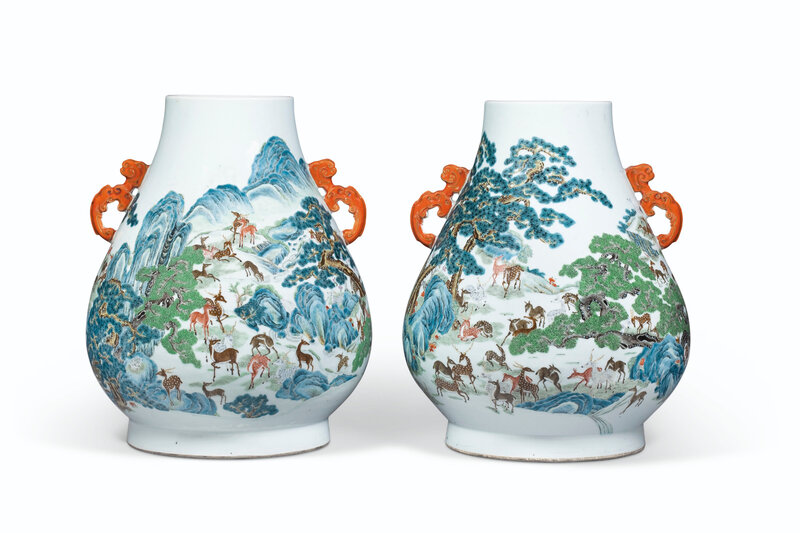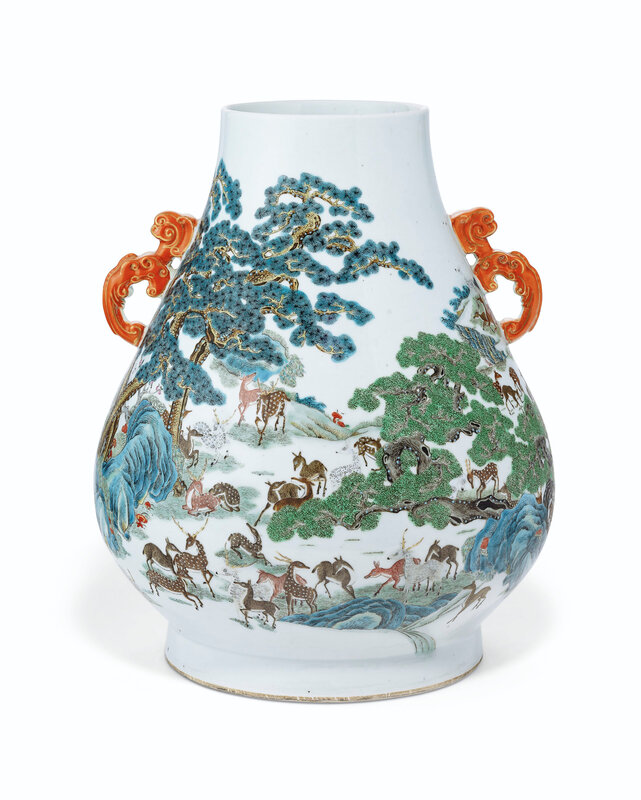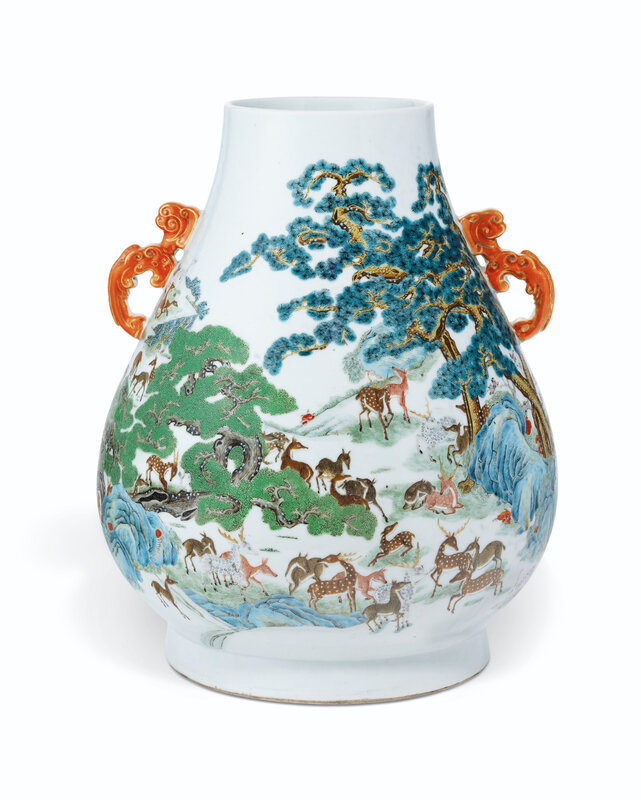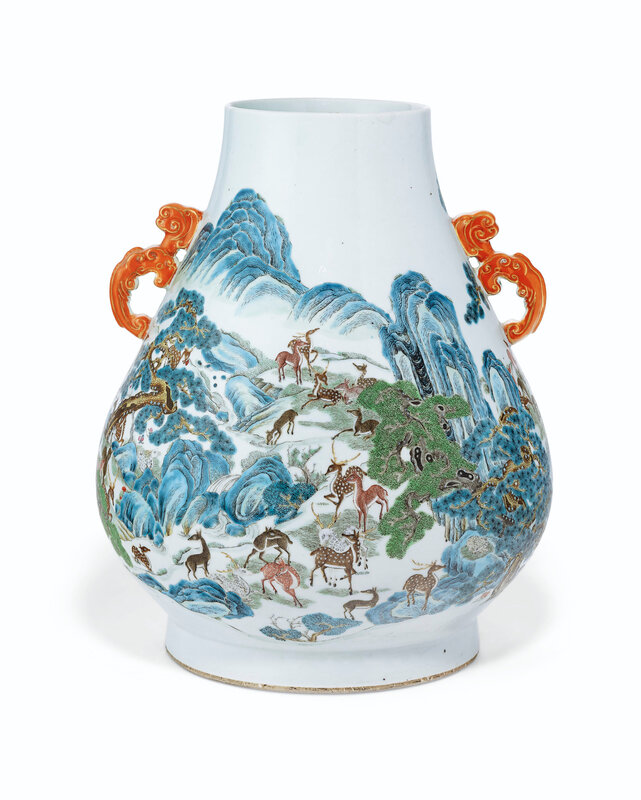 Lot 1104. A pair of famille rose 'Hundred deer' hu-form vases, 19th century; 17 ¼ in. (43.8 cm.) high. Estimate USD 60,000 - USD 80,000. Price realised USD 168,750. © Christie's Image Ltd 2019.
Each vase is decorated with the 'hundred deer' motif, depicting a continuous scene of deer frolicking in grassy meadows and beside a river, all within a rocky, mountainous landscape with pine trees, the shoulder flanked by a pair of coral-red, dragon-scroll handles. The base of each is inscribed with an apocryphal Qianlong seal mark.
The Robert B. and Beatrice C. Mayer Family Collection.
Provenance: Hartman Galleries, November 1968.
Exhibited: Evanston, Illinois, The Mary and Leigh Block Museum, Northwestern University, Fall 1982.
Note: The 'hundred deer' motif was very popular as the landscape depicted contains important symbolic references. The subject of deer has a long history in Chinese art as it refers to the rebus where the Chinese word for 'deer' is a homophone for 'emolument' or 'civil service salary'; the 'hundred deer' therefore represent the ultimate success, a career in government service in Imperial China. The deer is also associated with Daoism and the Star God of Longevity, Shoulao, while the inclusion of peaches and lingzhi fungus in the decoration is further symbolic of longevity. As such, the subject-matter on the present vase alludes to a multitude of auspicious connotations.

The theme of 'hundred deer' was adopted on porcelains in the middle Ming period, and can be seen on a Wanli period (1573-1620) wucai jar in the Musée Guimet, Paris (illustrated in The World's Great Collections. Oriental Ceramics Vol. 7, Musée Guimet, Paris, Kodansha, Tokyo, 1981, no. 26) and on the pair of large blue and white Wanli jars given to Queen Christina of Sweden by the Portuguese Ambassador (see The World's Great Collections. Oriental Ceramics Vol. 8, Museum of Far Eastern Antiquities, Stockholm, Kodansha, Tokyo, 1982, fig. 247).

Vases of this form and decoration enjoyed popularity during the reign of the Qianlong emperor (1736-1795), and continued to remain popular through the 19th century and into the Guangxu period (1875-1908). A vase similar to the present pair was sold at Christie's New York, 14-15 September 2017, lot 1272; another similar pair was sold at Christie's London, 14 May 2013, lot 274; and two other related examples were sold at Christie's London, 16 April 2014, lots 42 and 43.
Christie's. Important Chinese Ceramics and Works of Art, New York, 13 September 2019