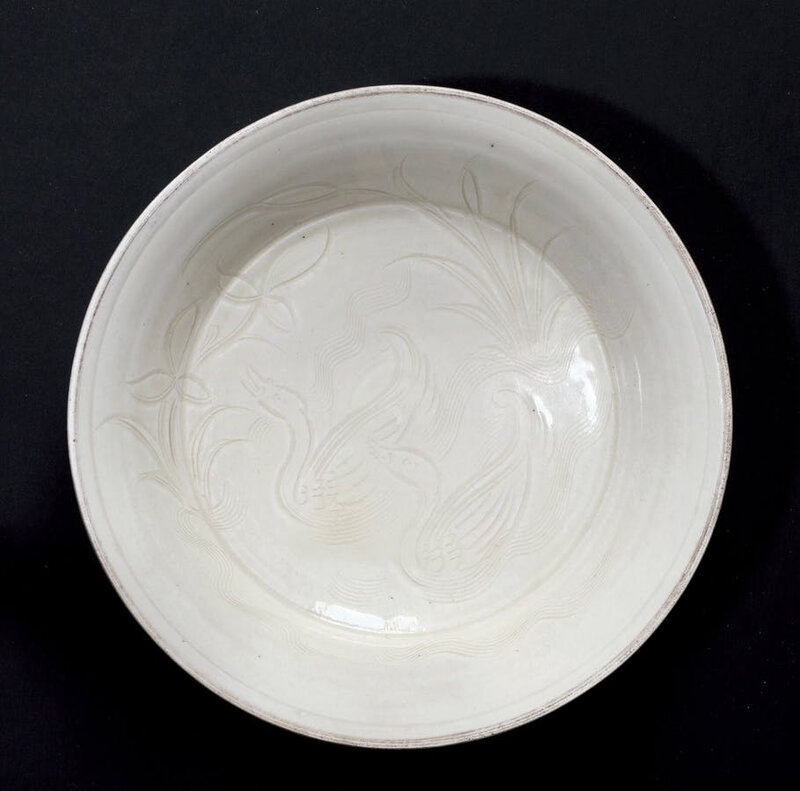 Lot 3313. A Dingyao Carved 'Mandarin Ducks' Dish, Northern Song Dynasty, 10th-12th Century. D 21.3cm. Estimate HKD 550,000 - 850,000 (USD 70,099 - 108,335). Sold Price: HKD 920,400 (USD 117,308). © Poly Auction Hong Kong.
The dish is finely potted, its body supported on a short spreading foot, the flared sides rising from an angled base, the interior freely carved to the interior with a pair of mandarin ducks swimming in a pond with waterweeds, all encircled by scrolling lotuses, applied overall with a creamy ivory glaze pooling slightly on the exterior into characteristic 'teardrop' streaks, the rim left unglazed.
Provenance: 1. Dr. David Goldstein, New York
2. Collection of J.J. Lally, New York
3. The Ten-views Lingbi Rock Retreat Collection, purchased from J.J. Lally & Co., no. LL37.
Exhibited & Lterature: J.J. Lally, Early Chinese Ceramics: An American Private Collection, 28 March to 16 April 2005, New York, pl. 32
Note: See similar example in the Palace Museum, Taipei, included in the Special Exhibition of Ting Ware White Porcelain, Taipei, 1987, cat. no. 77 (fig.3); another example from the collection of the Percival David Foundation, with the bronze rim, illustrated in A Hundred Masterpieces of Chinese Ceramics from the Percival David Collection, Tokyo, 1980, pl. 6 (fig.4); another example in Regina Krahl, Chinese Ceramics from the Meiyintang Collection, vol.1, London, 1994, pl. 357. Another sold in Christie's London, 14 May 2008, lot 255, including in The Carl Kempe Collection, The Museum of Art and Far Eastern Antiquities, Ulricehamn, 2002, no. 617.
Poly Auction Hong Kong. Immaculately Exquisite - Selected Chinese Ceramics from The Ten-Views Lingbi Rock Retreat Collection, Hong Kong, 7 October 2019