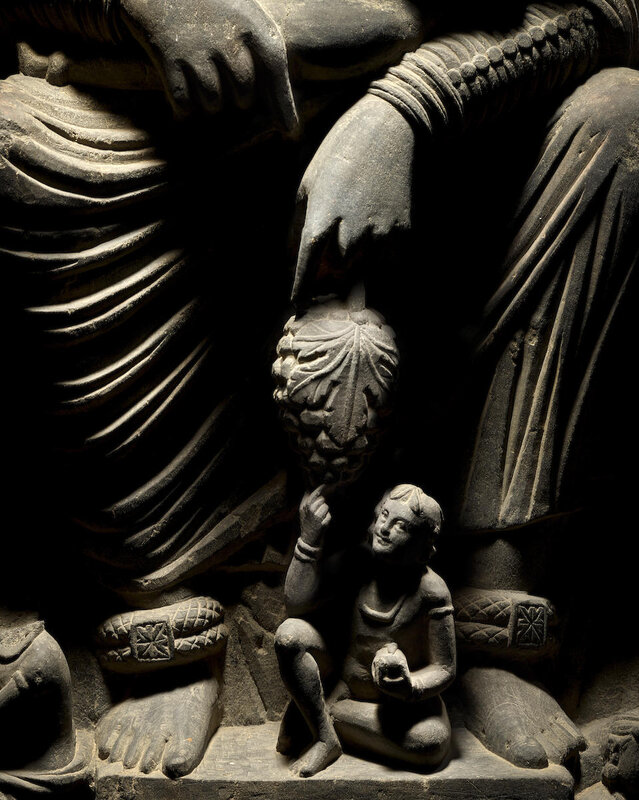 Lot 144. A schist figure of Hariti, Ancient region of Gandhara, Circa 2nd Century; 95 cm. high. Estimate: 80 000 GBP - 150 000 GBP. Sold for £ 187,562 (€ 217,931). Courtesy Bonhams.
depicted seated with one hand holding a child on her lap, the other hand holding a bunch of grapes, dressed in a sleeved tunic with naturalistic drapery and ruched sleeves with beading down each arm, wearing a beaded necklace, pendant earrings and anklets, the round face with softly smiling expression and almond shaped eyes, the cheeks and forehead each carved with a rosette, her hair arranged into an elaborate chignon with headdress, the child on her lap motioning towards her breast, another child on her left shoulder and several more children at her feet, with traces of ancient cinnabar pigments in recessed areas.
Provenance: Claude de Marteau, Belgium, by 1978 Elizabeth and Willard Clark Collection, California, since September 1987.
Published: Arman Neven, Sculpture des Indes, Brussels, 1978, p.220, no.161.
Mario Bussagli, L'Art du Gandhara, Paris, 1996, p.222.
Flore De Marchant, Analyse des oeuvres narratives du Gandhara de la collection de Marteau, Louvain-La-Neuve, 1999, fig.58.
Vidya Dehejia, Devi: The Great Goddess, Washington D.C., 1999, p.306, no.62
Miranda Eberle Shaw, Buddhist Goddesses of India, Princeton, 2006, p.123, pls.3&5.1.
Exhibited: Sculpture des Indes, Société générale de Banque, Brussels, 8 December 1978 - 31 January 1979.
Devi: The Great Goddess, Freer Sackler Galleries, 28 March - 6 September 1999.
Note: For the first three quarters of the first millennium CE, Hariti was the principal female Buddhist deity of ancient Gandhara with widespread popularity throughout Central Asia and China. When the Chinese pilgrim, Yi Jing, visited Gandhara in 671, he saw sculptures of Hariti commonly installed near the dining halls of Buddhist monasteries. (Takakusu (trans), Record of the Buddhist Religion as Practised in India and the Malay Archipelago, Oxford, 1896). Yet only about a half dozen large sculptures of Hariti survive. Among these, the present sculpture is one of the best carved and probably the most complete example in private hands.
 
The statue shows Hariti surrounded by her healthy children engaged in happy childhood exploits. One content boy sits by her shoulder, possibly playing a percussion instrument. Another rests in her arms and motions to suckle from her breast. Another tucked between her ankles reaches for a grape from the cluster in her hand. The cluster of grapes has a beautifully carved leaf draped in front. Other boys by her feet wrestle, and one pets the head of an animal in his lap. To her right, something appears to have caught the attention of her boys, suggesting this sculpture of Hariti initially appeared as part of an ensemble. 
 
The story of Hariti's conversion to Buddhism survives in many ancient Indian and Chinese sources. Despite being a mother to 10,000 children, the ogress Hariti routinely terrorized the Northern Indian city of Rajagrha, devouring its children. After failing to appease, Rajagrha's inhabitants beseeched the Buddha to pacify her. Underneath his alms bowl, Buddha hides Hariti's most beloved child from her. This sends Hariti into a frenzy, searching for her missing son. When Buddha finally returns her child, he prompts Hariti to consider the pain she has caused other mothers. Struck by empathy, Hariti converts to Buddhism and, in exchange for food offerings, promises to protect its monastic communities and Rajagrha's children.
 
As a deity who affects childbirth and childrearing, Hariti's popularity spread far beyond her origins in Rajagrha. One scholar suggested this coincided with a pandemic of smallpox or similar disease sweeping from the Roman Empire across the Silk Road in 2nd century CE. Bellemare provides a survey of scholarship discussing reasons for why a local spirit-deity came to be the most important female Buddhist goddess in Gandhara and beyond (Bellemare, "Hariti Domesticated", in Orientations, vol.45, no.7, October 2014, pp.82-89).
 
Whereas she all but vanished from Gandhara by the 5th-century, Hariti's worship remained popular in China until the Song dynasty (Ming-liang, "A Study of the Origin and Development of the Representation of Hariti in the Chinese Tradition", in Taida Journal of Art History, vol.27, 2009, pp.107-40). While replaced by Tara among the 7th- to 9th-century bronzes of Swat Valley, Hariti remained a common subject of Chinese painted handscrolls up until the Qing Dynasty (1644-1912), with iterations painted by famous artists Zhang Shengwen (1163-89) and Qiu Ying (1494-1552).
 
This sculpture of Hariti also alludes to cross-cultural exchange from the Middle East via the Silk Road. Of any other large depiction, this sculpture draws the closest resemblance to the famous Hariti found at Sheikh Dheri, dated 106 CE, and first published in the Archeological Survey of India in 1906 (fig.1). Barely resembling the sculpture of Gandhara, the Sheikh Dheri Hariti's high abstraction, face, fashion, and rosettes draw close resemblance to contemporaneous Palmyrene art of modern day Syria. Compare the Sheikh Dheri Hariti to a c.150 CE Palmyrene stele of Naame, published in Ingholt, Palmyrene and Gandharan Sculpture, New Haven, 1954, no.12. These features are not shared by two masterpieces of Hariti in Lahore and Peshawar Museum exemplifying the influence of the Greco-Roman tradition on Gandharan Art (Ingholt, Gandharan Art in Pakistan, New York, 1957, nos.340 & 342).
 
Likely the most complete and well carved large Gandharan sculpture of Hariti left in private hands, the statue has a strong published pedigree, being one of few subjects speaking so well to the spread of ideas, art, and people across the ancient Silk Road.
Bonhams. Islamic and Indian Art including Modern and Contemporary South Asian Art, London, October 22, 2019