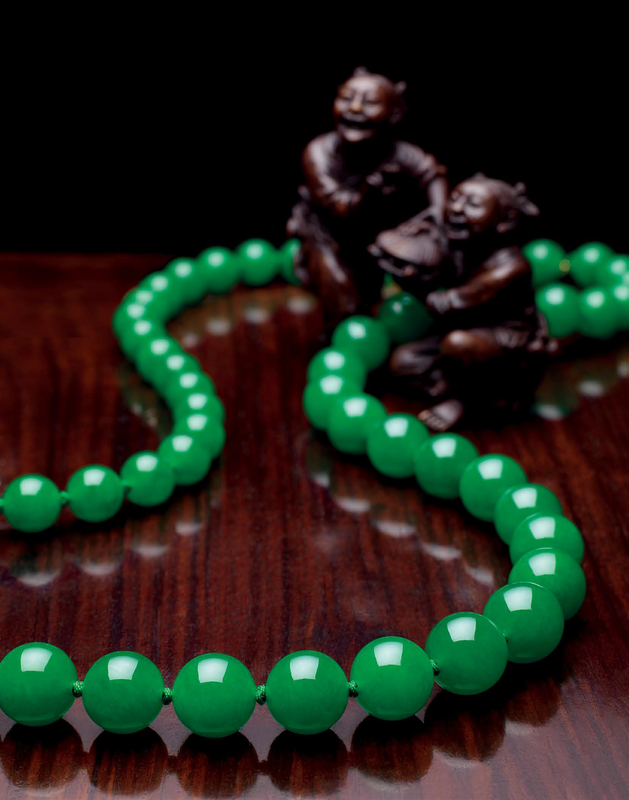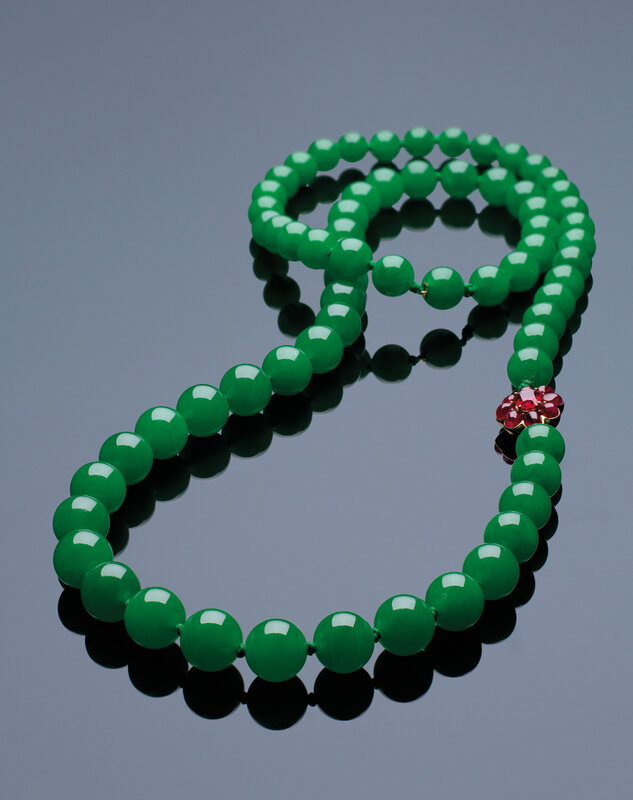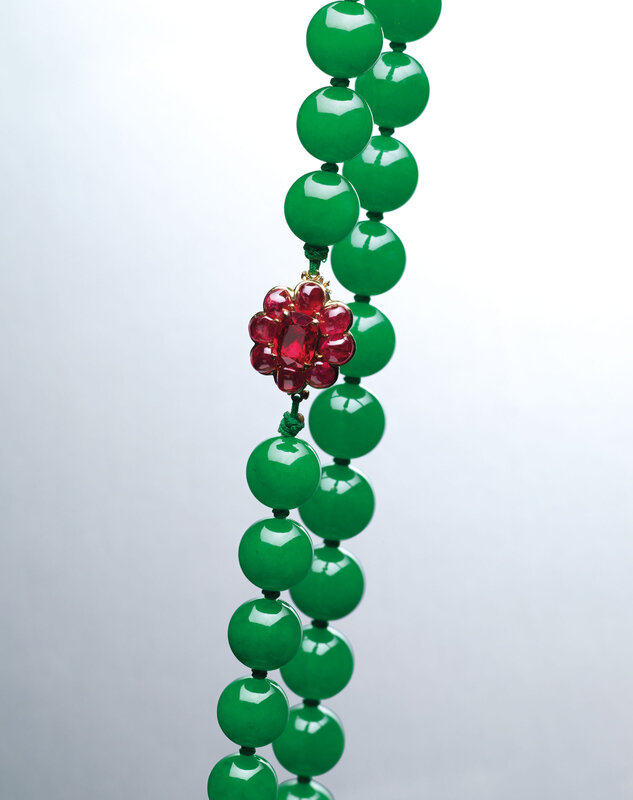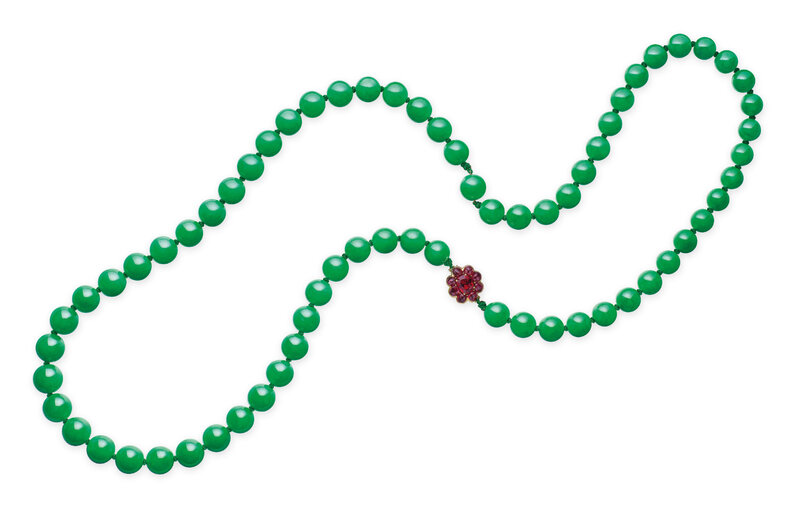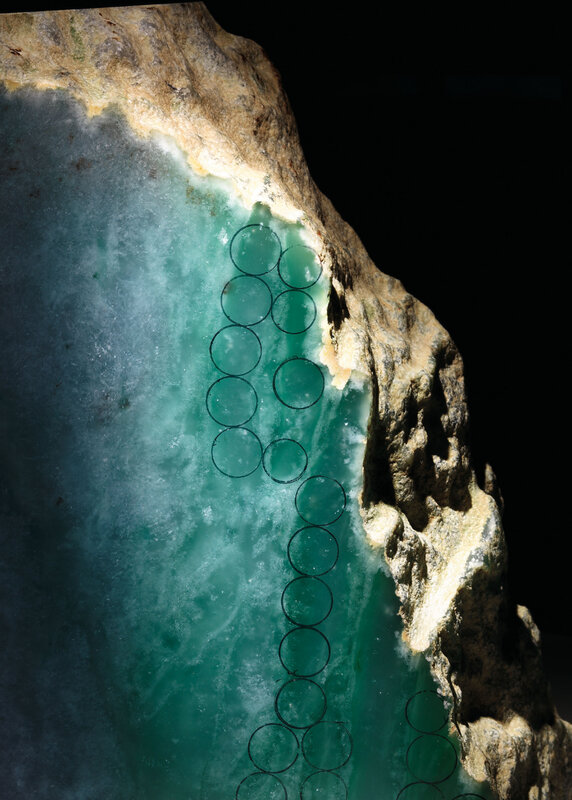 Lot 2007. The 'Heavenly Harmony' Jadeite Sautoir. Magnificent jadeite bead and spinel necklace. Estimate HKD 55,000,000 - HKD 85,000,000 (US$7,000,000-11,000,000). © Christie's Images Ltd 2019
Sixty-eight jadeite beads of approximately 15.9 to 12.3 mm, cushion-shaped and cabochon spinels, 111.0 cm, gold, may be worn as two necklaces, 111.0 cm.
HK Jade & Stone Lab, 2019, report no. KJ 101037 (1-5): natural colour Fei Cui (Jadeite Jade), without resin.
An Ideal Match - The 'Heavenly Harmony' Jadeite Sautoir
One of the characteristics that makes jadeite so fascinating is it's endless variety. A chameleon of a gem which ranges from a glassy transparency to a marble like opacity, there is also a dazzling variety to its crypto-crystalline structure, which can be visible to the naked eye or microscopically fine. Coming in an almost all the colours of the spectrum, the colours may also be combined, with the distribution of the colours within the matrix seen as specks, streaks or veins. In green, the most valuable shade, it appears as a deep sage green, through emerald, vivid green and lighter hues. This variety is what makes the assessment of quality so difficult in Jadeite. It is often said that the variation in jadeite is so great that even two cabochons from different rough cannot be matched into a pair of earrings.
Christie's which has always been at the forefront of presenting extraordinary jadeite jewellery to the market, is proud to offer a jadeite bead Sautoir of 68 beads ranging from 12.37 to 15.90mm. Of the most vivid green tone, with the finest texture and good translucency, it has been perfectly matched from two different rough stones, whose differences only perceptible through transmitted light. Christened the 'Heavenly twins' because of its extraordinary match, it has resulted in a necklace of extreme importance, with an average size of just under 15 mm, undoubtedly making it one of the most important jadeite bead necklaces ever to appear at auction.
2 May 1994. The Wellington Koo Necklace. Price realized HK$6,950,000. © Christie's Images Ltd 2019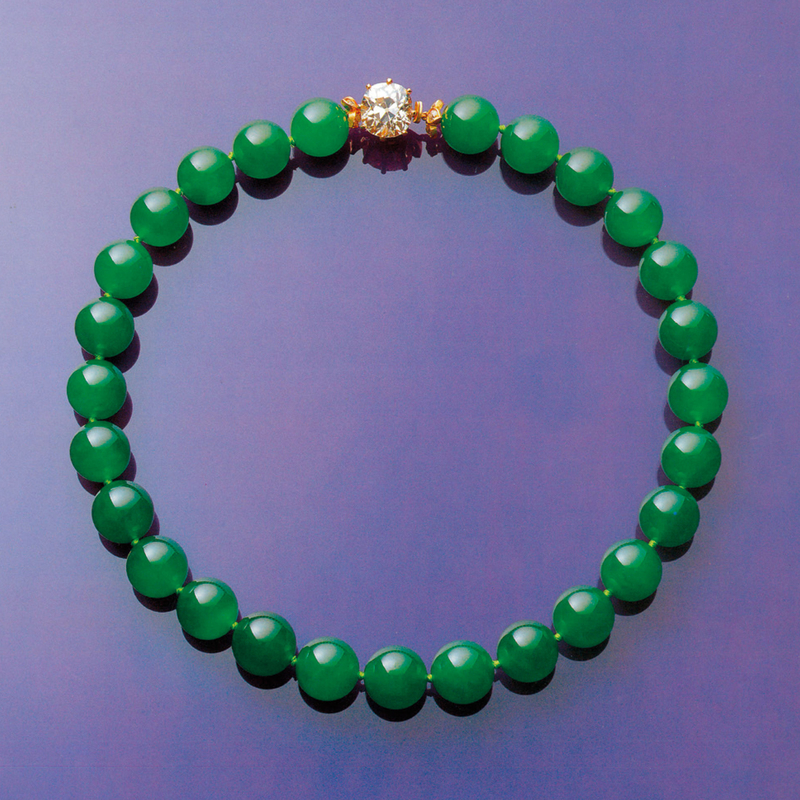 6 November 1997. The Double Fortunate Nacklace. Price realized HK$72,620,000. © Christie's Images Ltd 2019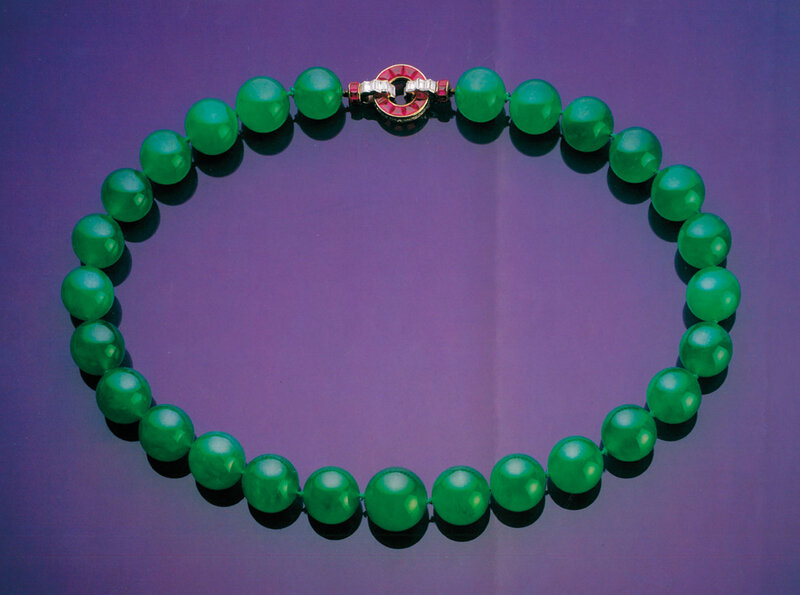 2 May 1994. The Hutton-Mdivani Necklace. Price realized HK$214,040,000. © Christie's Images Ltd 2019
Christie's. Hong Kong Magnificent Jewels, Hong Kong, 26 November 2019