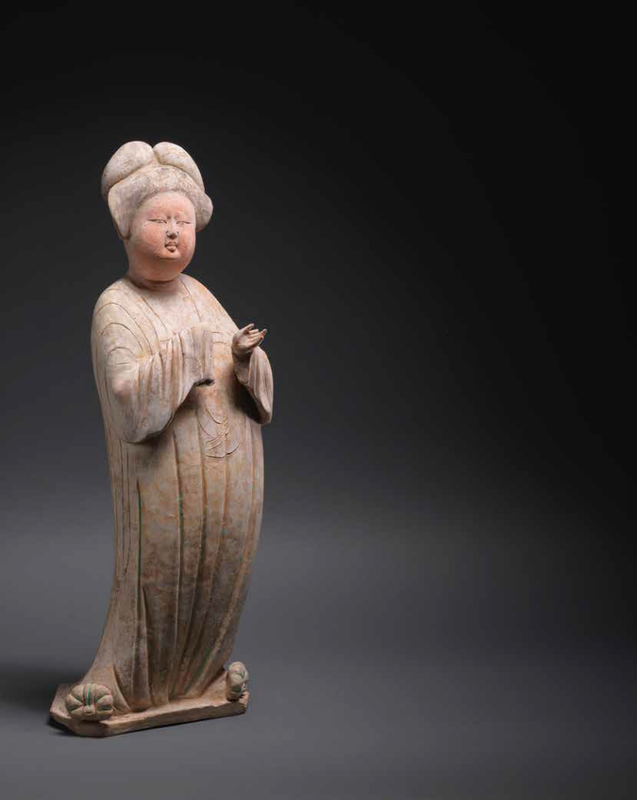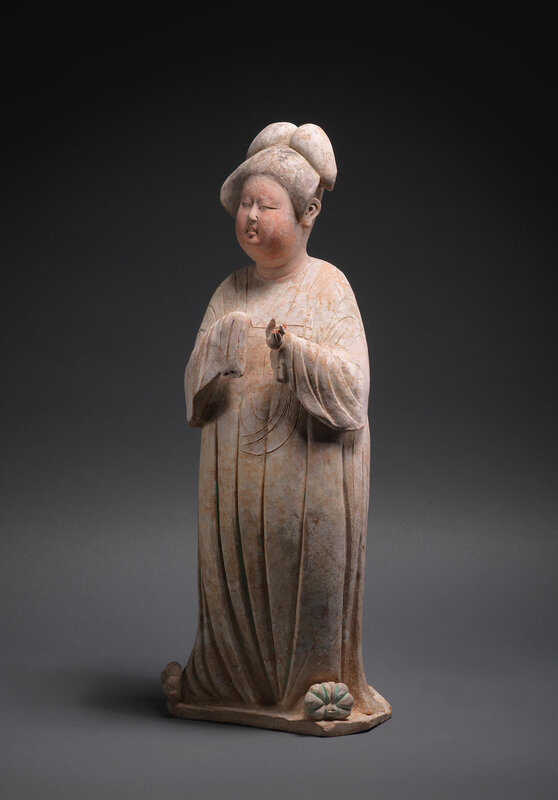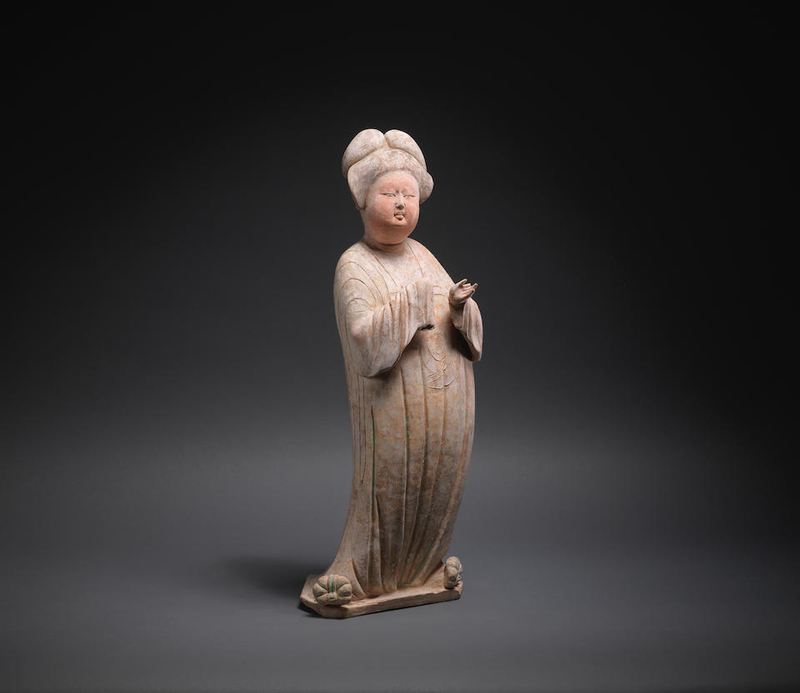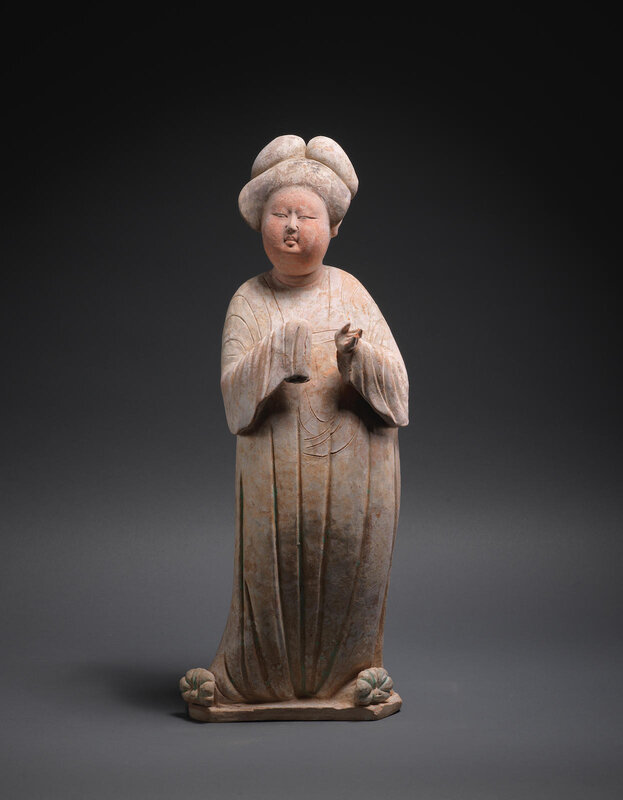 Lot 44. A large painted pottery figure of a court lady, Tang Dynasty (618-906); 55cm (21 3/5in) high. Estimate £8,000 - 10,000. Sold for £ 8,812 (€ 10,289). Photo Bonhams.
Finely modelled, the figure elegantly standing in a swaying pose with hands in front of the chest, one hand revealed by the full sleeves of the long loose robe falling in deep folds over the upturned slippers, the round face detailed with a ruby-red blush, with elongated eyes, full cheeks, a crisply carved mouth, and dimpled chin, all beneath the hair elaborately coiffed in a double-bun topknot, the figure covered in white slip with traces of green pigment.
Property from the Collection of John J. Studzinski, CBE
Provenance: John J. Studzinski, CBE
The result of Oxford Authentication Ltd. thermoluminescence test no.C107r74, is consistent with the dating of this lot.
Note: This elegant and full-bodied lady exemplified the typically high-ranking female figures of the Tang Court, reflecting the increasingly sedentary and luxurious lifestyle of the Tang elites.

In the Tang period, it was common to beautify female faces with extensive make-up. Rouged cheeks and lips, bold and thick eyebrows, and gaudy ornaments between the eyebrows and at the temples were in vogue at the time. Blush was often applied to the cheeks, reaching the eyelids, to resemble the complexion tone achieved by drinking wine, which was thought to imbue women with greater grace. A great number of eyebrow styles also appear to have been popular, ranging from willow-leaf to extremely broad and thick in shape. Eyebrow grooming was considered a synonym for marital love. Zhang Chang, a Tang governor, was allegedly arrested for personally pencilling in his wife's eyebrows every day, a major violation of feudal conduct and male behaviour. However, he successfully argued his way out of punishment by declaring that his wife's eyebrows were the deepest part of marital intimacy. The emperor, clearly touched by his husbandly love, finally granted him freedom. For references about Tang cosmetics, see E.Schafer, 'The Early History of Lead Pigments and Cosmetics in China,' in Toung Pao, 1956, vol.44, pp.413-438.

Compare with a similar painted pottery figure of a lady, Tang dynasty, in the Metropolitan Museum of Art, New York, illustrated by S.Valenstein, A Handbook of Chinese Ceramics, New York, 1975, p.67.

A related pottery figure of a court lady, Tang dynasty was sold at Bonhams London, 8 November 2018, lot 10. A related but larger figure of a pottery lady displaying a similar hair style to the current example, was sold at Christie's New York, 21 March 2002, lot 100.
Bonhams. Fine Chinese Art, London, 7 Nov 2019