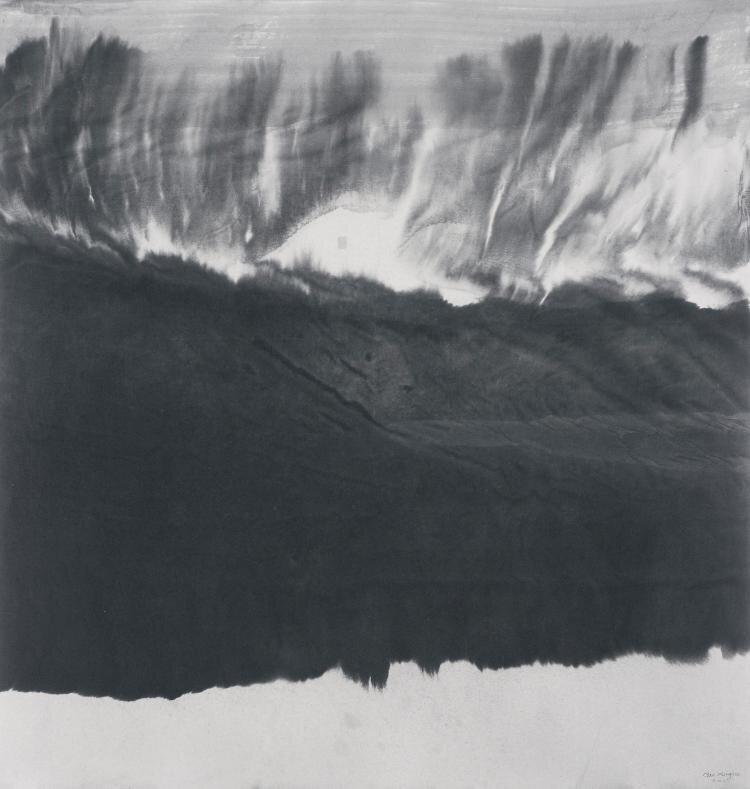 Lot 73. Gao Xingjian (b. 1940), La Maison en rêve, ink on paper, framed, signed in English, dated 2005, 30 1/4 by 29 in., 77 by 73.5 cm. Estimate 10,000 — 15,000 USD. Lot sold 17,500 USD. Photo: Sotheby's.
Provenance: iPreciation, Singapore
Private Asian Collection.
Literature: Recent Works of Gao Xingjian, iPreciation, Singapore, 2006, p. 102.
Note: Gao Xingjian—transculturally celebrated novelist, playwright, translator (particularly of eminent writers Samuel Beckett and Eugène Ionesco) and the first Chinese-born writer to win the Nobel Prize for Literature in 2000—is a multidisciplinary master of both the written word and the art of Chinese ink. Self-exiled from China since 1989, Gao translates his personal experiences into complex, contemplative compositions that demonstrate insight and ingenuity, while addressing culturally charged narratives. Many of his paintings explore ideas of isolation and solitude, portraying infinite landscapes and lone figures against vast, barren terrains. Focusing on the monochromatic tones of ink, Gao's paintings are imbued with a unique spatial depth and his signature 'inner vision'; rather than attempting actual depth of field, the artist aims for 'depth visualized from within' – a non-focused perspective.
As a Chinese writer-painter well versed in Western literature and philosophy, Gao's xieyi (literally translated as "to write meaning") style seeks pure expression beyond text; he once observed that "painting begins where language fails". Moving fluidly between the figurative and the abstract, Gao's paintings also blur the lines between the celestial and the earthly.
The present lot, La Maison en Rêve, displays intricate textual dimensions resembling organic fissures and crevices. Despite their subdued tone, Gao's paintings are ultimately a celebration of life; he once said: "A return to painting is a return to intuition, a return to sensations, to an existence full of life, to life itself."
Characterized by an introspective spontaneity, Gao's paintings transcend the dichotomy of representation and abstraction. His decisive brushstrokes, suffused with the rigor of Chinese calligraphy, render stark, almost austere, yet compellingly evocative images. Pared down and unembellished, Gao's commanding 'mindscapes' capture the fleeting, scarcely perceptible essences of humanity.
Sotheby's. Monochrome, New York, 15 sept. 2015