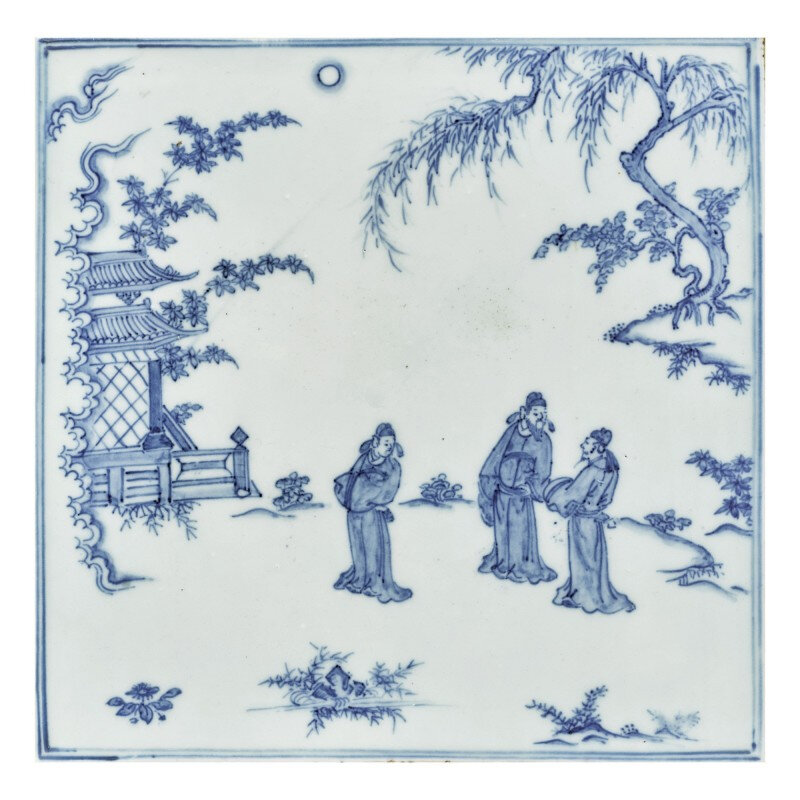 Lot 520. A rare blue and white 'figural' plaque, Ming dynasty, 15th century. Height 8⅜ in., 21.4 cm; Width 8⅜ in., 21.4 cm. Estimate 20,000 - 30,000 USD. Unsold. © Sotheby's 2020.
of square section with beveled corners on the reverse, well painted in the lively 'windswept' style, depicting three scholars engaging in a conversation, each cloaked in a long belted robe and wearing an official hat, all amongst an open landscape with a secluded pavilion partially shrouded by vaporous clouds and an overhanging willow tree in the distance, wood frame.
Note: A small group of related plaques has been recorded, including a rectangular example similarly modeled with beveled corners, painted in the same style with five scholars in a landscape, sold twice in our London rooms, 10th December 1968, lot 64, and 3rd April 1979, lot 154, and most recently at Bonhams London, 10th November 2003, lot 103, attributed to the Chenghua period, from the collection of Anthony du Boulay; and another painted with immortals, in the Tile Museum, Tokoname-shi, published on the museum's website. Compare also a circular plaque painted with a scholar scene, sold at Christie's New York, 15th September 2011, lot 1477; another with a classic scroll border, sold in our London rooms, 1st February 1966, lot 94; one painted with Avalokiteshvara, sold at Christie's New York, 18th-19th September 2014, lot 846; and two further examples, the first sold in our London rooms, 15th December 1981, lot 189, and the other sold in our Hong Kong rooms, 1st December 1977, lot 404.
Sotheby's. Important Chinese Art, Live Auction, 23 September 2020, New York