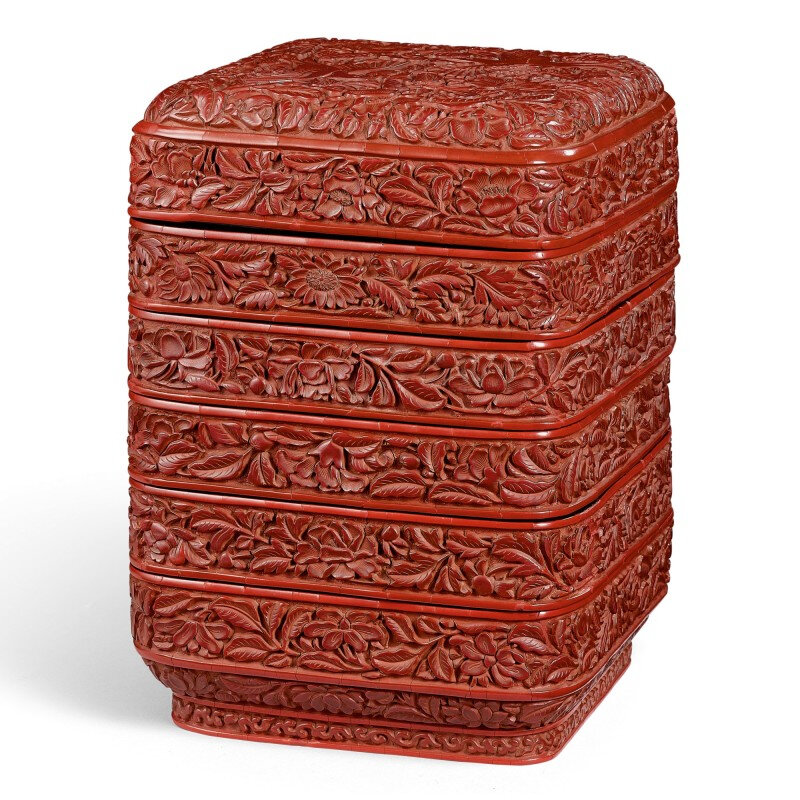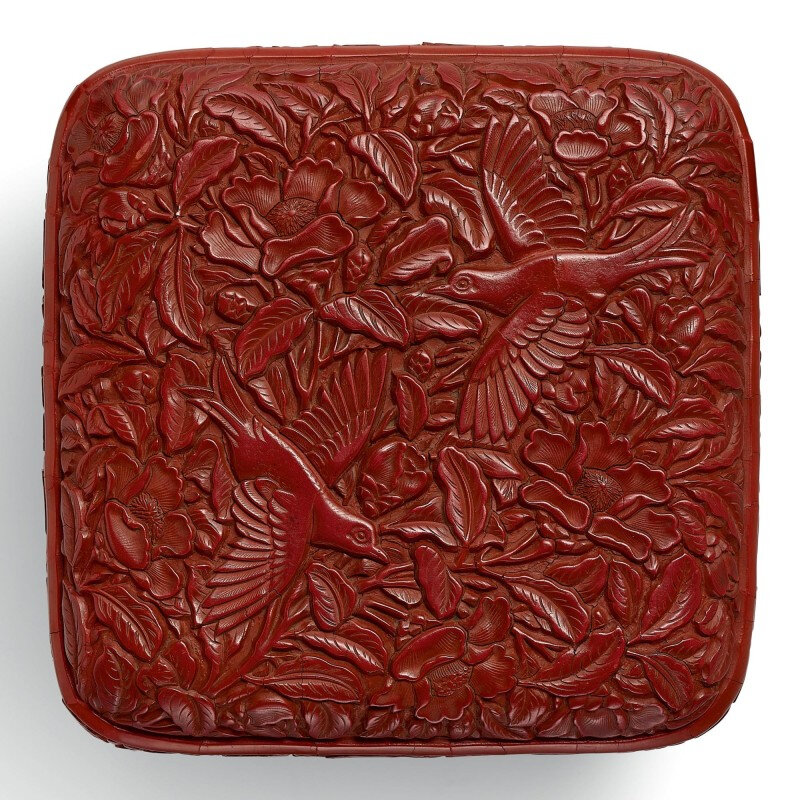 Lot 3657. A carved cinnabar lacquer tiered box and cover, Yuan dynasty (1279-1368); 26 cm, 10 ¼ in. Estimate 600,000 - 800,000 HKD. Lot sold 1,134,000 HKD. Courtesy Sotheby's.
of square section with rounded corners, the cover elaborately carved with two birds flying amidst blooming camellia against a meander of stems and a profusion of foliage and buds, the sides carved with composite floral scroll bands of chrysanthemum, peony and hibiscus, the interiors and base lacquered black, Japanese wood box.
Property from the Kaisendo Museum.
Exibited: Chōshitsu/Carved Lacquer, The Tokugawa Art Museum and Nezu Institute of Fine Arts, Nagoya and Tokyo, 1984, cat. no. 45.
Note: It is extremely rare to find early lacquer boxes of this tiered type. The present box is exquisite for its deep carving in the powerful style typical of the Yuan period. It belongs to a very small group of 14th century lacquer wares that were carved in this impressive bold manner, with a pair of birds among flowers. By the Ming dynasty, lacquer pieces were carved in a smaller scale which did not show such generous layout of design, nor such a dramatic contrast between boldly cut outlines and delicately incised details.
The carving of this box is beautifully laid out and highly accomplished, possibly developed from much simpler Song prototypes. To follow the development, it is interesting to compare examples of Song dynasty lacquerware with the 'flower and bird' design included in the exhibition The Colours and Forms of Song and Yuan China: Featuring Lacquerwares, Ceramics and Metalwares, Nezu Institute of Fine Arts, Tokyo, 2004, cat. nos 83, 84, 86, 89, 90, 91 and 92.
The only similar Yuan dynasty lacquer tiered box and cover recorded is a slightly larger six-tiered lacquer box and cover from the Lee family collection, included in the exhibition Dragon and Phoenix, Chinese Lacquer Ware, The Lee Family Collection, the Museum of East Asian Art, Cologne, 1990, cat. no. 32, and sold at Christie's Hong Kong, 1st December 2009, lot 1816. Both share the same exquisite treatment of the birds in flight within a profusion of foliage and buds, the sides of each vertical tier carved with different floral bands. Both are characterised by similar soft curved corners on the square sections.
For examples of Yuan lacquerware carved with the 'bird and flower' design see three dishes; one in the Metropolitan Museum of Art, New York, illustrated in the Museum's exhibition East Asian Lacquer: The Florence and Herbert Irving Collection, New York, 1991, cat. no. 20; in the British Museum, London, from the collection of Sir Harry Garner, included in the Museum's exhibition Chinese and Associated Lacquer from the Garner Collection, London, 1973, cat. no. 29, pl. 11; and in the Seattle Art Museum, published in Michael Knight, East Asian Lacquers in the Collection of the Seattle Art Museum, Seattle, 1992, pl. 6.
Two lacquer boxes attributed to the late Song to early Yuan period and included in the exhibition Chinese Carved Lacquerworks of the Song Dynasty, Tokyo National Museum, Tokyo, 2004, cat. nos 34-35, the former of circular shape carved with peony blooms and two long-tailed birds, and the latter of square form with three tiers carved with a landscape scene. Compare also two circular boxes included in the Nezu Institute of Fine Arts exhibition op.cit., pls 100-101, much smaller in their dimensions and simpler in their carving style. Tiered boxes can be more readily found from the Ming dynasty, compare five Xuande boxes illustrated in Carved Lacquer in the Palace Museum, Beijing, 1985, pls 93, 95 and 96.
Sotheby's.Important Chinese Art, Hong Kong, 9 October 2020