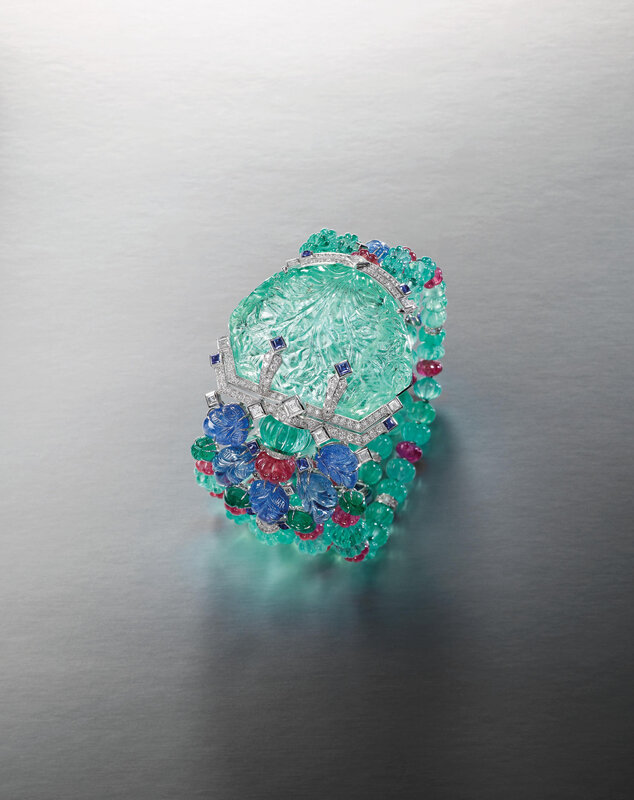 Lot 630. An important 'Tutti Frutti' bracelet, Cartier. Estimate HK$ 1,950,000 - 2,800,000 (€ 210,000 - 300,000). Photo: Bonhams.
Set with a carved emerald, weighing 93.34 carats, decorated with square sugarloaf cabochon sapphires, in a round brilliant and square-cut diamond frame, to the carved ruby and emerald bead and carved sapphire leaf 'Tutti Frutti' cluster extending five strands of carved emeralds and rubies, with diamond-set rondelle spacers and carved sapphire leaf detail; signed Cartier, no. EAS626, with French assay and maker's marks, accompanied by signed case; also accompanied by a Cartier box which includes documentation, drawings and a gemological report; mounted in platinum and 18k white gold; length 19cm.
Accompanied by Carat Gem Lab report #CGL13224, dated 14 December 2016, stating that the emerald is of Afghani origin and has indications of oil.

For further information including original purchase documents and colour sketches, please refer to the department.
Note: Instantly recognizable, Cartier Tutti Frutti jewels are some of the most sought after in the world. Combining glamour and exoticism in a riot of color, the history of these rare jewels began more than a century ago.

Cartier started designing jewels inspired by India as early as 1901 when Queen Alexandra of England commissioned a necklace to be worn with her elaborately embroidered Indian gowns. In 1911, Jacques Cartier went to India for the Delhi Durbar, a two-week spectacle celebrating the coronation of George V (Alexandra's son) as Emperor of India. Jacques went to India to find clients and came back with carved emeralds and other gems, including some purchased from the maharajas of Patiala and Kapurthala. He shared these stones with the Paris workshops where they inspired the creative genius of Louis Cartier and designer Charles Jacqueau.

The brilliant Jacqueau was one of the originators of the Art Deco movement. He and Louis abandoned the delicate swags and festoons of earlier decades and introduced bold color and motifs from ancient cultures. His notebooks are full of Chinese temples, Egyptian tombs, and Persian carpets, which were all eventually translated into fantastical jewelry. When the carved Indian stones came onto his desk, he designed light, airy platinum frames that were minimal and geometric to hold the colorful carved stones.

In the 1920s, while Indian princes were coming to Cartier to have their family pieces redesigned, Europeans and Americans fell in love with Cartier's jewelry inspired by Indian motifs. Jacqueau designed a series of carved sapphire and emerald necklaces Louis called "peacock." Centering massive emeralds carved with foliate patterns, these pieces were made for only the very best clients including J.P. Morgan, Baron Édouard de Rothschild, and The Aga Khan.

But it was the bracelets registered in the Cartier books as "foliage" that has captured and kept the attention of collectors for a century. Featuring a palette of carved emeralds, rubies, and sapphires, what has come to be known as Tutti Frutti captured the exuberance and delight of the 1920s and unique examples are still created by Cartier High Jewelry today. Taking master artisans hundreds of hours, they are made with the utmost care and remarkable beauty and flexibility.

This Tutti Frutti bracelet borrows from the traditions of the past, with the central carved foliate emerald and the diamond and sapphire frame a reference to the famous peacock necklaces. The extraordinary graduated band displays the carved rubies, emeralds, and sapphires—both leaves and fluted balls—that are emblematic of the great Tutti Frutti designs.

Courtesy of Sarah Davis.