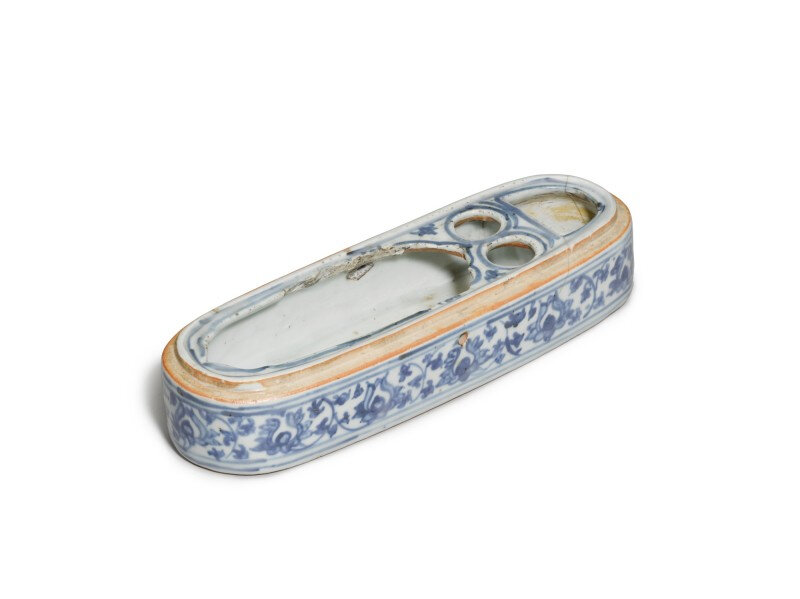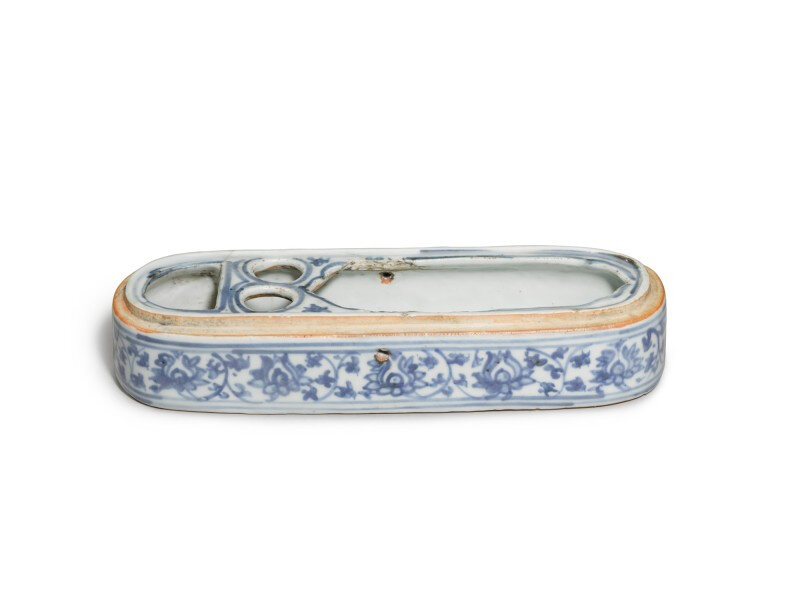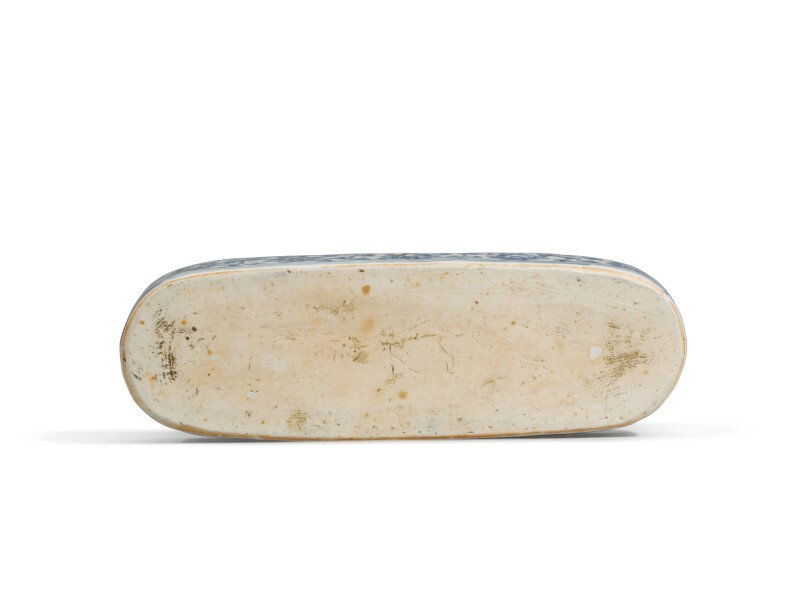 Lot 21. A rare blue and white pen box for the Islamic market, Ming dynasty, late 15th-early 16th century. Length 23.2 cm, 9 1/8 in. Estimate: 6,000 - 8,000 GBP. (C) 2021 Sotheby's
of elongated oval shape with straight sides resting on a shallow foot, the interior glazed and divided into a smaller, D-shaped compartment on one side facing a larger compartment with several apertures, one of them of circular shape, the sides painted in tones of blue with large lotus flowers between leafy scrolls, all between two line borders around the base and rim, cover missing.
Note: The shape of this pen or writing box is based on earlier metal prototypes which originated in medieval Iran and later became popular in Egypt and Syria. The semi-circular compartment would have been used as the water pot (for mixing the ink and water), while the small container with a covered lid served as an inkwell. Writing boxes such as this example would have been used as part of a scholar or calligrapher's set. Porcelain writing boxes began to be made at the imperial kilns in Jingdezhen during the Yongle reign and continued to be popular through the Ming period. Compare another early example painted with a flower scroll and attributed to the early Ming dynasty, from the Sir Percival David Collection and now in the British Museum, London, illustrated in Stacey Pierson, Blue and White for China: Porcelain Treasures in the Percival David Collection, London, 2004, pl. 22; a blue and white decorated writing box and cover modified to suit the taste of the Ottoman court and embellished with gold and jewel-inlaid fittings, is in the collection of the Topkapi Saray Museum, Istanbul, is published in John Ayers and Regina Krahl, Chinese Ceramics in the Topkapi Saray Museum, Istanbul. A Complete Catalogue, London, 1986, Vol. II, Yuan and Ming Dynasty Porcelains, p. 440, col. pls. 666, and p. 546, cat. no. 666. Compare also with another embellished blue and white pen box and cover made for the Ottoman market, sold in Christie's London, 10th October 2013, lot 133.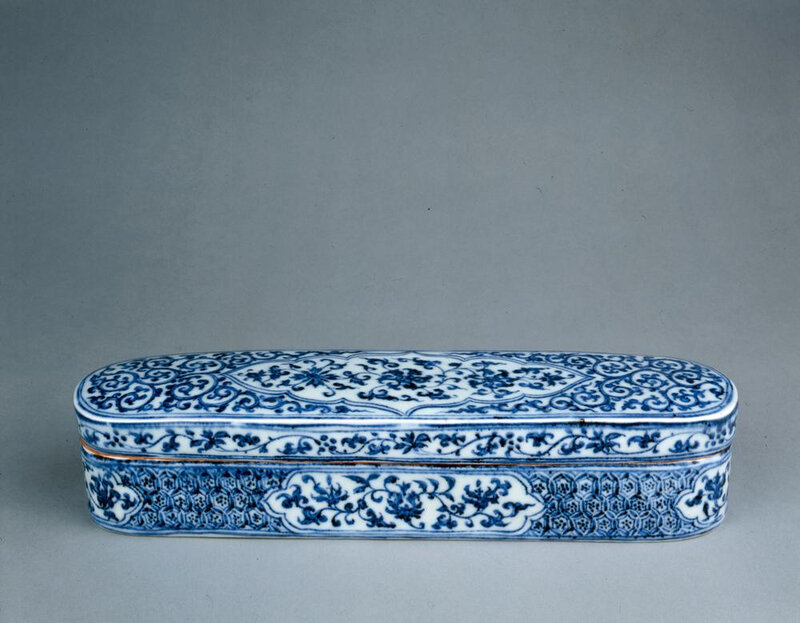 Writing box in a Middle Eastern metal shape, Ming dynasty, Yongle period, AD 1403–24. Porcelain with underglaze cobalt-blue decoration, Jingdezhen, Jiangxi province. Height: 7,2 cm, Width: 30 cm, Depth: 7,8 cm. On loan from Sir Percival David Foundation of Chinese Art, PDF A629. © The Trustees of the British Museum
Oval writing box and cover. Underglaze blue with dense lattice pattern inset with ogival panels containing scrolling flowers. 'Three Friends of Winter', pine, prunus and bamboo, on inside of lid. Inside contains separate areas for porcelain ink, pens and porcelain water, with scrolling flower design. Base unglazed.
This writing box has three separate compartments inside possibly for pens, water or ink and a well for storing blotting threads. The inside of the cover is painted with the 'Three Friends of Winter'. A box of the same shape but with a different design was excavated from the Yongle strata at the imperial kiln site at Jingdezhen in 1984. The Yongle emperor sponsored trade and exploratory missions abroad. Admiral Zheng He鄭和 (AD 1371–1433) began his voyages to Southeast Asia, the Middle East, and Africa under the Yongle emperor's patronage. At court a fashion for 'exotic' Middle Eastern are inspired object forms and decorative motifs prevailed. The shape of this writing box as well as its dense decoration is inspired by earlier inlaid metalwork from the Middle East, as evidenced by brass writing boxes, some inlaid with silver, that were made, for example, in Egypt or Syria.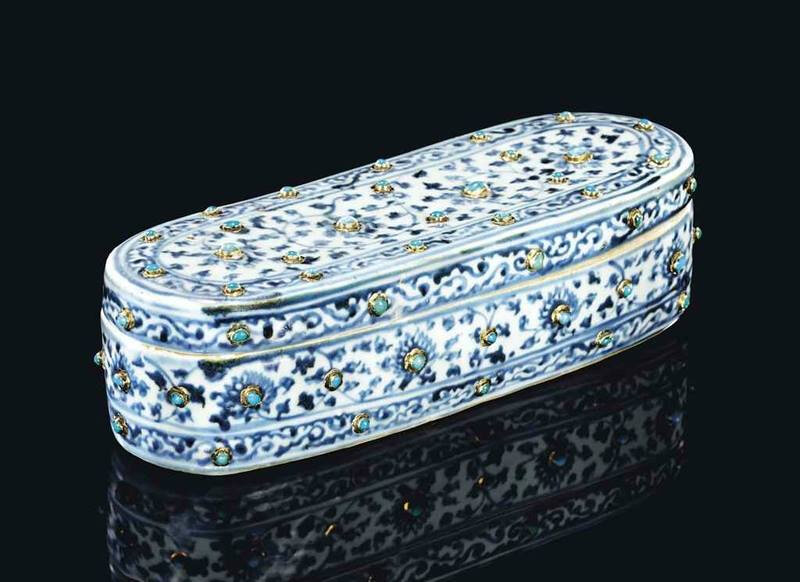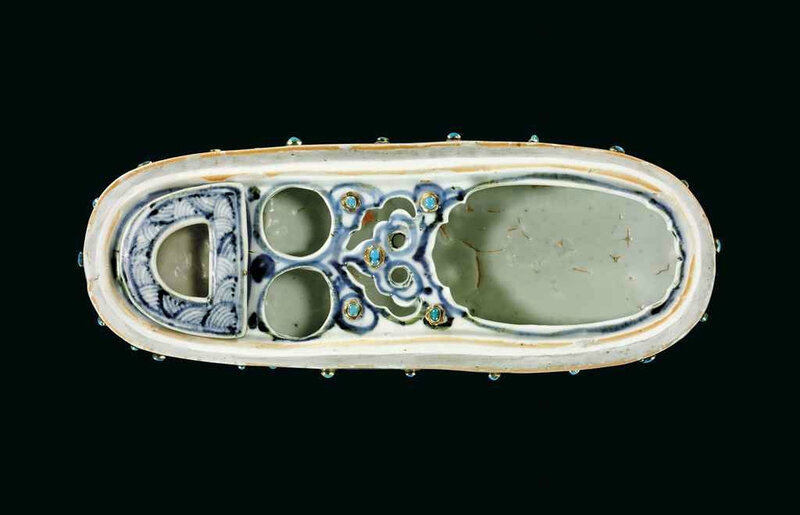 A rare Ming pencase made for the Ottoman market, China and Ottoman Turkey, late 16th century, 9¼in. (23.5cm.) long. Estimate GBP 80,000 - GBP 120,000 (USD 120,000 - USD 180,000). Price realised GBP 92,500 (USD 147,260) at Christie's London, 10th October 2013, lot 133. © Christie's Images Ltd 2013
Cf. my post: A rare Ming pencase made for the Ottoman market, China and Ottoman Turkey, late 16th century
Sotheby's. Chinese Art, London, 12 May 2021