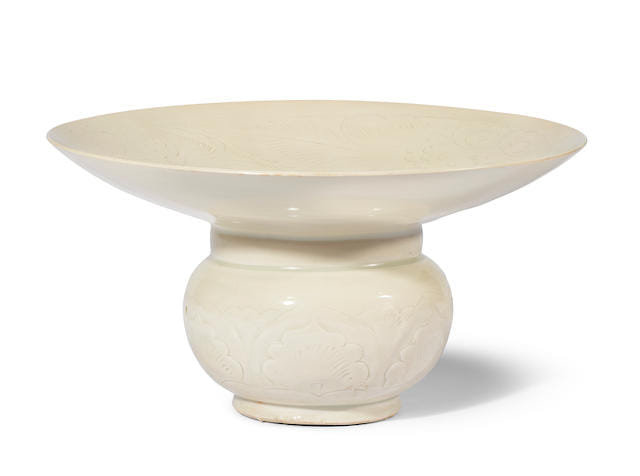 Lot 65. A rare Dingyao spitoon, zhadou, Northern Song Dynasty; 22cm (8 5/8in) diam. Sold for HK$ 477,500 (€ 50,467). © Bonhams.
Thinly potted with a compressed globular body incised around the exterior with stylised peony petals, the waisted neck surmounted by a wide flared mouth carved with further floral motifs, covered overall in a creamy-white glaze of ivory tone.
Provenance: Berwald Oriental Art, London
Professor Conrad Harris, UK, acquired from the above on 30 April 2002.
Note: Conrad Harris became interested in Chinese pottery in the late 1990s, around the time he retired as Professor of General Practice at Leeds University. Having moved from a career in medical academia, he took an academic approach to learning about the styles and artefacts of different periods, from the Neolithic to the great dynasties of China. Harris was a highly erudite collector who travelled extensively in China, pursuing his interest in ancient pottery wares through many provincial museums. He gave regular lectures and, in 2002, gained a Diploma in Asian Art from the British Museum. He was an active member of the Oriental Ceramics Society and in the 2003/04 Oriental Ceramic Society Transactions, he contributed the lecture 'Chinese ceramic horses and how they changed'. Most importantly, he gained immense pleasure from seeing his collection take pride of place on the shelves all around his study.

Dingyao spittoon of this form are rare with very few published examples. See a related 'Ding' tuoyu, in the collection of the Palace Museum, Beijing, similarly carved with lotus flowers borne on an undulating scroll on the wide rim but with a truncated cylindrical body, illustrated in The Complete Works of Chinese Ceramics, Shanghai, 1999, vol.7, Part 11, no.20. Compare also with a related Dinagyao white-glazed tuoyu in Dingzhou City Museum, Northern Song, which was illustrated in The Complete Collection of Ceramic Art Unearthed in China, Beijing, 2008, vol.3, pl.95, no.95.

This type of spittoon appeared to be popular in Northern China since Tang dynasty, particularly more common in Liao and Jing areas. See a related white-glazed Ding spittoon, Liao dynasty, unearthed in Inner Mongolia, which was illustrated in ibid, vol.4, pl.52, p.52; see also another white-glazed spittoon, Tang dynasty, in the Shangxi Provincial Museum, which was illustrated in ibid, vol.5, pl.45, p.45. For its usage, see a mural unearthed from a princely tomb, Liao dynasty, in Inner Mongolia, which depicts a male servant holding a spittoon in his hands with a female servant holding a towel, illustrated in The Complete Collection of Murals Unearthed in China, Beijing, 2012, vol.3, pl.91, p.93.
Bonhams. Fine Chinese Art. Introducing Beauty and Beyond: Women in Chinese Art, Hong Kong, 27 May 2021.