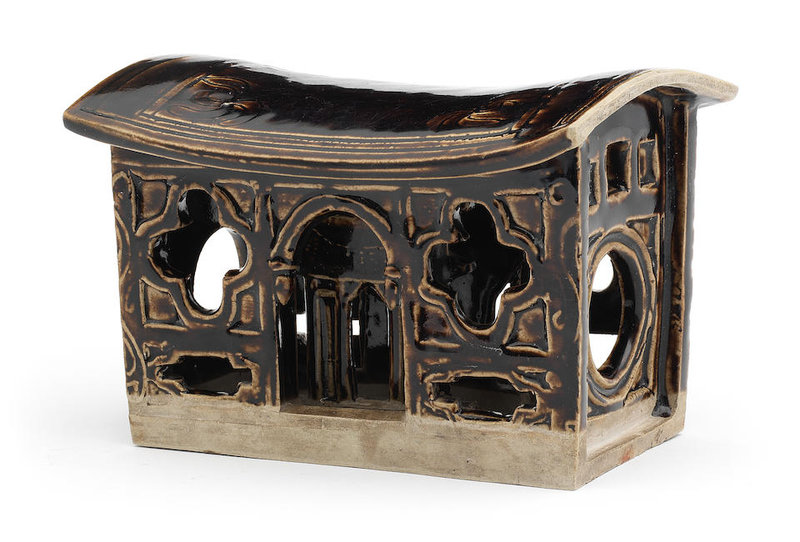 Lot 498. A rare chocolate-brown-glazed pillow, Jin Dynasty (1115-1234); 20.5 (8in) wide. Est: £1,000 - £1,500. Sold for £ 7,012 (€ 8,199). © Bonhams
Crisply potted and assembled as a model of a shrine, an arched door on the two main sides leading to a small central room, the exterior walls symmetrically pierced with lobed, square and circular open windows, all under a rich glossy glaze over the grey biscuit body, fitted box.
Published, Illustrated and Exhibited: Roger Keverne Ltd., Summer Exhibition, London, 2007, no.29.
The result of Oxford Authentication Ltd. thermoluminescence test no.P206g23 dated 10 January 2007, is consistent with the dating of this lot.
Note: Pillows such as the present lot are rare and are more usually found in white porcelain or qingbai ware. See for example, a white porcelain pillow, Five dynasties/Northern Song dynasty, in the Shanghai Museum, and an elaborate qingbai example, Yuan dynasty, modelled after the Guanghan Palace in the Moon, in the Datong Municipal Museum, illustrated by Wang Qingzhen, A Dictionary of Chinese Ceramics, Singapore, 2002, p.70. Wang notes that this 'type of pillow, first appearing in the Five Dynasties, evolved from the box-shaped pillow, with a building as a stand for the head rest'.
Bonhams. Roger Keverne Ltd Moving On (Part II), London, New Bond Street, 7 Jun 2021