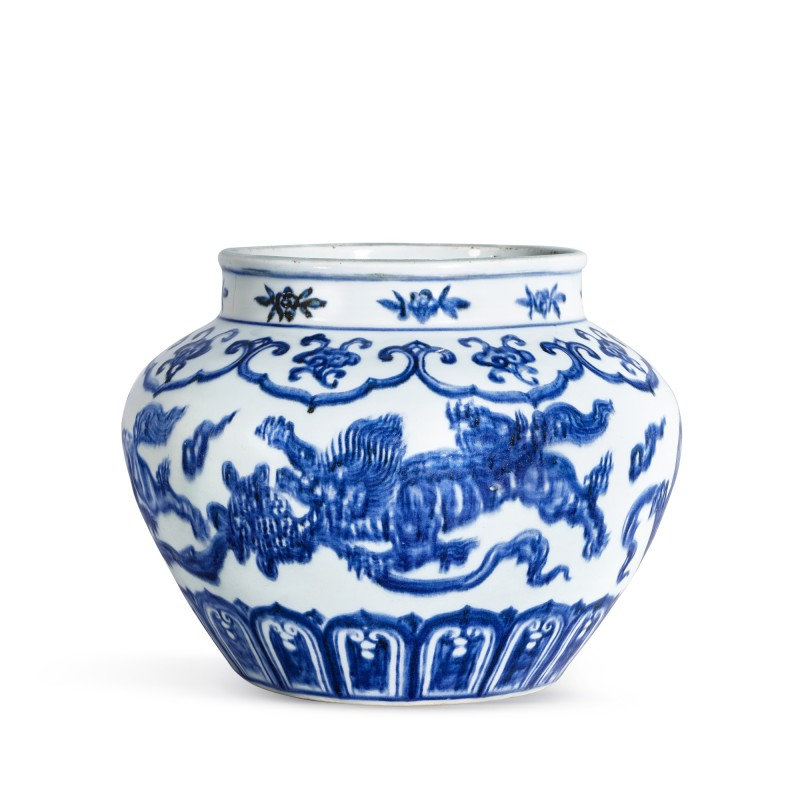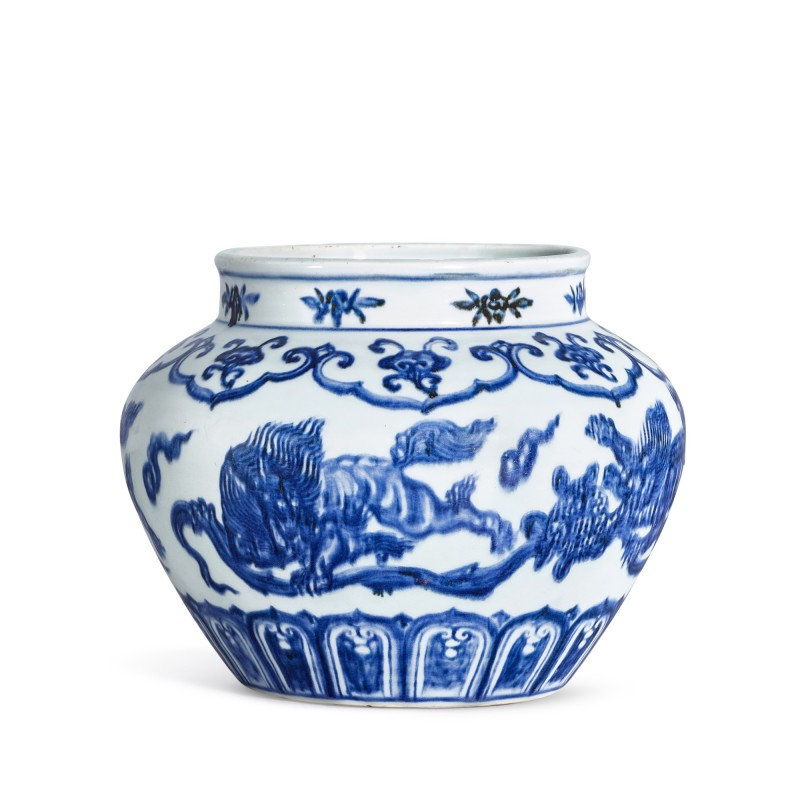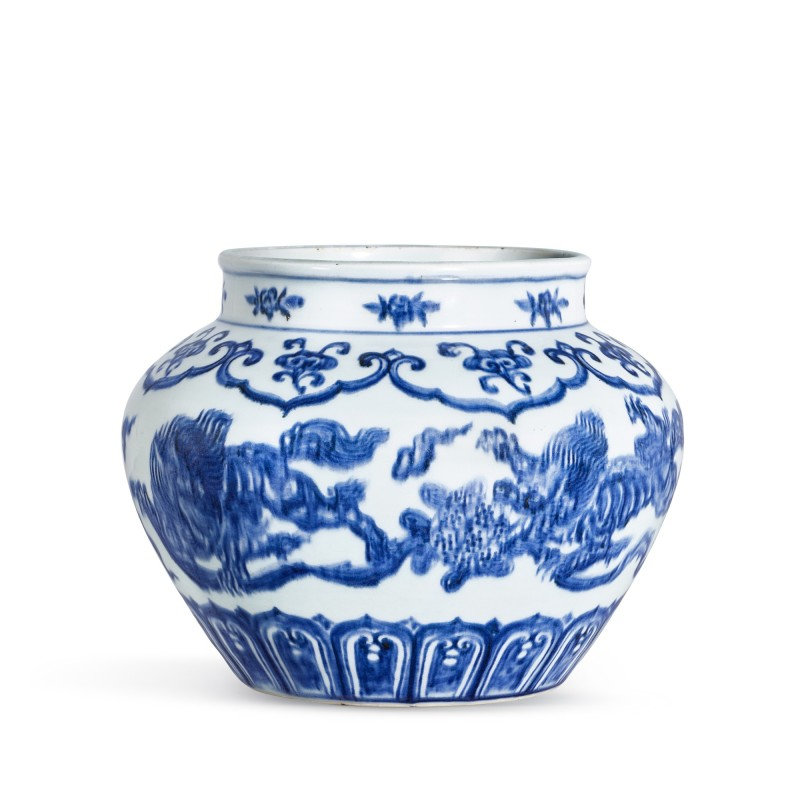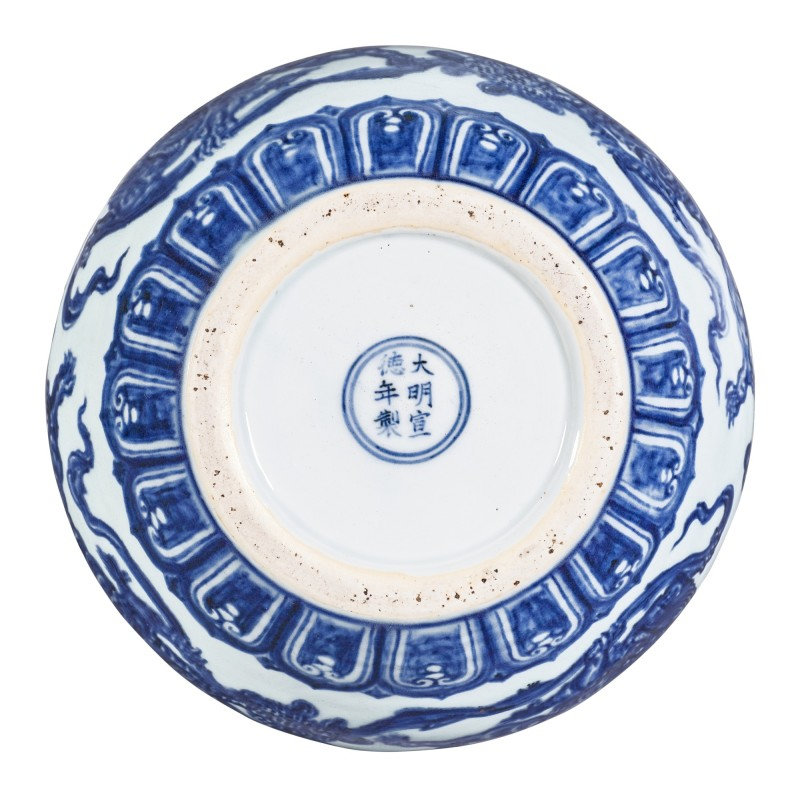 Lot 3635. An exceptional blue and white 'lion and ball' jar, Mark and period of Xuande (1426-1435); w. 22.8 cm. Lot sold: 11,065,000 HKD (Estimate: 15,000,000 - 18,000,000 HKD). © 2021 Sotheby's
sturdily potted with an ovoid body rising to a rounded shoulder and surmounted by a straight neck and lipped rim, the exterior vibrantly painted in shades of cobalt blue with two pairs of lions, each pair depicted flanking an embroidered ball with fluttering ribbons, with one animal grasping the ribbons with the front paws and the other portrayed with one outstretched front limb as though in pursuit of the ball, the shoulder collared by a ruyi frieze enclosing detached ruyi blooms, below a band of florets encircling neck, the lower body skirted by overlapping upright lappets, the recessed base inscribed with a six-character reign mark within a double circle.
Property from the collection of Quincy Chuang.
Provenance:

Collection
of Major Lindsay Fitzgerald Hay (1891-1946) of Bath.
Sotheby's London, 16th June 1939, lot 88.
Collection of Lionel Edwards (died c. 1944).
Sotheby's London, 8th February 1945, lot 81 (£ 145).
Collection of Major Lindsay Fitzgerald Hay (1891-1946) of Bath.
Sotheby's London, 25th June 1946, lot 28 (£ 92).
Collection of Richard Edmund Relfe Luff, CBE (1887-1969).
Collection of the RER Luff Will Trust.
Sotheby's London, 26th June 1973, lot 23 (£ 47,000).
Hugh M. Moss Ltd, London.
Collection of Victor Shaw, Hong Kong and Vancouver.
Sotheby's Hong Kong, 29th November 1976, lot 468 (HK $ 135,000).
Exhibited: The Animal in Chinese Art, The Oriental Ceramic Society, London, 1968, cat. no. 149.
An Anthology of Chinese Ceramics, Min Chiu Society, Hong Kong Museum of Art, Hong Kong, 1980, cat. no. 79.
Lions at

Play

at the Court
This charmingly painted blue-and-white jar is a classic example of the exquisite production of the imperial workshops in Jingdezhen, Jiangxi, destined for the court of the Xuande Emperor (r. 1426-1435). Its design of boisterous animals, wildly chasing embroidered balls with fluttering ribbons, is one of the most enchanting of the period, and there is hardly another motif that similarly challenges the painter's ability to render movement. It was conceived in the Yongle period (1403-1424) and displays the playful ease with which Jingdezhen's master painters wielded the brush in this peak period of blue-and-white creation. Rendered in soft, yet bold brush strokes in a vivid inky cobalt blue, it exemplifies China's most admired and copied blue-and-white style.
Lions are not native to China, and although live animals were brought to the Chinese court by foreign embassies since at least the Han dynasty (206 BC – AD 220), they were always exotic rarities. In India, the lion is intimately associated with Buddhism, considered a symbol of strength and protector of the Dharma, the Buddhist law, and with the growing popularity of the Buddhist religion during the Tang dynasty (618-907), pairs of lion figures were increasingly placed in front of Buddhist temple gates as guardian animals.
The Yongle Emperor's international diplomacy efforts brought China once more in direct contact with foreign lands, their animals, plants and other exotica in the early Ming dynasty (1368-1644). The court welcomed foreign embassies and the Muslim seafarer and diplomat, Court Eunuch Zheng He (c. 1371-1435), embarked on seven extensive maritime expeditions to ports throughout Asia and as far as Africa, which continued into the Xuande reign. At this time, lions were apparently so little known in China that Ma Huan (c. 1380-1460), Zheng He's Muslim interpreter, who accompanied him on three of his voyages and left us a contemporary account, felt it necessary to describe them in detail: "The lion has a body which resembles a tiger's in shape; it is a dark-yellow colour, without stripes; it has a large head and a broad mouth; the tail tapers to a point, which has a lot of hair, black and long, like a tassel; the noise of its roar is like thunder. All the beasts, when they see it, fall down and dare not rise; it is indeed the king among the beasts" (J.V.G. Mills, ed., Ma Huan, Ying-yai Sheng-lan. The Overall Survey of the Ocean's Shores [1433], Hakluyt Society, London, 1970, reprint Bangkok 1997, pp. 158-9). Although lions were among the exotic animals that had been brought to China already by some Timurid embassies, and on occasion were received as tribute by Zheng He's delegation, they were rare and desirable enough to be specially purchased on these voyages, to be brought back to the court: during the sixth expedition in the Yongle reign, for example, when in 1421 the ships stopped in Aden (ibid., pp. 50 and 159), and during the seventh voyage in the Xuande reign, when in 1431 a division of the fleet went to Mecca, where it had, among other things, brought porcelain items as gifts (ibid., pp. 51 and 178).
It is highly unlikely that lions made it as far as Jingdezhen, but the animals' wild chase of the embroidered spheres depicted on the present jar nevertheless looks as if observed from life, as lions indeed seem to enjoy playing with a ball. Designs appear to have been pre-drawn in the capital, which until 1420 was located not too far away in Nanjing. Judging by the fact that the exceedingly rare Yongle reign mark in blue-and-white was inscribed on a ball fought over by two lions inside a small cup in the Palace Museum, Beijing, we can assume that the lion motif enjoyed special imperial favour (Gugong Bowuyuan cang wenwu zhenpin quanji. Qinghua youlihong/The Complete Collection of Treasures of the Palace Museum. Blue and White Porcelain with Underglazed Red, Hong Kong, 2000, vol. 1, pl. 78) (fig. 1).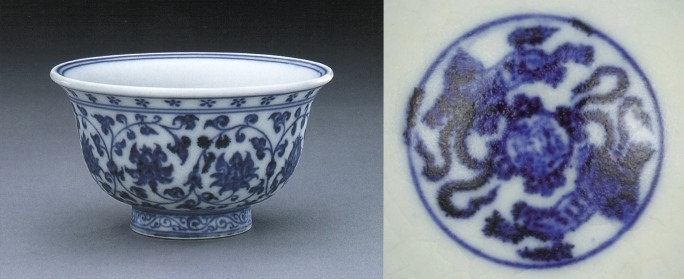 Fig. 1 A blue and white 'lotus scroll' cup, Seal mark and period of Yongle, Detail of the mark © Palace Museum, Beijing.
During the Yongle and Xuande reigns, the kilns of Jingdezhen experienced unprecedented attention from the court, which practically took over the complete porcelain production and controlled all its aspects. This close supervision explains the superior composition of Yongle and Xuande blue-and-white designs, and the outstanding material which was vastly improved through controlled experimentation, testing, and rigorous quality control. The Xuande Emperor's reign reaped all the achievements of the Yongle period, which potters set about to fine-tune. To styles taken over from the Yongle reign they introduced minimal changes in proportion and size, and tightened the painted decoration, often almost imperceptibly.
While much of the early Ming blue-and-white porcelain had been made to be sent abroad, pieces inscribed with the reign mark were almost invariably kept at the court. Guan jars are known to have been used as wine jars, and three covered jars of similar shape, probably made of gold and raised on red lacquer stands, can be seen in a handscroll entitled Amusements in the Xuande Emperor's Palace placed on a table together with a golden wine ewer, a bottle, a covered bowl and a cup and stand (Craig Clunas and Jessica Harrison-Hall, eds, Ming. Fifty Years that Changed China, The British Museum, London, 2014, fig. 127).
Of the present design, only two companion pieces of Xuande mark and period appear to be recorded: a jar in the Shanghai Museum, illustrated in Lu Minghua, Shanghai Bowuguan zangpin yanjiu daxi/Studies of the Shanghai Museum Collections: A Series of Monographs. Mingdai guanyao ciqi [Ming imperial porcelain], Shanghai, 2007, pl. 1: 32 (fig. 2); and one from the collections of Mrs. Walter Sedgwick, L.A. Basmadjieff, and Mr and Mrs Thomas Cole, which appeared five times in our London rooms, 24th November 1964, lot 62; 2nd July 1968, lot 125; 14th March 1972, lot 125; 8th/9th July 1974, lot 187; and 3rd April 1979, lot 160, and is illustrated in Regina Krahl, Chinese Ceramics in the Topkapi Saray Museum, Istanbul, ed. John Ayers, London, 1986, vol. 2, p. 532 (fig. 3).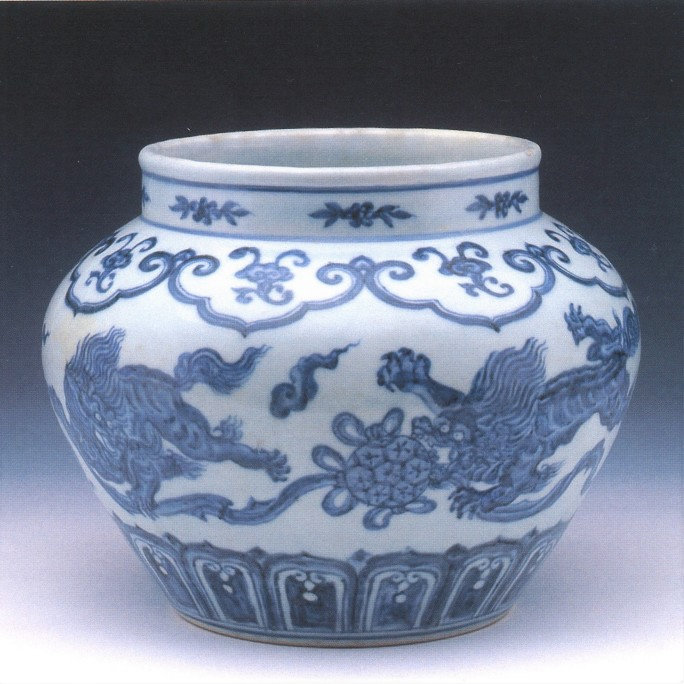 Fig. 2. A blue and white 'lion' jar, Mark and period of Xuande © Shanghai museum, gift of Yao Nianyuan.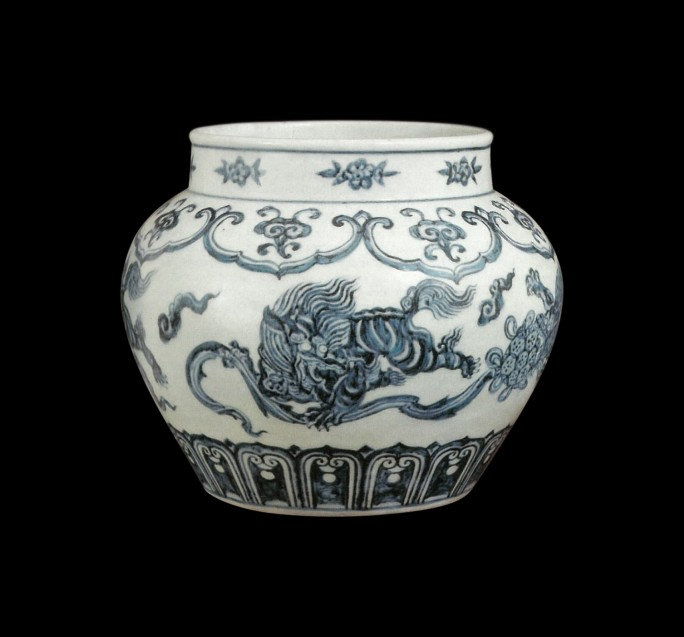 Fig. 3. A blue and white 'lion' jar, Mark and period of Xuande, formerly in the collections of Mrs Walter Sedgwick, L.A. Basmadjieff, and Mr and Mrs Thomas Cole.
An unmarked jar of this design, presumably of Yongle date, is illustrated in Regina Krahl, Chinese Ceramics from the Meiyintang Collection, London, 1994-2010, vol. 4, no. 1643, sold in these rooms, 1st November 1999, lot 312, and included in Sotheby's: Thirty Years in Hong Kong, Hong Kong, 2003, no. 213 (fig. 4); another was sold, with a contemporary cover, at Christie's Hong Kong, 1st/3rd May 1994, lot 630. A larger unmarked jar with similar lions between wave borders is illustrated in Peter Boode, 'Pre-Ming and Early Fifteenth Century Porcelains', Transactions of the Oriental Ceramic Society, vol. 21, 1945-6, pl. 3a.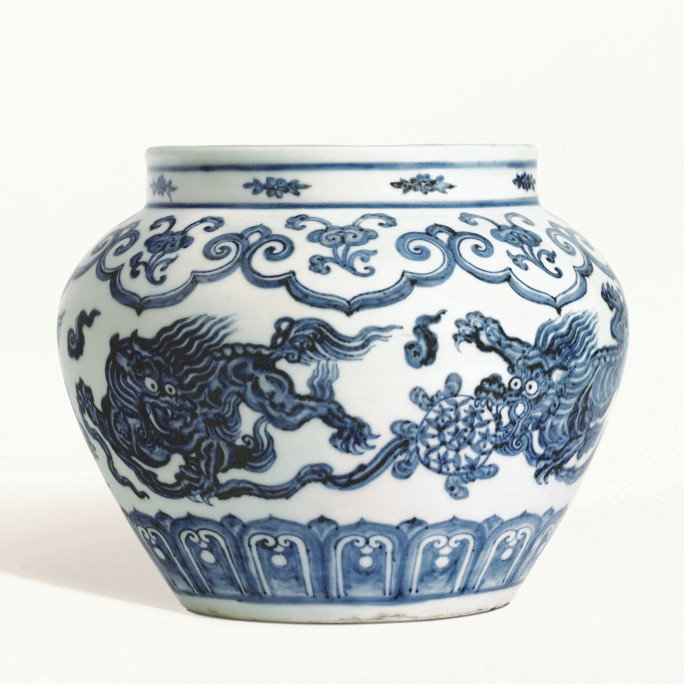 Fig.4. A blue and white 'lion and ball' jar, Ming dynasty, Yongle period, The Meiyintang Collection.
It is possible that the lion design on this jar also has Buddhist connotations, since very similar jars were also produced with another Buddhist motif, kui dragons with two lion's paws and a long trailing tail. That motif is derived from the Indian makara, a guardian spirit similarly used as an architectural element to protect gateways, which equally had arrived in China from India with the introduction of Buddhism; see a jar formerly together with the present piece in the collection of Major Lindsay Fitzgerald Hay, as well as in the collections of Wu Lai-hsi and Soame Jenyns, now the Fitzwilliam Museum, Cambridge, published in B.S. McElney, 'The Foliated Dragon', The Bulletin of the Oriental Ceramic Society of Hong Kong, no. 1, 1975, p. 54, pl. 1, and sold twice in our London rooms, 26th May 1937, lot 37, and 16th June 1939, lot 97 (fig. 5).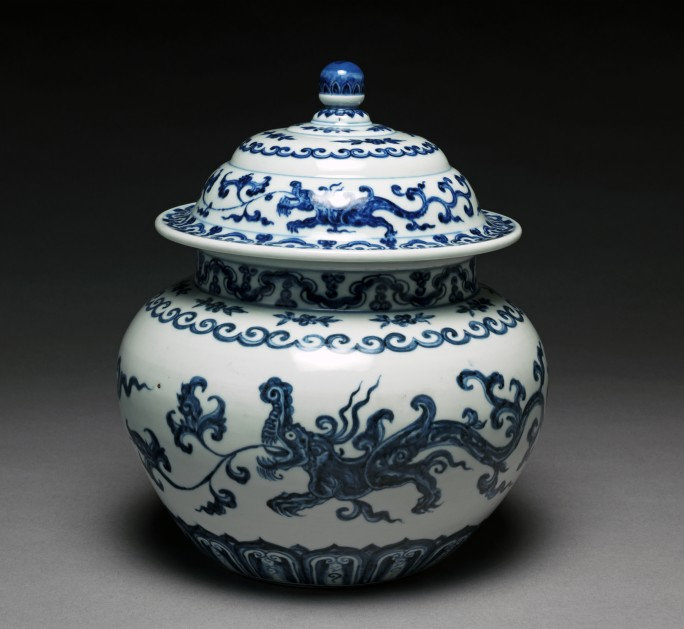 Fig. 5. A blue and white 'kui dragon' jar and cover, Mark and period of Xuande © The Fitzwilliam Museum, Cambridge (No. C.119 & A-1950)
The illustrious provenance of the present vessel can be traced back to England in the 1930s, its three previous owners all having been early members of the London Oriental Ceramic Society. Major Lindsay Fitzgerald Hay (1891-1946) of Bath (fig. 6), was an Officer of the Royal Highlanders (Black Watch), renowned to have been the tallest soldier in the British army, wounded and decorated in the First World War, and retired in 1935, who had travelled extensively to the Middle East, wrote three novels, was known for his love of expensive cars, and an avid collector of early Ming porcelain. After having sold his collection at Sotheby's in 1939, he soon started to build another, buying back many of the pieces he had already once owned. In the 1930s he lived at Follyfaunts House (fig. 7), a mansion in Goldhanger, Essex, where some of his porcelains were displayed on either side of the fireplace.
Fig. 6. Major Lindsay Fitzgerald Hay (1891-1946, left), Black Watch, the tallest officer in the British Army photographed at a wedding, Chichester Cathedral, West Sussex, England, 31st july 1930
Fig. 7. Follyfaunts House, Goldhanger, Essex Homes and Gardens, September 1939.
Lionel Edwards (dates unknown, died c. 1944) was a British collector of Chinese ceramics and other works of art, as well as Persian and Indian miniatures.
Richard Edmund Relfe Luff, CBE (1887-1969) had begun after the Second World War to build his fine collection of over one hundred Chinese ceramics, bronzes and jades, which included a Chenghua 'palace bowl'. Several of his pieces were lent to the Oriental Ceramic Society exhibition The Arts of the Ming Dynasty, London, 1957, and after his death to the Society's Fiftieth Anniversary Exhibition, The Ceramic Art of China, London, 1971.
Victor Shaw of Hong Kong and later Vancouver, was a life-long collector of Chinese art, who in 2001 donated the majority of his collection – nearly four hundred pieces of Chinese ceramics, jades, bronzes and gold – to the Museum of Anthropology, University of British Columbia, Vancouver, Canada.
Sotheby's. Important Chinese Art including Imperial Jades from the De An Tang Collection, Hong Kong, 13 October 2021