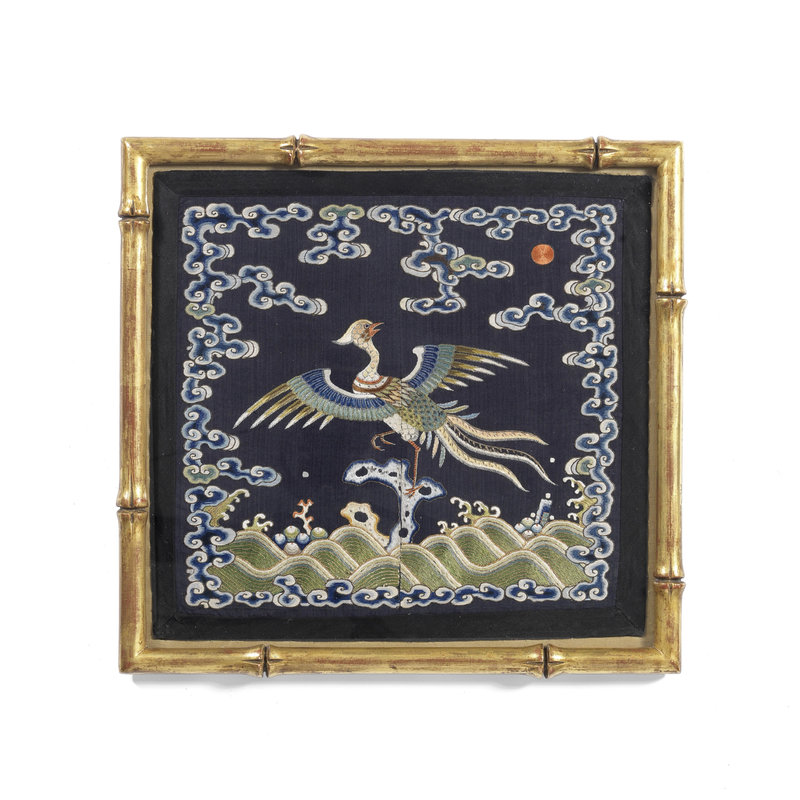 Lot 273. A rare silk embroidered 'golden pheasant' badge, Yongzheng-Qianlong period (1723-1796); The badge 28.5cm (11 2/8in) wide x 27cm (10 1/2in) long. Sold for £ 25,250 (€ 30,085) (Est: £3,000 - £5,000). © Bonhams 2001-2021
Made for a civil official of the Second Rank, finely embroidered in multi-coloured threads with the bird facing the sun as it alights onto a rock emerging from green rolling waves interspersed with gold thread, all within a border of sinuous trailing clouds executed in delicate blue and green shades, framed and glazed.
Provenance: Linda Wrigglesworth, London, 1980.
Note: Badges buzi displaying fabulous creatures, birds or animals were worn by the members of the Qing ruling elites as part of their Court dress. The various species, whether real or imaginary, signified the wearer's rank and the badges were worn in pairs on the bufu surcoat. Accordingly, one badge was attached to the back of the surcoat, the other was made in two parts, which were respectively placed to either side of the opening on the chest.

Compare with a similar silk 'Golden Pheasant' embroidered badge, 18th century or earlier, in the Metropolitan Museum of Art, New York, acc.no.1988.104.89.
Bonhams. Fine Chinese Art: Including Imperial and Court Textiles Curated by Linda Wrigglesworth, London, 2 november 2021