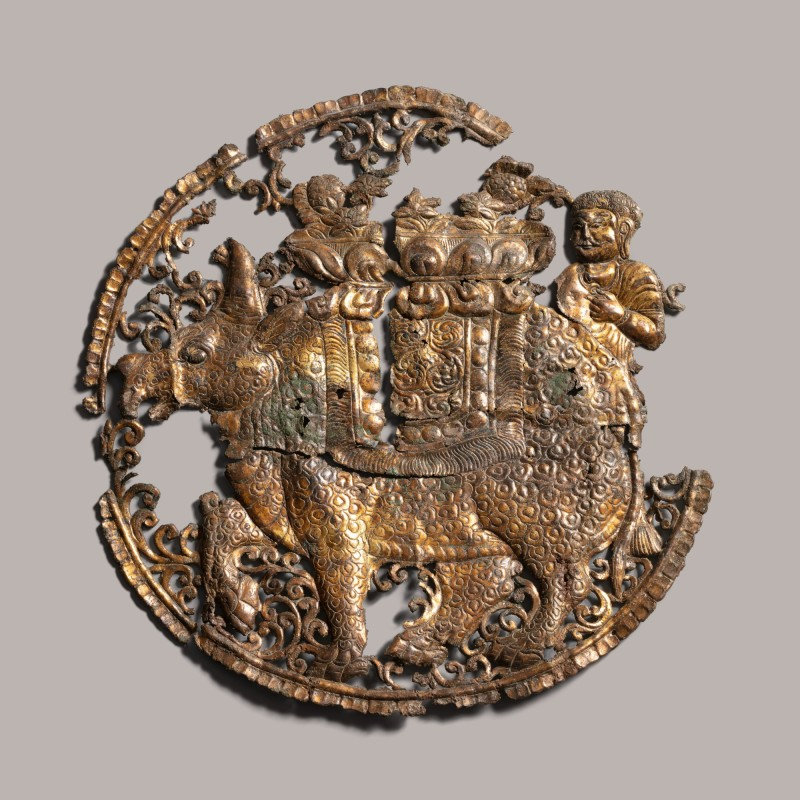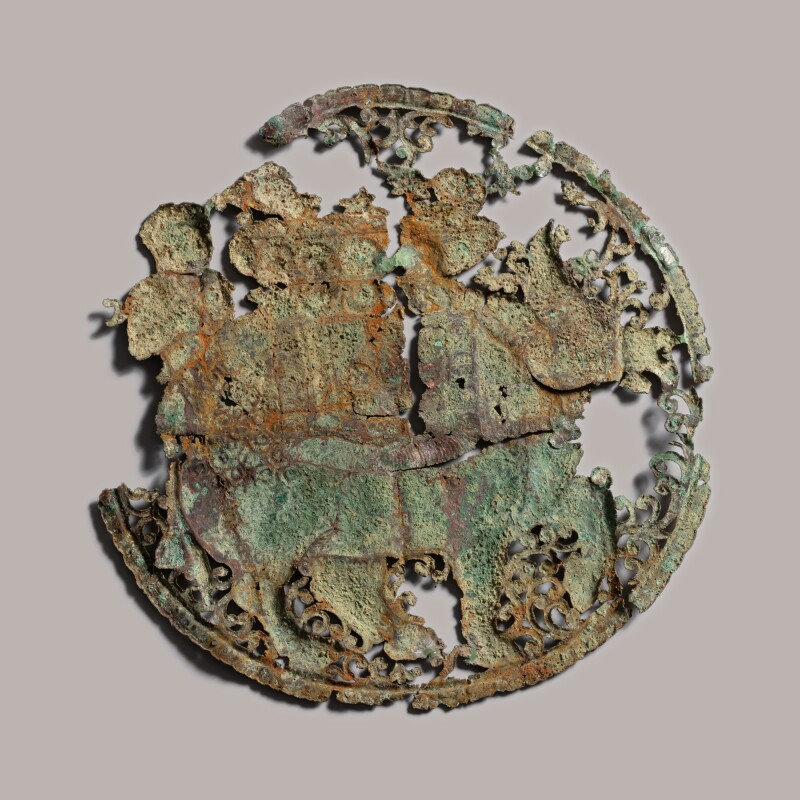 Lot 346. A gilt copper repoussé Buddhist plaque, Tang dynasty (618-907); Diameter 27.5 cm, 10⅞ in. Lot sold: 56,700 GBP (Estimate: 50,000 - 70,000 GBP). (C) 2021 Sotheby's
of circular form, repousse and open work, depicting a moustachioed foreigner standing beside a large rhinoceros, the beast wearing a saddle blanket supporting a large flower-filled double lotus basin, all reserved on a dense foliate scroll ground.
Provenance: Hartman Rare Art, Inc. New York, acquired in 1995.
Literature: Jean-Paul Desroches, Two Americans in Pairs, a quest for Asian art, 2016, Paris, no. 246.
Exhibited: From the Land of Asia, Pointe-à-Callière Museum, Montréal, 17th November 2016 - 19th March 2017.
From the Land of Asia, Kimbell Art Museum, Texas, 4th March – 19th August 2018.
Note: This impressive gilt-copper plaque with its meticulously executed rhinoceros motif appears to be unique. Rhinoceros were considered auspicious beasts during the Tang dynasty (618-907). Guarding the tomb of the founder of the Tang, the Gaozu Emperor (566-635), were a large pair of stone sculptures of rhinoceros, one of which is now preserved in the Xi'an Beilin Museum. According to Edward H. Schafer (The Golden Peaches of Samarkand, Berkeley and Los Angeles, 1963, pp. 83-4), tamed rhinoceroses were brought by embassies of various countries to the Tang court, some having been trained to perform, like performing elephants. Rhinoceroses performed, for example, during palace entertainments at the court of Emperor Xuanzong (r. 713-756). Some, however, held in the imperial park at Chang'an, did not survive the region's cold winters.
Rhinoceros of related design can be found on a few Tang metal wares. Compare, for example, two parcel-gilt silver dishes decorated with a small figure of a rhinoceros only in the centre, lacking the foreigner and scroll work in the background, both formerly in the Carl Kempe Collection and sold in these rooms, 14th May 2008, lot 59 and 60: the former most recently sold again at Christie's New York, 23rd September 2021, lot 708; the latter in the Meiyintang Collection, illustrated in Giuseppe Eskenazi and Hajni Elias, A Dealer's Hand: The Chinese Art World through the Eyes of Giuseppe Eskenazi, London, 2012, p. 206, pl. 79.
Sotheby's. Two Americans in Paris, The Collection of Sam and Myrna Myers, London, 4 November 2021