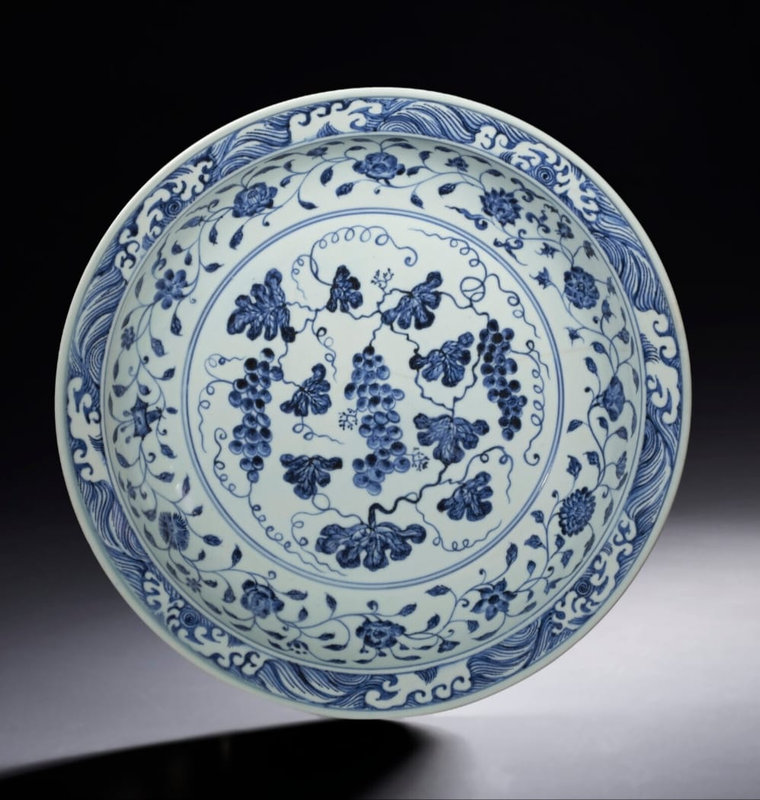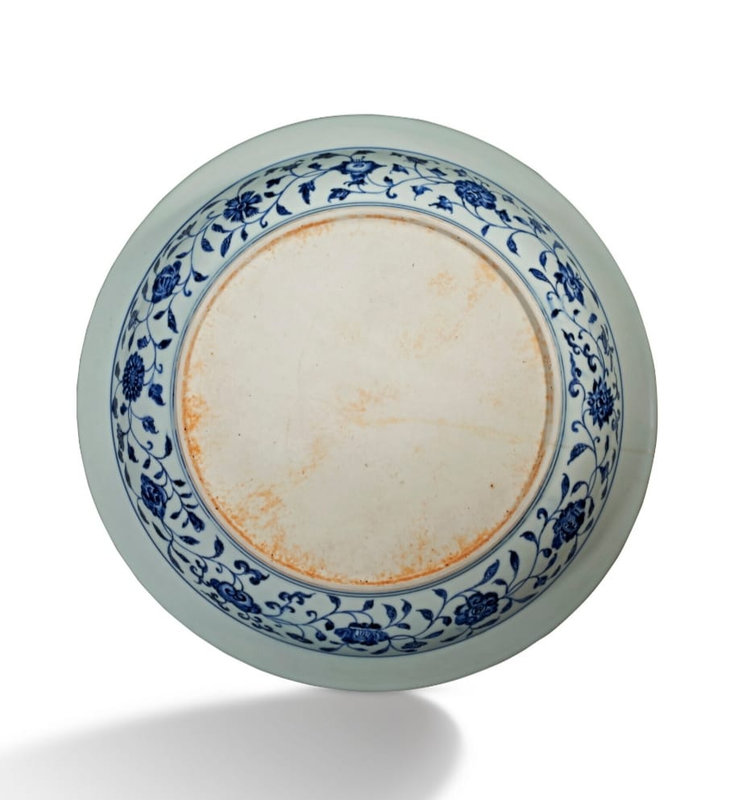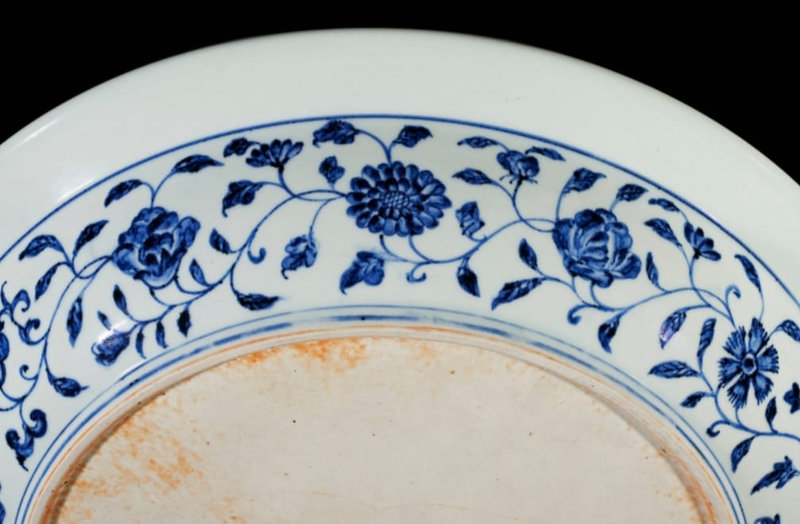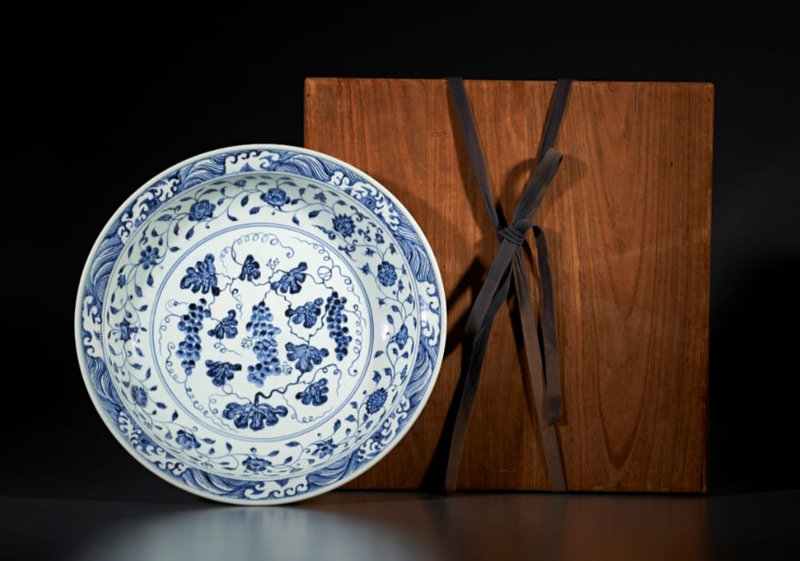 Lot 1045. A rare blue and white 'grapes' dish, Yongle period (1403-1425); 14 15⁄16 in. (38 cm.) diam. Estimate USD 180,000 – USD 250,000. Price realised USD 491,400. © Christie's 2022
The interior is well-painted with a leafy grapevine bearing three bunches of grapes as well as coiling tendrils, encircled by a band of composite foliate scroll in the rounded cavetto. The everted rim is decorated with a band of wind-tossed waves, and the exterior with a further band of composite foliate scroll, all in inky tones of underglaze blue enhanced by 'heaping and piling.'
Provenance: Asahi Bijutsu, Tokyo, 1999.
Note: LLarge, early 15th-century dishes decorated with grape vines as the main interior motif can be found in two distinct types. One type has a bracket-lobed rim and lobed cavetto. On this type the flowers in the cavetto are painted as individual sprays in each lobe, while the mouth rim is decorated with the so-called 'blackberry lily' scroll. Examples of this type are in a number of collections, including the Percival David Foundation, illustrated by R. Scott, Elegant Form and Harmonious Decoration - Four Dynasties of Jingdezhen Porcelain, Percival David Foundation, London, 1992, p. 40, no. 27; the Musée Guimet, Paris, illustrated by D. Lion-Goldschmidt, Ming Porcelain, New York, 1978, pl. 25; the British Museum, illustrated by J. Harrison-Hall, Ming Ceramics in the British Museum, London, 2001, p. 117, no. 3:36; and the Indianapolis Museum of Art, illustrated by Y. Mino & J. Robinson, Beauty and Tranquility: The Eli Lilly Collection of Chinese Art, Indianapolis Museum of Art, 1983, pp. 236-7, no. 92, among others. A dish of this type, bearing a Xuande mark, excavated from the site of the imperial kiln, is illustrated in Jingdezhen chutu Yuan Ming guanyao ciqi, Beijing, 1999, p. 198, no. 159.

The second, rarer, group, to which the current dish belongs, is usually associated with the Yongle reign. These dishes have a smooth cavetto and circular mouth rim. Their cavettos are decorated with a mixed flower scroll, and the flattened rims with a classic early 15th-century turbulent wave band. Examples of this type are to be found in the Percival David Foundation, Illustrated Catalogue of Underglaze Blue and Copper Red Decorated Porcelains, London, rev. ed., 2004, pp. 47-8, no. 685, and the Shanghai Museum, Qinghua ciqi zhan - Shanghai bowuguan suozang, 1988, p. 45, no. 24. There are five dishes of this type preserved in the collection from the Ardebil Shrine, now in the Iran Bastan Museum, Tehran. See J. A. Pope, Chinese Porcelains from the Ardebil Shrine, London, 1981, p. 38, nos. 29.50-54. Each of these has the Qarachaghay mark drilled into the base, suggesting that they may have belonged to a man who served Shah Abbas at the highest level, and indicating the high esteem in which such dishes were held in Iran. Another similar dish, sold at Sotheby's London, March 24, 1964, lot 96, bore an inscription naming Shah Jahan, the Moghul ruler of India (1627-58). A further example preserved in the Topkapi Saray, Istanbul, is illustrated by R. Krahl and J. Ayers, Chinese Ceramics in the Topkapi Saray Museum Istanbul - II - Yuan and Ming Dynasty Porcelains, London, 1986, p. 514, no. 606. The popularity of such dishes at the Persian, Indian and Turkish courts explains the influence that dishes of this design exerted on lower-fired blue and white wares made by the Isnik potters of Turkey. The Isnik potters produced dishes of similar pattern in the period AD 1530-40. See R. Scott, The Burrell Collection, London and Glasgow, 1983, p. 79, pl. 11, left-hand side.
Grapes began to gain popularity as a motif on blue and white porcelain in the early 15th century, although it had appeared very occasionally on 14th-century porcelains. Grapes are recorded as having been brought to China from Central Asia by Zhang Qian, an envoy of Emperor Wudi, when he returned to China in 128 BC. Both green and black grapes are recorded as being grown in China by the beginning of the 6th century AD, and there is even a seedless variety mentioned in texts from the Song dynasty. By the early 15th century many different varieties of grape were grown. The grapes were eaten fresh, as well as dried in the form of raisins, but do not seem to have been used to make wine until the Tang dynasty. Actually, the Yongle dish with this blue and white porcelain design provides an interesting illustration of the way influences travelled back and forth across Asia. Both the grape plant and its use as a decorative motif entered China from the West during the Han dynasty, but in the 15th century Chinese dishes with this design travelled West entering palace collections in Iran, India and Turkey. Turkish potters then copied the Chinese blue and white dishes depicting grapes in their Isnik blue and white wares.
Christie's. Important Chinese Ceramics and Works of Art, New York, 25 march 2022