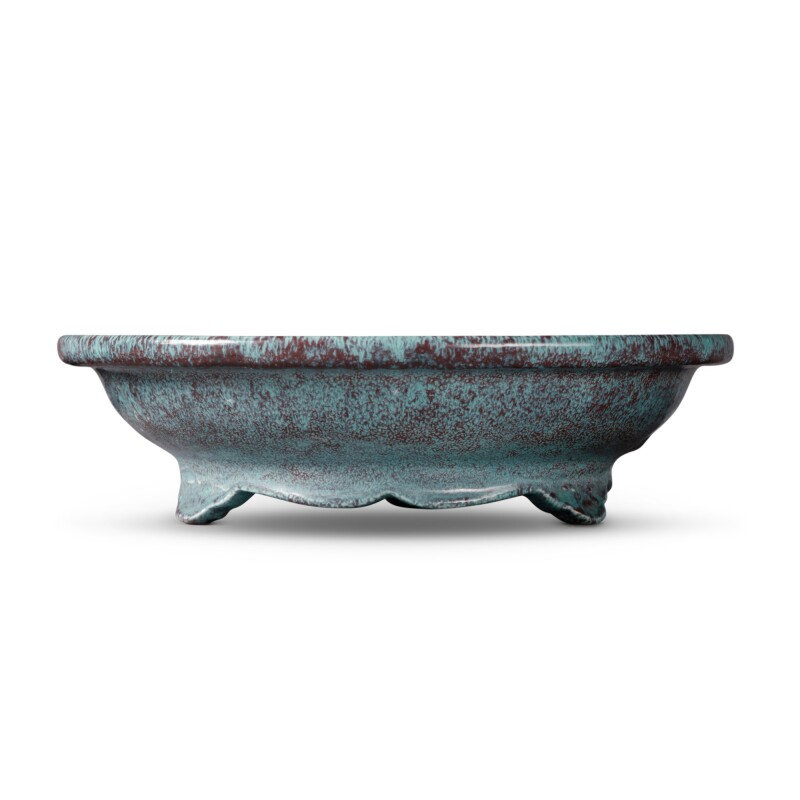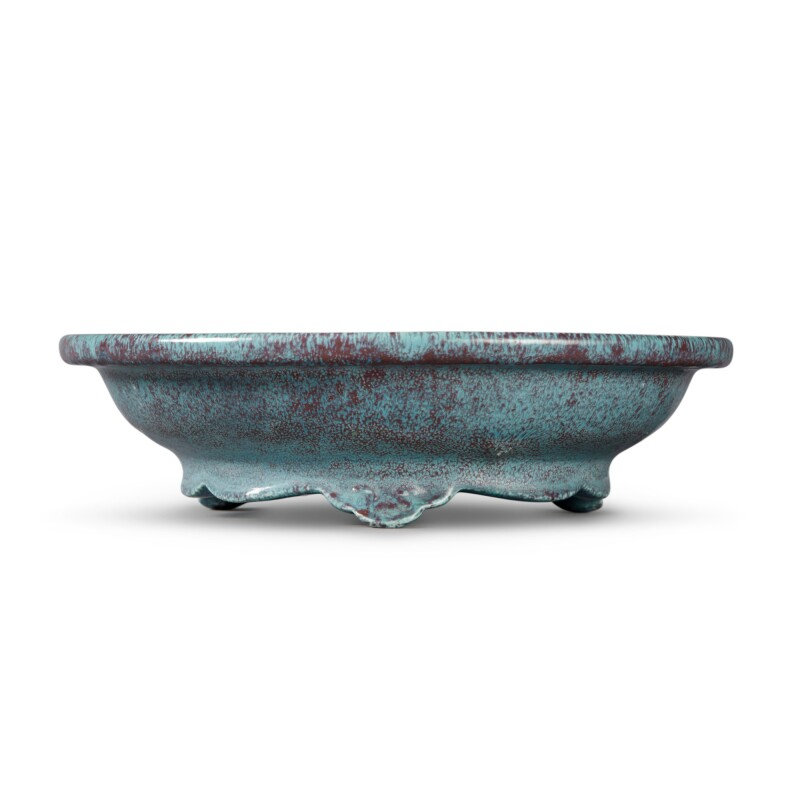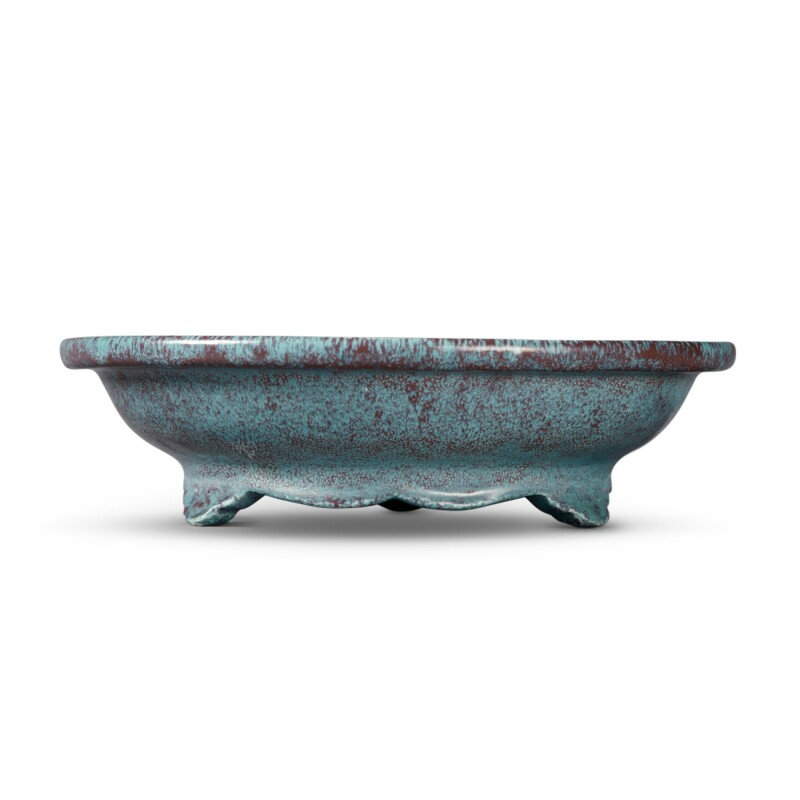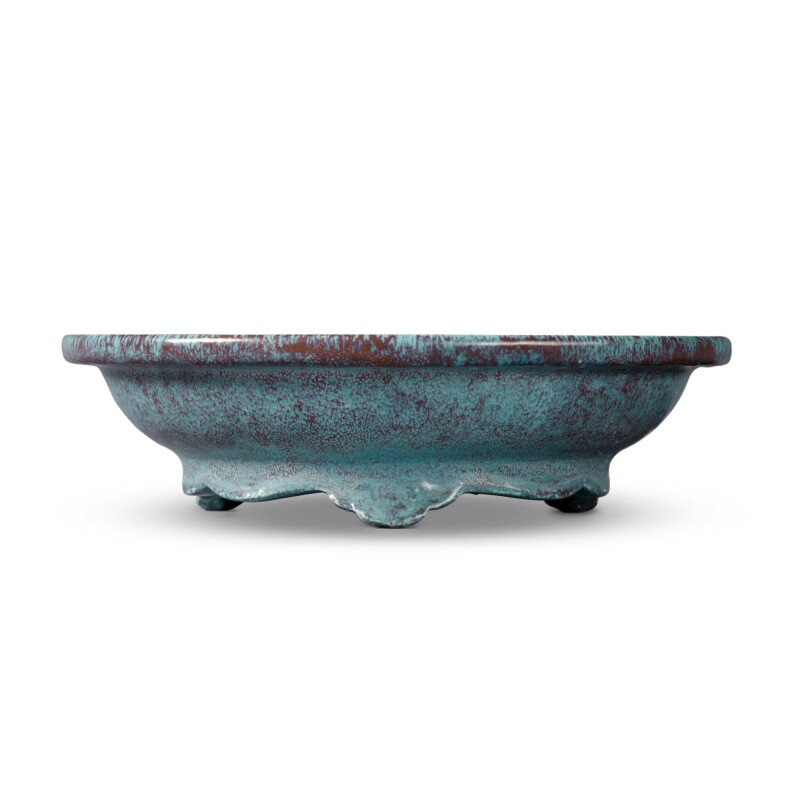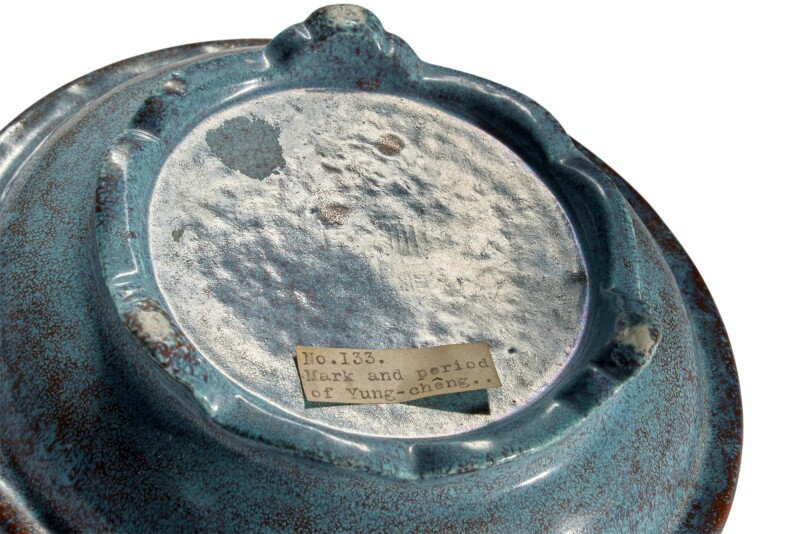 Lot 22. An extremely rare Jun-imitation robin's-egg-glazed tripod flower pot stand, Seal mark and period of Yongzheng (1723-1735). Diameter 7⅛ in., 18 cm. Estimate: 50,000 - 70,000 USD. Lot sold: 214,200 USD. © Sothebys.
the base faintly incised with a six-character seal mark.
Provenance: Collection of H.R.N. Norton (d. 1961/62), no. 133.
Sotheby's London, 5th November 1963, lot 192.
Collection of Dr Wou Kiuan (1910-1997).
Wou Lien-Pai Museum, 1968-present, coll. no. Q.8.6.
Literature: Rose Kerr et al., Chinese Antiquities from the Wou Kiuan Collection. Wou Lien-Pai Museum, Hong Kong, 2011, pl. 143.
Note: This vessel is highly unusual not only in its lively coloration, which differs from the typical 'robin's egg' glaze, but also in shape, and seems to be unique. It is testimony to the many efforts of the imperial potters both to reproduce the Jun glaze and to create new variations based on similar glaze recipes. The Yongzheng Emperor (r. 1723-1735) is known to have been particularly interested in Jun wares of previous dynasties and sent originals from the court collection to Jingdezhen for inspiration. The kiln supervisor, Tang Ying (1682-1756) also sent his assistant to Junzhou in Henan to research the glazes on site. A record of porcelains produced at Jingdezhen for the Yongzheng Emperor lists under Jun glazes five different colors copied from ancient specimens sent from the palace, and four new varieties, all distinguished by evocative names; see Stephen W. Bushell, Oriental Ceramic Art: Illustrated by Examples from the Collection of W.T. Walters, reprint London, 1981 (1896-9), p. 195f. The present glaze is very likely to represent one of those varieties. Known as lu jun ('furnace Jun') in Chinese, 'robin's egg' glaze was fired at a lower temperature than that of the porcelain itself and required a second firing.
The shape of this vessel, with its circular rim and barbed foot, is an innovative interpretation of the Jun jardinieres of the early Ming dynasty (1368-1644). A closely related Yongzheng mark and period flower-pot stand in the Palace Museum, Beijing, also with an unusual mottled glaze, but with lobed sides divided into six bracket foliations and a ring foot supported on three feet, follows the Ming prototype more closely (accession no. gu-150696). An even closer copy of the Ming version in the Walters Art Gallery, Baltimore, is illustrated in Bushell, op.cit., p. 90, fig. 126.
Sotheby's. A Journey Through China's History. The Dr Wou Kiuan Collection Part 1, New York, 22 March 2022