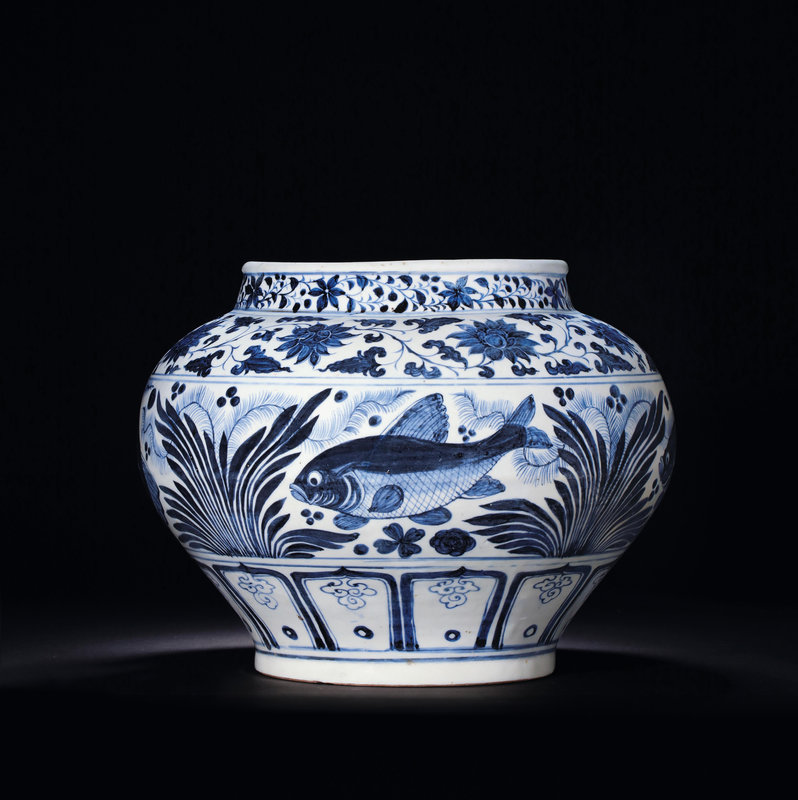 Lot 3324. An Important Blue and White 'Fish' Jar, Yuan Dynasty (1271-1368). H 26cm. Sold for HKD 2,160,000 (Estimate HKD 1,000,000 - 1,500,000). © Poly Auction Hong Kong Limited 2022
Provenance: 1. Old collection of the Duke of Arenberg, displayed in the Château de Beaulieu, southern France (heirloom)
2. Collection of Mr. Sapjo, Monte Carlo, Monaco, 1982
3. Collection of the Duchamp family, Paris, France.
Note: The jar has a straight mouth, a short neck, broad shoulders, a bulging belly, and a tapering abdomen with a shallow footrim, the foot slightly flared outwards, and a heavy body. The neck and shoulders are decorated with a band of twisted peony motifs, while the belly is decorated with a band of fish and algae motifs and a band of lotus petals near the foot.
The bottle is of full-bodied form, with a sparse and well-defined decoration. The abdomen is decorated with fish and algae motifs, which are more realistic on Yuan dynasty porcelain, whereas on Song porcelain they are more abstract and mainly outlined. The common fish motifs include four types of fish: mackerel, larvae, carp and mandarin, which are harmoniously rendered in the sense of 'pure white courtesy', and are often complemented by secondary motifs such as lotus puffs, lotus leaves and algae. The fish and algae in the jar are in different forms, with the algae swaying with the waves, and the four fish in the water are realistic and well-drawn, a rare find in both public and private collections in China.
The decoration covers the entire outer wall of the vessel and is arranged in an orderly manner, with the subject and supporting decoration clearly defined. As a result, the shape and decorative motifs of Yuan porcelain were influenced by the life and culture of the region, and the motifs are interesting and diverse.
In this example, for example, the surface of the jar is clearly delineated by lines between the subject and the secondary decoration, a pattern of decoration also found on everyday Persian wares, and one that was characteristic of the porcelain exported from the Middle East and West Asia. This form of Yuan dynasty blue and white porcelain is often made from imported blue material, which has a deeper blue colour than the greyish-blue domestic blue material, and when fired, has a ruby-blue colour with darker iron flecks.
One example in the National Palace Museum is decorated with a wave pattern around the mouth and a lotus pond and fish-algae pattern on the abdomen, see The Complete Collection of Cultural Objects in the Palace Museum. It is also in the collection of the Yasutake family of the Osaka Municipal Museum, with a large jar decorated with fish-algae motifs in the Yuan blue and white colours, both of which are similar in style.
Translated with www.DeepL.com/Translator (free version)
Poly Auction Hong Kong. The Duchange Family Collection of Important Chinese Art II, Hong Kong, 2 December 2021