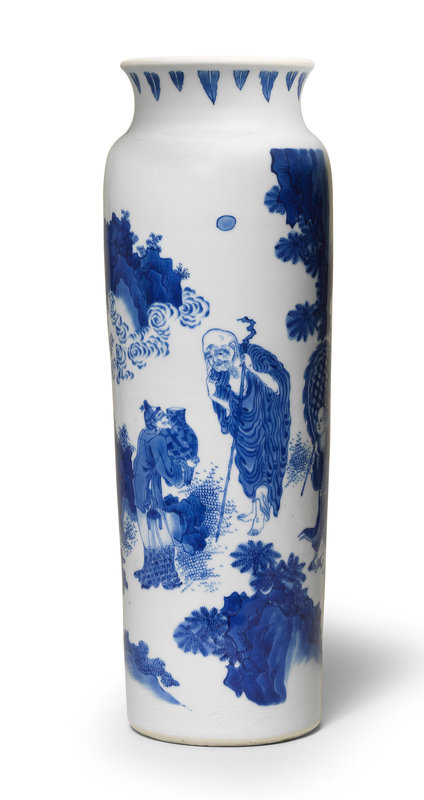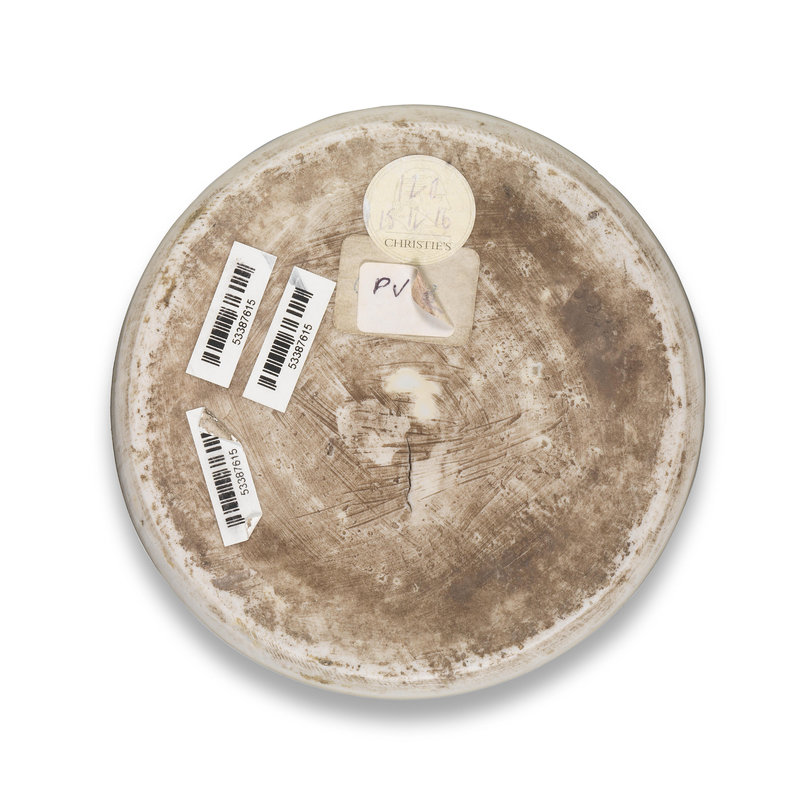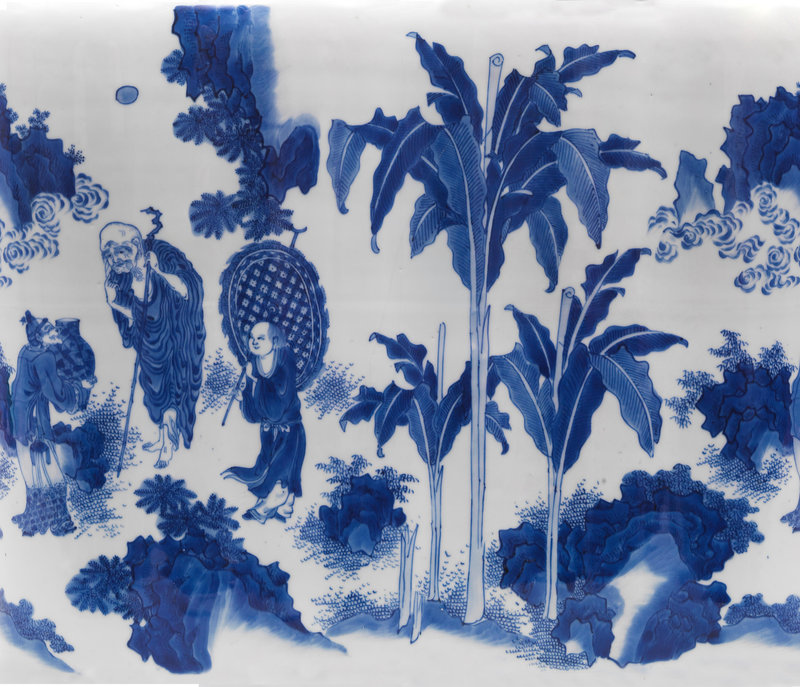 Lot 16. A rare blue and white 'Saagata' sleeve vase, Chongzhen period (1627-1644); 47cm (18 1/2in) high. Sold for £28,020 (Estimate £12,000 - 15,000). © Bonhams 2001-2022
The tall elegantly potted cylindrical vessel brilliantly painted around the exterior in vibrant tones of cobalt-blue with a continuous scene of an Arhat in cascading robes holding a staff with concerned expression beneath long eyebrows and wrinkled brow, gazing at a boy-attendant carrying a meditation mat through a pole, both facing an elderly woman carrying a large jar with cracked-ice glaze, all amidst plantain, craggy rocks and billowing clouds, all between finely incised scroll borders at the foot and shoulder, pendant plantain-leaves beneath the mouth.
Provenance: William James, prior to 1905 (a photograph of circa 1905 illustrated in Country Life).
Christie's South Kensington, 15 December 2016, lot 120.
Published and Illustrated: C.Aslet, 'West Dean Park, Sussex - II', Country Life, 29 October 1981, p.1462, fig.1..
Note: Saagata is the Tibetan name of the Arhat Shajiatuo (莎伽陀). Numbered 239 out of the 500 arhats, he was known for his fondness for liquor. However, before inebriation he was said to be powerful enough to subdue a dragon. His story is documented in the Upasakasilasutra 'Sutra of the Upasaka Precepts' (優婆塞戒經) no.5, the fifth precept prohibiting intoxication through alcohol. According to the legend, after subduing a dragon, the people were grateful to Saagata and a poor woman who respected him greatly offered him wine. Saagata became drunk and fell to the ground near the gate of the temple. Buddha and Ananda walked by and noticed Saagata on the floor, and thereupon forbade all Buddhist disciples from consuming alcohol.

In the context of late Ming culture, when 'passion' (qing 情) and 'obsession' (pi 癖): unswerving commitment and genuine fondness towards something was celebrated, the depiction of Sagataa's fondness for alcohol would have been less a genuine condemnation, and more a tacit nod of his affable humanity. Late Ming attitudes towards Saagata therefore, would not be unlike an Elizabethan audience's attitudes to Shakespeare's larger-than life character Falstaff: a rogue, yet loved by all. The literati's approval of certain elegant 'vices' can be seen in the famous late Ming scholar Zhang Dai's 張岱 (1599-1684) writings:

'One cannot befriend a man without obsessions, for he lacks deep emotion, nor can one befriend a man without faults, for he lacks integrity'.
Indeed, late Ming culture celebrated another Monk known for his love of alcohol - Lu Zhishen - from the novel Outlaws of the Marsh (水滸傳) published in the 16th century. Lu's love of alcohol, and enormous consumption of it, also gets him into trouble, yet in the novel he is a loveable character that attains enlightenment. Seen within this context, Saagata would have been well-received by Ming dynasty literati.

Stylistically as well, the depiction of the Arhat on the present lot tallies with paintings of Arhats by Wu Bin (c.1573-1620) and Ding Yunpeng (1547-1621). Ding Yunpeng excelled in painting religious figures which were meticulously executed with fine 'iron-wire' lines. Wu Bin too in his Five Hundred Arhats depicted an enormous number of Arhats in a variety of postures and gestures. Their facial expressions are also almost comical such as in the present lot. Ding and Wu's work were both reproduced in woodblock printed books such as the Lidai minggong huapu (歷代名公畫譜), published in the Wanli period, and it is primarily through printed matter that they influenced porcelain painters. See Three Thousand Years of Chinese Painting, New Haven and London, 1997, pp.236-238.

See a related blue and white sleeve vase, dated to 1641, in the Ashmolean Museum, Oxford, illustrated by R.S.Kilburn, Transitional Wares and Their Forerunners, Hong Kong, 1981, p.35.

Compare with a related blue and white sleeve vase, Chongzhen, but decorated with horsemen, which was sold at which was sold at Christie's New York, An Era of Inspiration: 17th Century Chinese Porcelains from the Collection of Julia and John Curtis, 16 March 2015, lot 3532.
Bonhams. THE MARSH COLLECTION ART FOR THE LITERATI, 3 November 2022, London, New Bond Street