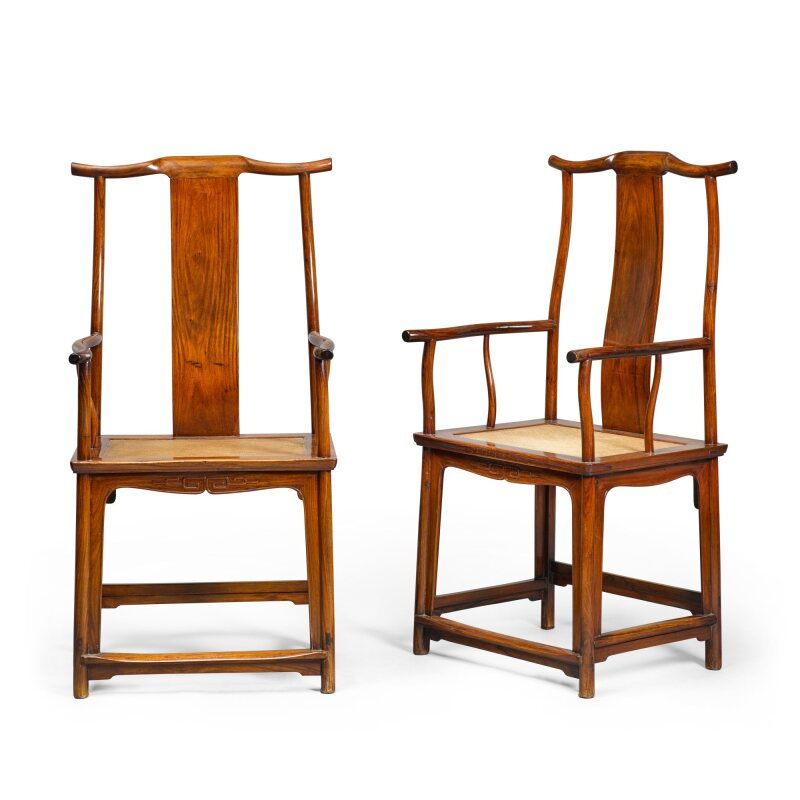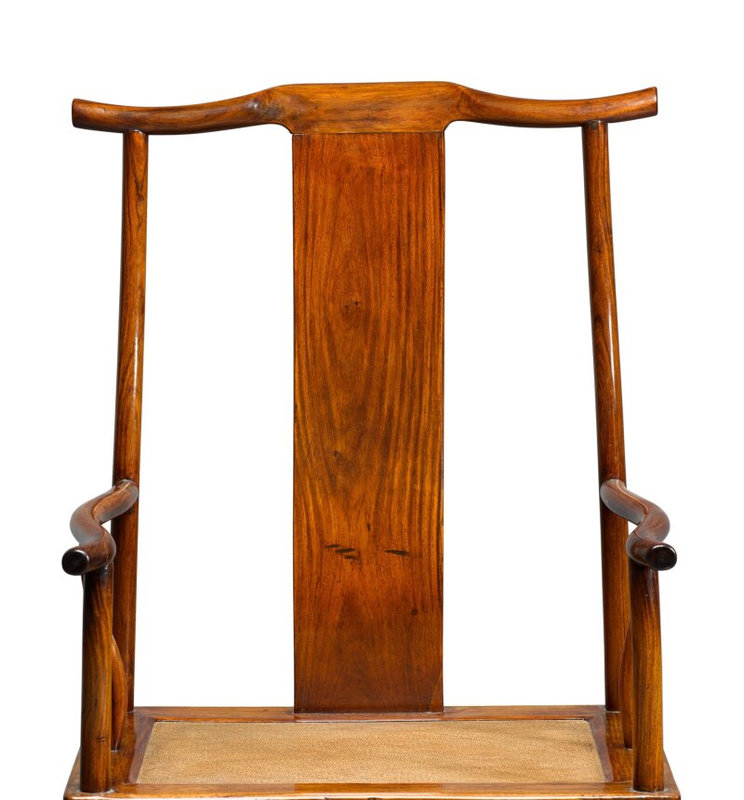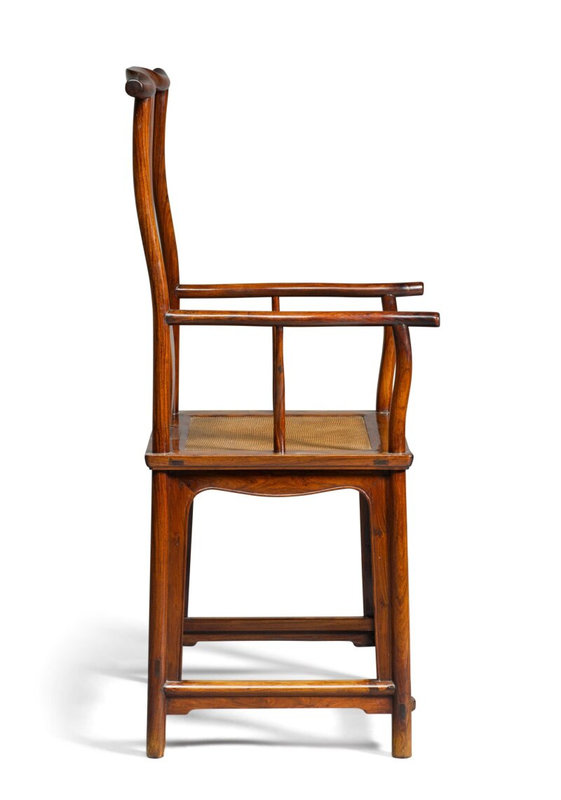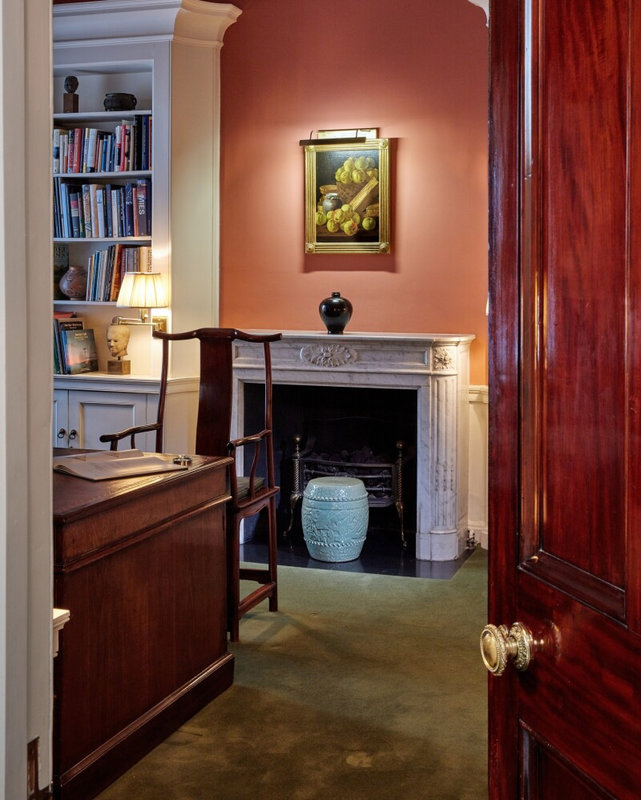 Lot 115. A pair of huanghuali yokeback armchairs, Late Ming dynasty; 59.8 by 53 by h. 116.5 cm. Lot sold: 3,780,000 HKD (Estimate: 3,000,000 - 5,000,000 HKD). © Sotheby's 2022
each elegantly constructed with a plain S-shaped splat that accentuates the figured pattern of huanghuali, crowned by a yoke with slightly upturned rounded ends, the curved arms supported by S-shaped braces in the middle and posts that continue through the seat rail forming the front and back legs, the legs joined by a footrail and stretchers of ascending heights and decorated with beaded aprons, the front apron carved with a simple angular scroll.
Provenance: Eastern Pacific Co. (Hei Hung-Lu), Hong Kong, 5th May 1988.
Note: This pair of yoke-back armchairs are exceptional for the generous proportions and clean aesthetics. Despite the large size, a sense of lightness is captured through the seemingly simple silhouette, which is so skilfully complemented by the attractive natural grain of the lustrous honey-toned huanghuali.
Yoke-back armchairs are divided into nan guanmaoyi ('southern official's hat-shaped chairs') and bei guanmaoyi ('northern official's hat-shaped chairs') or sichutou guanmaoyi, the latter characterised by the two protruding ends of the top rail and thereby having a more commanding presence. Exuding a sense of majesty and power and testifying to the wealth and social standing of the owner, such chairs were reserved for the master of the household and high-ranking guests and are considered to be iconic examples of Ming dynasty furniture. The design appears to have evolved from earlier furniture pieces, including a chair depicted in the Western Wei dynasty wall painting of Cave 285 in the Dunhuang cave complex, and another in Wang Qihan's Kanshu Tu [Picture of book proofreading] from the Southern Tang state in the Five Dynasties, the latter bearing remarkable resemblance with Ming dynasty examples. A later Jin dynasty example was also excavated from the Tomb of Yan Deyuan in Datong, Shanxi in the 1970s. By the Ming dynasty, craftsmen were able to juxtapose the attractive patina and grain of huanghuali with clean and sober lines to create sichutou guanmaoyi that came to encapsulate the timeless aesthetic of Ming dynasty furniture. An illustration depicting similar chairs is included in the Ming dynasty version of Gujin xiaoshuo [Stories old and new].
It is rare to find this type of chairs in such exceptionally large size, and rarer still to find any preserved as a pair in good condition in any collection. See a similar but smaller example (55.5 by 43.4 by h. 120.4 cm) from the collection of Chen Mengjia, illustrated in Wang Shixiang, Ming shi jiaju zhenshang / Classic Chinese Furniture: Ming and Early Qing Dynasties, Beijing, 2006, no. 45. See also another of similar proportions but lacking the side posts and constructed with cusped aprons, formerly from the Museum of Classical Chinese Furniture Collection, illustrated in Wang Shixiang and Yuan Quanyou, Ming shi jiaju cuizhen / Masterpieces from the Museum of Classical Chinese Furniture, Chicago and San Francisco, 1997, cat. no. 11. A further example of this design but also slightly smaller in size (58.5 by 47 by h. 119.5 cm) is included in Wang Shixiang, Wang Shixiang ji: Ming shi jiaju yanjiu [Collected works of Wang Shixiang: Ming-style furniture research], Beijing, 2013, pl. A70.
Sotheby's. HOTUNG The Personal Collection of the late Sir Joseph Hotung: Part 1, Hong Kong, 9 October 2022