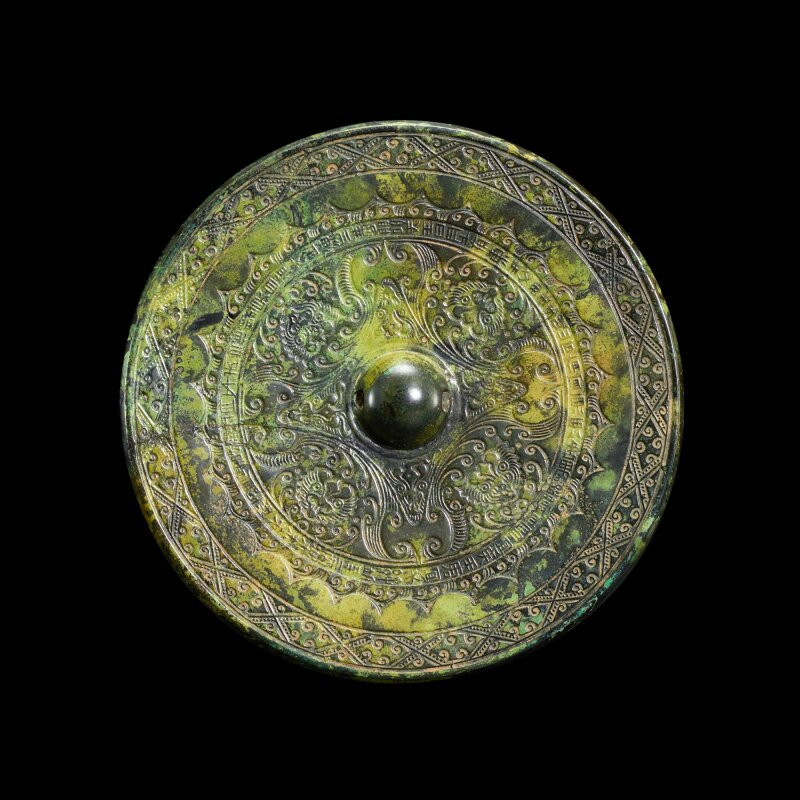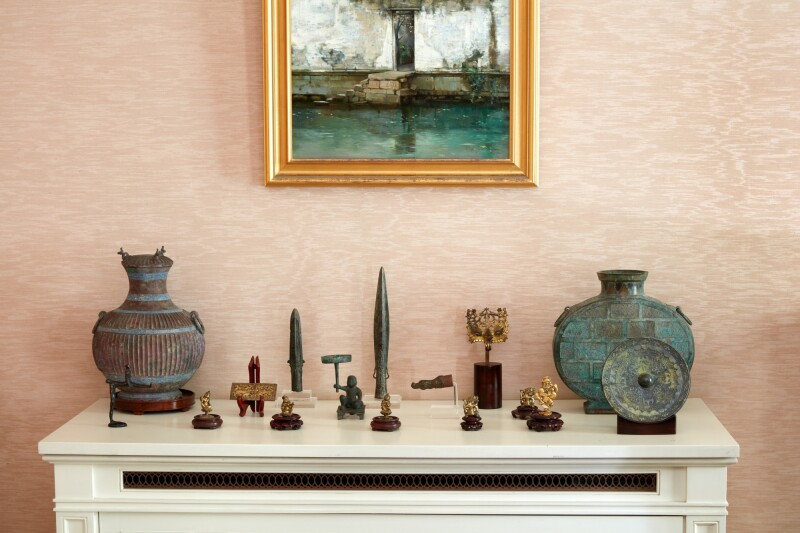 Lot 168. An inscribed bronze 'feline mask' mirror, Eastern Han dynasty (AD 25-220); 18.4 cm. Lot sold: 94,500HKD (Estimate: 20,000 - 30,000 HKD). © Sotheby's 2022
cast with a quatrefoil design with double-scrolled ends around the central knob, each pointed petal of the quatrefoil enclosing a feline head and interspersed by four larger animal heads, all bounded by a ring of long inscription, a sunken scalloped band and a lozenge-patterned border, each decorative band detailed with elaborate scrollwork, wood stand.
Provenance: Eskenazi Ltd, London, 15th August 1988.
Literature: Jessica Rawson and Emma C. Bunker, Ancient Chinese and Ordos Bronzes, Hong Kong, 1990, cat. no. 167.
Exhibited: Ancient Chinese and Ordos Bronzes, Oriental Ceramic Society of Hong Kong, Hong Kong Museum of Art, Hong Kong, 1990.
British Museum, London, on loan, 1992-2013.
Note:
The long inscription may be translated as follow:
'On the bingwu day of the second month,
I made this mirror using my own recipe.
In seclusion, I refined it over three periods.
It is as bright as the moon in the darkening sky,
with the blessings from King Father of the East and Queen Mother of the West.
May your life be as resilient as mountains and precious stones.
May your lands stretch from east to west, spanning eighty million miles.
May you be blessed with wealth and prosperity.
May you become a noble and rise in rank.
May you be blessed with fertility and your descendants also rise in rank.
May you be blessed with boundless happiness.
May you be blessed with longevity and good fortune.
The bingwu day indicated on the present mirror is suggested to be an invented day and was chosen purely because it was auspicious. (Jessica Rawson and Emma C. Bunker, 1990; Suzanne Cahill, 1986, p. 63). Casters of this era might have purposefully chosen a propitious date for a permanent record. The characters bing and wu, as mentioned in the day, were also associated auspiciously with the casting of mirrors (Bernhard Karlgren, Word Families in Chinese, Stockholm, 1934, p. 48). Bingwu inscriptions were also found on Han dynasty bronze garment hooks.
See a closely related mirror, with a similar 'feline mask' decoration and provenance traceable as far back as the late Qing dynasty, in the Freer Gallery of Art, Washington DC, accession no. F1939.38. It is also inscribed with a fictitious date, attributed to the bingwu day of the first month of the thirteenth year, corresponding to AD 174.
Sotheby's. HOTUNG The Personal Collection of the late Sir Joseph Hotung: Part 1, Hong Kong, 9 October 2022