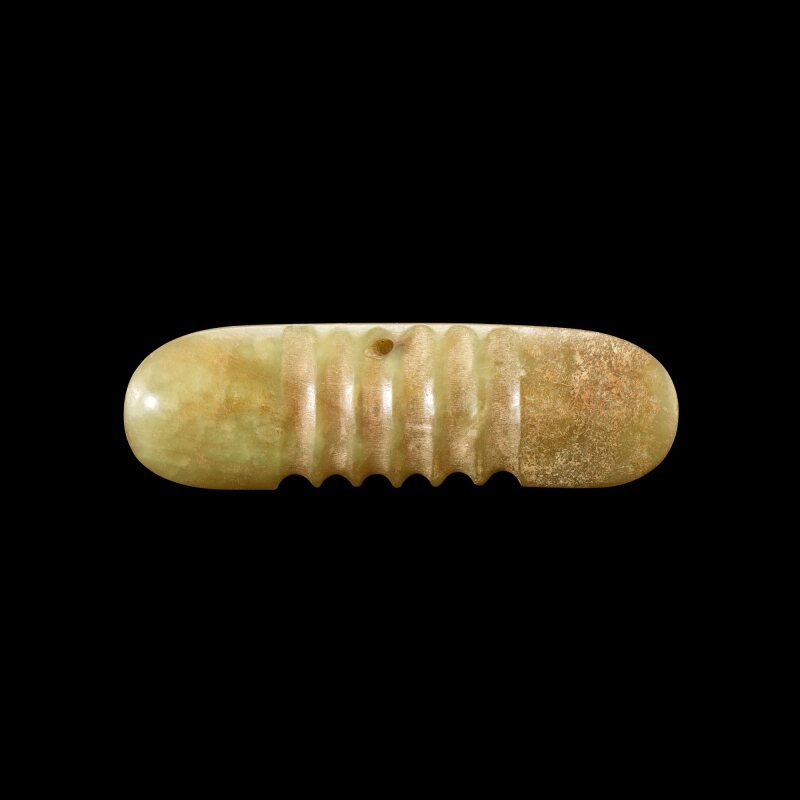 Lot 3601. A celadon jade oblong pendant, Neolithic period, Hongshan culture (c. 3800-2700 BC); 9.2 cm. Lot sold: 63,000 HKD (Estimate: 50,000 - 70,000 HKD). © Sotheby's 2022
Property from an Important Japanese Collection.
Provenance: Susan Chen & Company, Hong Kong, 1993.
Note: Flourished in the Northeast regions of present-day Inner Mongolia, Liaoning and Hebei, Hongshan Culture (c. 4500-3000 BC) produced jades, which are distinctive in style, characterised by smoothly polished and softly rounded surfaces that appeal to the haptic sense. They include both figurative and abstract items, such as the present piece which is minimally adorned with subtle grooves.
A similar oblong pendant was unearthed at Aohanqi, Inner Mongolia, illustrated in Zhongguo chutu yuqi quanji / The Complete Collection of Jades Unearthed in China, vol. 2: Inner Mongolia, Liaoning, Jilin, Heilongjiang, Beijing, 2005, pl. 32; and a further late Hongshan culture oblong pendant was discovered in the tomb of Fu Hao, illustrated in King Wu Ding and Lady Hao: Art and Culture of the Late Shang Dynasty, Taipei, 2012, cat. no. III-3.
Compare also ornaments similarly decorated with parallel grooves, such as an excavated armlet, illustrated in Niuheliang: excavation Report on a Hongshang Culture Site (1983-2003), Beijing, 2012, no. N3M9:2, vol. 3, col. pl. 190, together with a cloud-shaped ornament, vol. 3, col. pl. 321.4. A related grooved armlet from the Winthrop Collection in the Harvard Art Museums is illustrated in Jenny F. So, Early Chinese Jades in the Harvard Art Museums, Cambridge, Mass., 2019, pl. 1.
Sotheby's. Important Chinese Art, Hong Kong, 9 October 2022