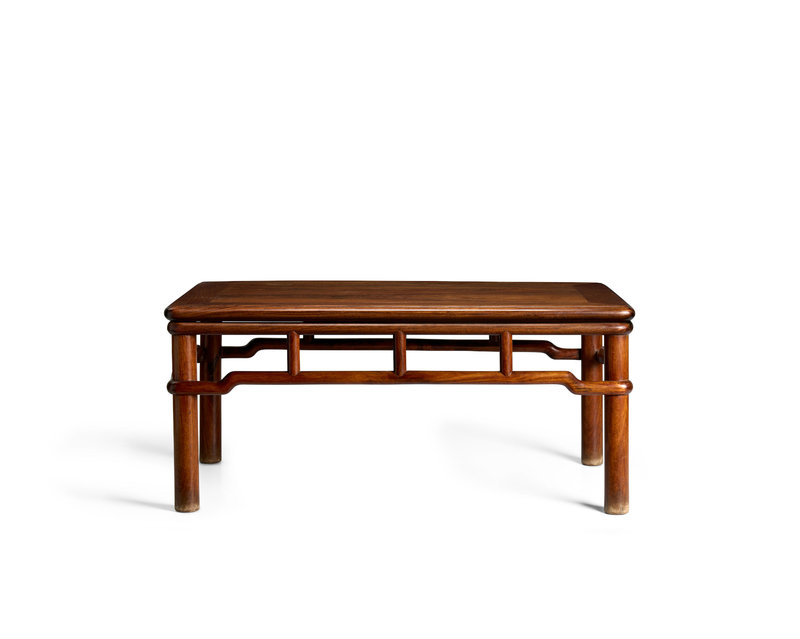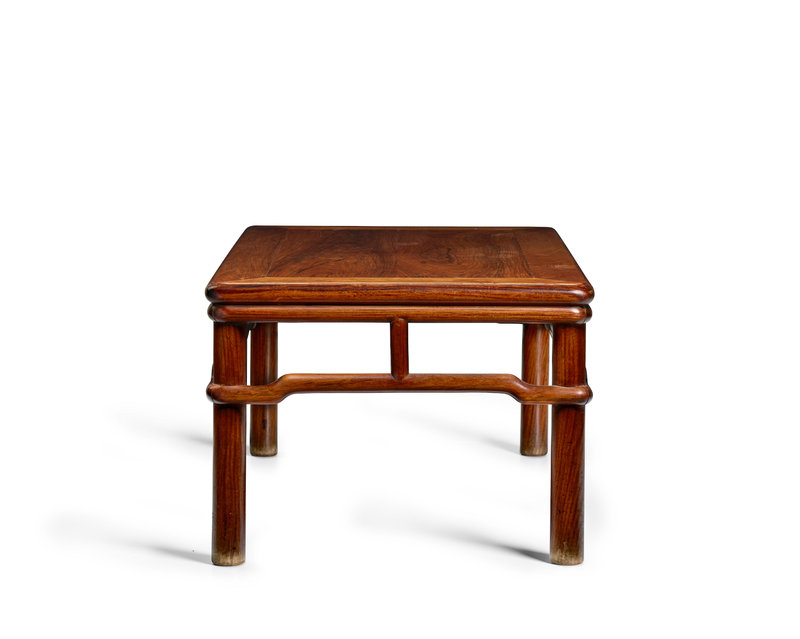 Lot 96. A huanghuali rectangular low table, kangzhuo, 17th-18th century; 16 1/2 x 37 1/2 x 22 3/4in (41.9 x 95.2 x 57.8cm). Sold for US$14,025 (Estimate: US$800 - 1,200). © Bonhams 2001-2023
The Mary and Cheney Cowles Collection.
Note: The design of this low table features a guotui (leg-encircling) double round molding frame with luoguocheng (humpbacked stretchers) and ailao (short vertical posts), a typical Ming style, though more commonly seen in square stools. The leg-encircling technique is thought to have been adapted from bamboo furniture making. While the upper leg-encircling stretcher that thickens the frame gives the table a more elegantly powerful appearance, the bamboo-mimic and lattice-like design prevents it from feeling too heavy.
Stools with the same design can be found in Wang Shixiang, Classic Chinese Furniture: Ming and Early Qing Dynasties (Thailand: White Lotus Co., Ltd. 1986), no. 12, p. 60; Robert H. Ellsworth, Chinese Furniture: Hardwood Examples of the Ming and Early Ch'ing Dynasties (New Fairfield, 1997), no. 109, p. 199; and Robert Ellsworth and Howard A. Link, Chinese Hardwood Funiture in Hawaiian Collections (Honolulu: Honolulu Academy of Arts, 1982), no. 16.
Bonhams. THE MARY AND CHENEY COWLES COLLECTION OF CLASSICAL CHINESE FURNITURE, 20 March 2023, New York