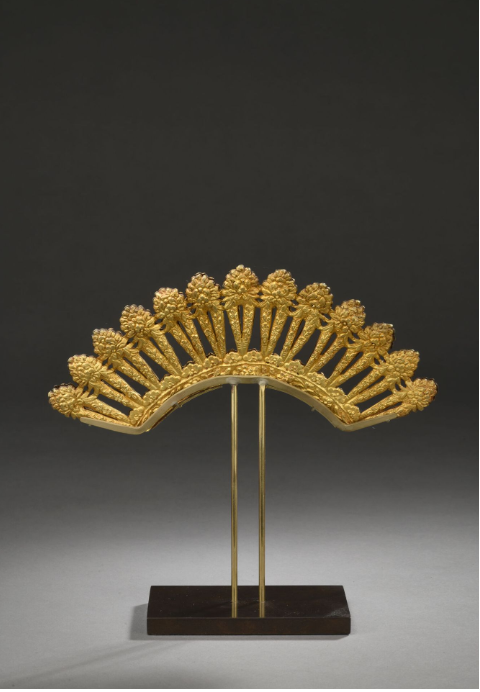 Lot 36. Chine, Dynastie Song. Ornement de cheveux (diadème) en arc de cercle fait de deux feuilles d'or jaune (18k) repoussées, incisées et assemblées, à décor de rinceaux fleuris surmontés de treize lotus. L. 18 cm - Poids 23,55 gr. Estimation 10000 - 12000 EUR. Courtesy De Baecque et Associés.
Il s'agit de la partie supérieure d'un ornement de cheveux, plus probablement un diadème qu'un peigne. Il tenait sans doute grâce à une ou plus probablement deux épingles. Il est très proche d'un type de diadème en or qui a commencé à se développer au début de la dynastie Song et a continué sous les Yuan. On en trouve deux beaux exemples dans la collection Mengdiexuan, illustrés dans Julia M. White and Emma C. Bunker, Adornment for eternity : status and rank in Chinese ornament, Denver Art Museum, Eskenazi Gallery, Seattle art Museum, 1994, p.178, 90 et 904. La collection Uldry en contient un autre, appelé « épingle à cheveu » (chai) » et daté des Song du Sud, illustré dans Chinesisches Gold und Silber : die Sammlung Pierre Uldry, Museum Rietberg, Zurich, 1994, p. 243, n°293. Il y a deux différences principales entre ces pièces et celle présentée ici, qui la rendent d'autant plus rare : sa grande taille (la majorité des autres font 11 à 12 cm), et sa technique d'assemblage. Elle est faite de deux feuilles assemblées, alors que sur les autres les cônes ou doubles cônes fleuris sont réalisés séparément (toujours en repoussé) et assemblés ensuite.
De Baecque et Associés, Collection Serge Le Guennan : La géographie du détail, partie 1. Jeudi 05 Octobre 2023, Salle 1 - Hôtel Drouot.