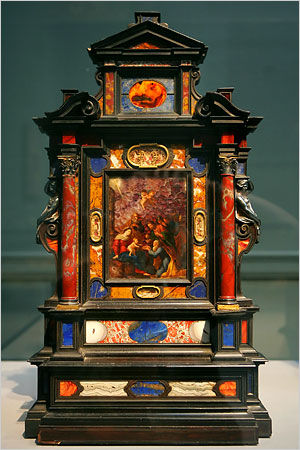 A portable altar from the 17th century. Photo: Ruby Washington/The New York Times
Roberta Smith writes: "Art of the Royal Court: Treasures of Pietre Dure from the Palaces of Europe" is a stealth blockbuster at the Metropolitan Museum of Art. A sumptuous sprawl of 170 objects borrowed from palaces and museums all over Europe, it is the first in-depth survey of the arts and crafts of pietre dure. That Italian term, which translates as hard rock or hardstone, refers foremost to an intricate inlay of finely cut, highly polished slices of semiprecious stones: agate, lapis lazuli, jasper, carnelian, alabaster, rock crystal, amethyst.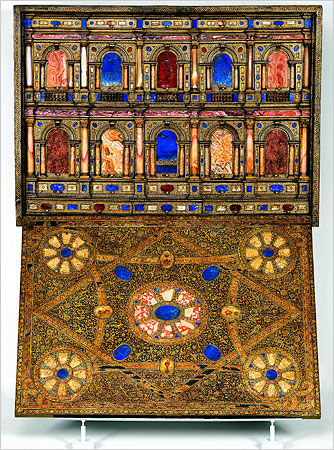 A collector's cabinet from Venice (1565-80) Photo: Staatliche Museen zu Berlin, Stiftung Preussischer Kulturbesitz, Kunstgewerbemuseum
Pietre dure could be flat. Fashioned into radiantly colored geometric patterns, floral designs, landscapes or mythological scenes, it was incorporated into tabletops, cabinets of all sizes, wall panels, portable altars, jewelry boxes and other furnishings. Such works could also be in the round.
A cabinet made for Cardinal Maffeo Barberini, also known as Pope Urban VIII (circa 1606-23). Photo: Ruby Washington/The New York Times
The show traces pietre dure's emergence in Italy in the late 16th century and then follows its spread, often with Italian master craftsmen lured northward, throughout Europe and Russia and into the early years of the 19th century.

Since great pietra dure never lost value or went out of fashion among aristocrats or their cabinetmakers, the French and English recycled it into the designs of later periods.