A silver-inlaid cast brass incense burner, probably Mosul, 1240-60
LONDON.- Sotheby's Arts of the Islamic World sale will offer an exceptional range of works originating from across the varying cultures and areas that are commonly considered to constitute the Islamic World. Fine examples of ancient manuscripts, ceramics, metalwork, weaponry, textiles, ceramics and paintings from North Africa, the Middle East, Turkey, Islamic Spain and South Asia all feature in the sale.

METALWORK
The highlight of the sale is an important silver-inlaid brass incense burner, probably made in the city of Mosul between 1240-60 (Lot 146, estimate in excess of £600,000). A masterpiece of medieval metalwork, this rare treasure comes from a prestigious European private collection and is in excellent condition with superb silver inlay. There are only around 40 incense burners remaining that have this distinctive size and shape and this example is one of the very few left in private hands in Europe.

Discussing the sale, Edward Gibbs, Head of Sotheby's Islamic Art Department, said ''The piece is particularly remarkable because so few of these burners are left in such good condition; frequent silver shortages in the Middle Ages meant that such items were often stripped down so the precious metal could be sold. Not only is the silver here almost fully intact but the original engraved details are still sharp. The burner also offers a snapshot of life in the 13th Century - the engravings on the piece show a Princely figure sitting cross-legged, surrounded by servants and musicians, it is likely that these scenes reflect the courtly setting in which the burner would have been used.''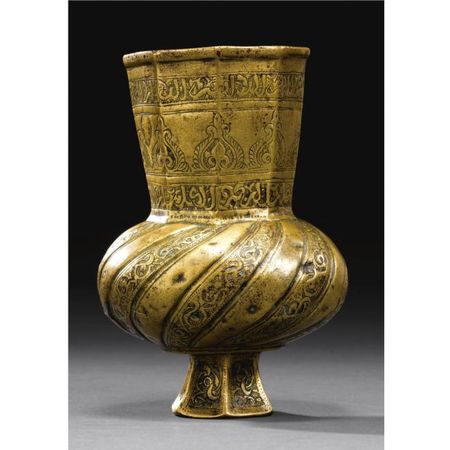 A Nasrid brass goblet signed Yahya ibn Yusuf al-s(a)igh, Spain, 14th century
Europe's Islamic heritage also features in the sale with a brass goblet originating from 14th Century Spain (Lot 98, est. £250,000 –350,000). The elegant body of the piece is engraved on alternate swirling bands drawing the eye to the elaborate top of the goblet. More delicate engraving is found on the base near the maker's name. The piece is particularly significant because it is one of only five pieces of Nasrid metalwork still in existence and is the only known example of a signed piece from this time.
A large Mamluk silver- and niello-inlaid brass candlestick made for an officer of Sultan al-Nasir Muhammad, Syria or Egypt, early 14th century
Also appearing in the sale is a large silver and brass Mamluk candlestick from the 14th Century (Lot.116 est. £300,000 – 500,000). It would have been made for an officer or emir of Sultan al-Nasir Muhammad ibn Qala'un. The piece is in exceptionally good condition and shows no signs of modern repair; as such it represents some of the finest metalwork ever produced under Muslim rule.

QUR'AN FRAGMENT PRODUCED WITHIN LIVING MEMORY OF THE PROPHET MUHAMMAD
The sale also features an extremely rare 7th-century Qur'an leaf in Hijazi script produced within living memory of The Prophet Muhammad (Peace Be Upon Him). The manuscript originates from the Hijaz in the Arabian Peninsula, the region where the Holy Cities of Mecca and Medina are located (Lot 3, est. £400,000---500,000).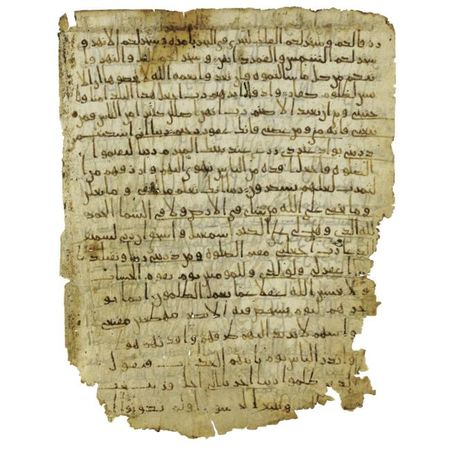 An early Qur'an leaf in Hijazi script on vellum, ARABIAN PENINSULA, second half of the 7th century
This piece is not only a significant example of an early Qur'an leaf but also sheds light on the early development of Arabic script. Only around 38 fragments of vertical format codices have survived with examples being found in many of the world's most important public collections including the British Library, Russian Academy of Sciences in St. Petersburg and the Vatican Library in Rome.

PAINTINGS
The sale will offer a uniquely important portrait of Sultan Suleyman the Magnificent from the Workshop of the Italian artist Titian (Pieve Di Cadore C.1490 --- 1576 Venice), (Lot 233, est. £200,000 --- 300,000). Likenesses of the Sultan, who ruled over the Ottoman Empire when it was at the height of its power, are extremely rare. Sotheby's sold a portrait of Suleyman's ancestor, Sultan Mehmed II, in last year's autumn auction for £468,500 against an estimate of £200,000- 300,000 (Lot 267, 24 Oct 2007).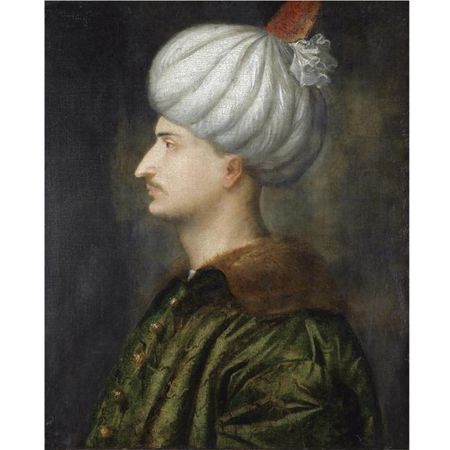 Workshop of Tiziano Vecellio, called Titian (Pieve di Cadore c.1490-1576 Venice), Italy, portrait of Sultan Suleyman the Magnificent
A beautiful life-size oil painting circa 1700 of a Noblewoman from Safavid Persia is another highlight (Lot 49, est. £600,000–800,000). Only thirteen examples of this type of portrait are known to exist and none are present in Western public museum collections. The painting is thought to have been given by Shah' Abbas II to the British ambassador at the court in Isfahan around 1700 – a time when the city was rapidly establishing itself as a major cultural and political centre, having become the capital of Persia in 1597. Very few free hanging portraits in this style were painted, demonstrating their importance as a cultural status symbol for the wealthy.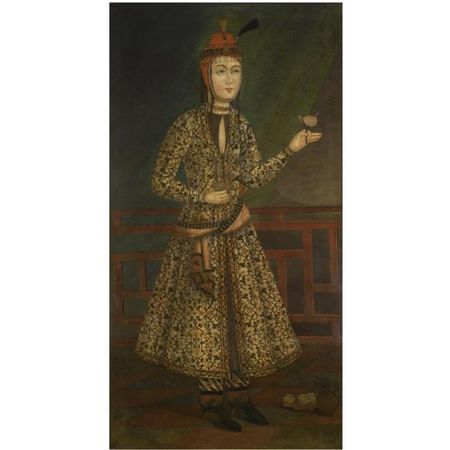 'Portrait of a noblewoman with a Rose', Iran, Isfahan, Safavid, circa 1680-1720


Glassware is also represented in the sale with an extremely rare 9th/10th Century cameo cut glass bottle from Persia decorated with two horses (Lot 72, est. £300,000 – 400,000). An outer layer of green glass was applied to the piece which has been cut away in places leaving the decoration in raised relief. Owing to the difficulty of producing this effect few pieces of this kind survive.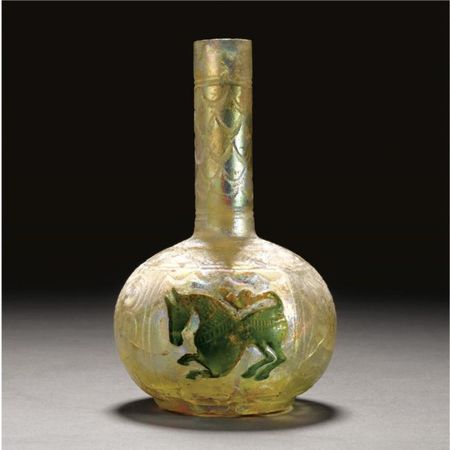 A cut glass bottle with applied green decoration, Persia, 9th/10th century
ARMS AND ARMOUR
Among the wide range of weaponry in the sale is a rare Ottoman Tombak Shield and Cover (Lot 235, est. £250,000 - 300,000), and another painted wicker shield (Lot 236, est. £40,000 – 60,000), both taken as booty from the defeated Ottoman army at the ill fated Siege of Vienna in 1683. Both pieces are in exceptional condition and of museum quality and importance.
A rare and important Ottoman tombak shield
and cover (kalkan), 17th century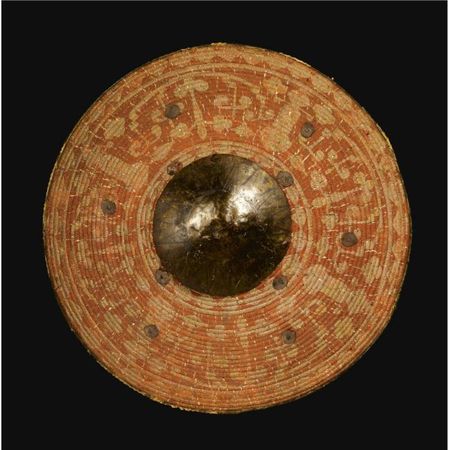 A rare Ottoman painted wicker shield (kalkan), Turkey, second half 17th century