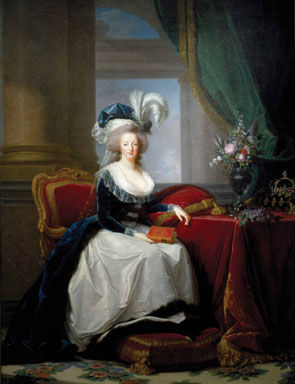 Bouguereau Love Élisabeth Louise Vigeé Le Brun, Portrait of Marie Antoinette, Queen of France, Oil on canvas, ca. 1788
KALAMAZOO.- The New Orleans Museum of Art (NOMA) is sharing 89 of its finest works of European and American art from a 300-year period - works that survived the devastation of Hurricane Katrina and the flooding that ensued. The exhibition, Spared from the Storm: Masterworks from the New Orleans Museum of Art, will open at the Kalamazoo Institute of Arts (www.kiarts.org) on Saturday, November 8, and continue through Sunday, February 8, 2009.

Spared from the Storm features works from the 17th through the mid-20th century. Among them are paintings and sculptures by some of history's most influential artists, including François Boucher, William Adolphe Bouguereau, Mary Cassatt, Edgar Degas, Paul Gauguin, Wassily Kandinsky, Joan Miró, Claude Monet, Georgia O'Keeffe, Pablo Picasso, Jackson Pollock, Pierre Auguste Renoir, Auguste Rodin, John Singer Sargent and Giambattista Tiepolo.

The storm
In the early morning hours of Monday, August 29, 2005, Hurricane Katrina hit New Orleans with unprecedented fury, forever altering the lives of its citizens. It knocked out the museum's electrical, plumbing and cooling systems, leaving only a small generator for alarm systems and emergency lights.

On Tuesday, the levees broke and a new nightmare began. Sixty-foot trees near the museum were uprooted, and eight-foot-deep waters surrounded the building.

But the museum's collection of 40,000 works of art were spared from the storm, thanks to prudent advance planning, the museum's location on a high ridge between the badly flooded Mid-City and Lakeview areas, and a small band of museum staff members and their families, all of whom chose to remain in the building to protect the collection.

A final crisis hit the museum after the waters had subsided. This catastrophe had a devastating impact on the museum's finances, forcing it to close its doors for six months, and to lay off 85 percent of its staff.

The exhibition
Following Hurricane Katrina, Wildenstein & Company of New York, one of the world's leading art galleries, hosted an exhibition of paintings, sculptures and drawings from NOMA that included a two-night benefit for the museum's Katrina Recovery Fund. The exhibition, originally called The Odyssey Continues, contained a treasury of European and American works, with a special emphasis on the French School, a strong suit in New Orleans.

Now known as Spared from the Storm, the exhibition comes to the KIA as its only Midwest venue.

Exhibition highlights
Works by Edgar Degas, who was a New Orleanian through his mother, and a resident of the city for six months beginning in 1872

A larger-than-life-size state portrait of Queen Marie Antoinette by Élisabeth Louise Vigée Le Brun, the official portraitist to the queen

A bronze cast of Auguste Rodin's life-size Age of Bronze, one of NOMA's finest sculptures

Russian artist Wassily Kandinsky's Sketch for "Several Circles" (1926), a study for the final work that now resides in New York's Guggenheim Museum

Two paintings by Spanish artist Joan Miró, a member of the Surrealist movement based in Paris in the early 20th century

Works by Pablo Picasso, including his 1960 painting Woman in an Armchair, a depiction of his lover, Jacqueline Roque

Claude Lefèbvre's 1670 portrait of Louis XIV, the "Sun King," for whom Louisiana was named

Italian Giambattista Tiepolo's easel painting Boy Holding a Book (ca. 1747-50), likely a portrait of the artist's youngest son, Lorenzo

The Surprise (1730-32), by the foremost painter of the Rococo, François Boucher, a playfully erotic example of the artist's early genre paintings

Robert Henri's 1909 painting The Blue Kimono, part of the NOMA's inaugural exhibition in 1911

Jackson Pollock's Composition (White, Black, Blue and Red on White) (1948), one of a small number of the artist's drip paintings that were executed on paper rather than canvas.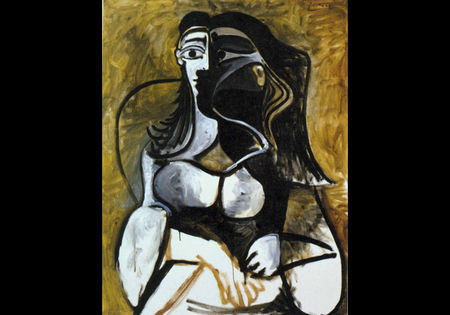 Pablo Picasso, Woman in an Armchair (Jacqueline Roque Picasso), Oil on canvas, 1960