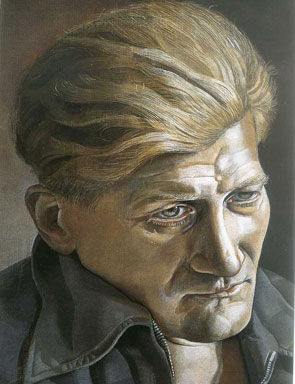 Lucian Freud, Portrait of a Man, 1954. Oil on canvas, 14.5 x 10.25 inches. © Lucian Freud
LONDON.- A major loan exhibition of early works by Lucian Freud (born 1922) will be held at Hazlitt Holland-Hibbert, 38 Bury Street, St James's, London SW1 from 9 October – 12 December 2008. The earliest paintings, from 1939, were completed when the artist was only 16. Many of the paintings in the exhibition are from private collections and not normally available to be seen by the public.

With the support of the artist, the exhibition will be curated by the artist's assistant and model for the past fifteen years, the painter David Dawson, with help from Catherine Lampert, who most recently selected the Freud retrospective which opened in Dublin in June 2007.

This will be the first exhibition devoted entirely to the artist's early work since 1997 with all works on loan from private or public collections worldwide, and several being shown publicly for the first time. Highlights include oil portraits such asWoman with Tulip (1945), Portrait of a Man (John Craxton) 1946, Girl in a Blanket (1953), A Woman Painter (1954) and the self portrait Man at Night (1947) as well as the still lifes Cacti and Stuffed Bird (1943), Dead Heron (1945), Lemon Sprig (1946) and Still Life with Aloe (1949).

The aim of the exhibition will be to follow the evolution of Freud's vision in the early years from the period of, in the artist's words, "maximum observation", when he proceeded solely "by staring at my subject matter and examining it closely", to the period from 1954 when he wanted to deliberately "free myself from this way of working".

The selection will focus on comparisons between certain works, both stylistically and through subject matter. During these years Freud spent time in Greece, Paris, Ireland and Scotland as well as Paddington. The varying quality of light registered in these luminous works relates to his exploration of interior life, a pursuit that continues in the paintings that engage Freud today.

Lucian Freud was born in Berlin in December 1922, and came to England with his family in 1933. He studied briefly at the Central School of Art in London and at Cedric Morris's East Anglian School of Painting and Drawing in Dedham. His first solo exhibition was at the Lefevre Gallery in London in 1944. In the summer of 1946 he went to Paris before going onto Greece for several months. Since then he has lived and worked in London.
Lucian Freud, Dead Heron, 1945. Oil on canvas, 19.25 x 28 inches. © Lucian Freud