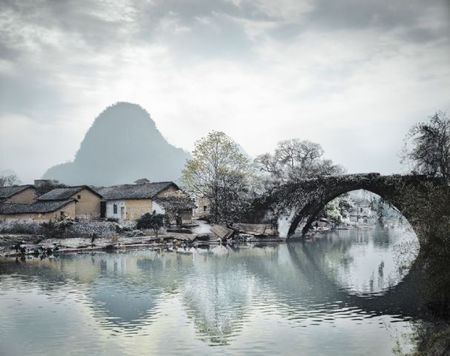 Stephen Wilkes
Snowy Bridge and Mountain, Guilin, China
Santa Fe--Monroe Gallery of Photography, 112 Don Gaspar, is pleased to present "Stephen Wilkes: China", an important exhibition featuring the most recent documentary project of the leading contemporary photographer Stephen Wilkes. The exhibition opens with a public reception for the photographer on Friday, October 3, from 5 – 7 PM. The exhibition continues through November 23.
Traveling throughout old and new China during a period from 2005 through 2008, Stephen Wilkes expertly portrays a nation amidst rapid and vast transformation. Focusing on both rural and industrial settings – and the increasing number of areas where they collide – Stephen Wilkes draws our attention to a changing way of life. The exhibition features stunning large format color photographs made by Wilkes, and includes a dramatic sixteen-foot wide photograph of ancient sheds used for drying grapes in the Turpan region of China.
In China, 300 million people have escaped poverty in less than a generation, and millions are migrating from the countryside to the cities, where the juggernaut of capitalism is powering a rapid transformation.
Wilkes' photographed both with official sanction, and surreptitiously, often evading police and officials and hiding his film when asked to produce it for inspection.
Stephen Wilkes
New Construction, Shanghai, China
The large, spectacular imagery speaks of not only a new era in China, but also of a shift on global economics and environmental impact already being felt in the United States and elsewhere. The series, which depicts the complexities of an emerging capitalist economy tethered to an authoritarian government, vividly demonstrates the interdependence of the economies of China and the United States.
Wilkes is always sure to include a human element in his photographs. Several complex photographs reveal that the image contains an entire photo essay that could be cropped, image by image, out of the overall scene. Conscious of the individual lives affected by such a riptide of industrialization, the photographer hopes to remind his audience of the real implications of such drastic economic and social shifts. Speaking about his photographs of the Three Gorges Dam, Wilkes recently commented: "After taking the photographs, on my way back to the hotel I heard an announcement by the government that because of potential catastrophic environmental problems related to the Three Gorges Dam, such as mudslides and unstable land masses, 4.5 million more people might have to be relocated. That's in addition to the million who have already had their lives officially restructured by the government. But that's modern China, on a massive scale, from the people that gave you the Great Wall."
Stephen Wilkes is a leading contemporary photographer whose photographs reside in several prominent museum collections. His work has graced the covers of numerous international publications, including Sports Illustrated, Fortune, Vanity Fair, The New York Times Magazine, and Time Magazine. He has documented the abandoned and now largely dismantled Bethlehem Steel plant, and his photographs of Ellis Island helped to secure $6,000,000 to renovate this once exquisite gateway to America. His Ellis Island photographs were published in the major monograph, "Ellis Island: Ghosts of Freedom", and are now travelling to museums nation-wide.
Stephen Wilkes
Man in Rice Paddies, China
Monroe Gallery of Photography was founded by Sidney S. Monroe and Michelle A. Monroe. Building on more than four decades of collective experience, the gallery specializes in classic photography with an emphasis on humanist and photojournalist imagery. The gallery also represents a select group of contemporary and emerging photographers.
Gallery hours are 10 to 6 Monday through Saturday, 10 to 5 Sunday. Admission is free. For further information, or to schedule an interview with Stephen Wilkes, please call: 505.992.0800; E-mail: info@monroegallery.com. Media kit with images available upon request.