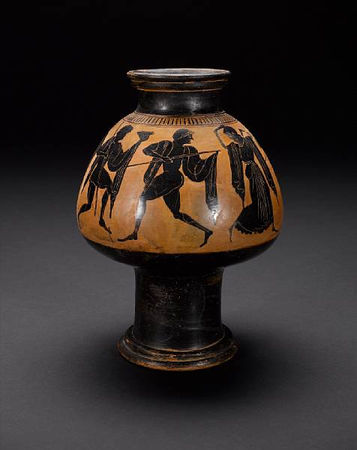 An Attic black-figure psykter. Circa 490-480 B.C.
The body decorated with a frieze depicting a Dionysiac scene of dancing figures, including four male satyr revelers and three draped maenads, the satyrs nude with himatia draped at their shoulders, one holding up a wine cup, one bearded, one wearing a leafy wreath, all with pointed ears and holding staffs, the women wearing chitons with himatia, one wearing a leafy wreath, all with their arms raised holding clappers, with a row of tongues around the neck, 14in (35.5cm) high, repaired with some restoration and repainting. Estimate: £20,000 - 25,000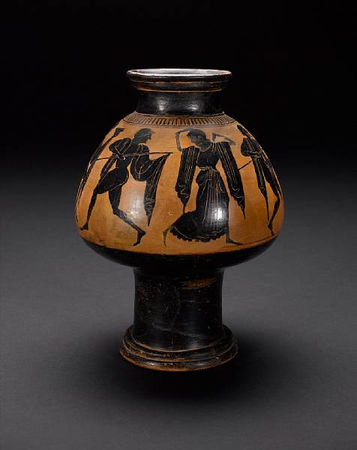 Provenance: Acquired at Christie's London, April 28th, 2004.
Formerly in a private European collection, acquired from the late Dr. Leo Mildenberg in 1981.

Exhibited: On loan to the Museum of Mediterranean Antiquities, Monash University, Melbourne, Australia, November 2005 - April 2008.

Published: Christie's London, Antiquities, April 28th, 2004, lot 452.

Literature: The psykter-shape, used for cooling wine, was developed in the late sixth Century and enjoyed a relatively brief period of popularity in the Archaic period on black-figure and earlier red-figure vases, thus they are relatively rare. The psykter was designed to be placed within kraters of snow or chilled water - their shape providing a maximum surface area to the cool liquid within. Cf., J. Boardman, Athenian Black Figure Vases, (London 1974), p. 188.

Scenes of dancing, as on this lot, were a popular choice for psykters and other vases associated with wine drinking and the cult of Dionysos: Cf. the Attic black-figure psykter depicting Dionysiac revels and similar dancing females (Accession Number LL5034) in Lady Lever Art Gallery, Museum of Liverpool; and the Attic black-figure example by the Leagros Group (SL 461), in Staatliche Antikensammlungen, Munich, Germany.
(Copyright © 2002-2008 Bonhams 1793 Ltd., Images and Text All Rights Reserved)
Bonhams. The Geddes Collection, 15 Oct 2008. New Bond Street - www.bonhams.com